Astell&Kern AK240 portable media player Measurements
Sidebar 2: Measurements
"Is it wrong to love the AK240 for its physical beauty?" asked Michael Lavorgna when, last November, he reviewed this $2500, cost-no-object portable player from Astell&Kern, owned by Korean company iriver Inc. Fortunately, he decided that the question was irrelevant—the AK240's combined strengths of "superb resolution and clean, clear, fatigue-free reproduction made it a joy to listen to." As I had purchased a sample of the less expensive but still superb-sounding AK100 player, following my review of it in August 2013, I asked Michael to ship me the AK240 following publication of his review, so that I could listen to it for myself and run it through my usual suite of measurements.
I measured the Astell&Kern AK240 with its battery fully charged, using its unbalanced 3.5mm output jack, with my Audio Precision SYS2722 system (see www.ap.com and the January 2008 "As We See It"), using WAV and AIFF files that I copied to the player's internal memory (256GB in the review sample) using the Android File Transfer utility. To test the AK240's performance as a USB DAC, I used my 2012 MacBook Pro running on battery power. Apple's USB Prober utility identified the DAC as "AK240 USB DAC" from "iriver," and confirmed that it operated in the sonically optimal isochronous asynchronous mode with 24-bit integer data. PCM sample rates accepted via USB ranged from 44.1 to 352.8kHz, but not to 384kHz. (The AK240 would play 384kHz-sampled files from its internal memory, but appeared to downsample these to 192kHz.) The volume control operated in accurate 0.5dB steps; with this control set to its maximum of "75" or with the output set to "Line Output" in the Settings menu, the AK240's maximum output level at 1kHz was 2.15V into 100k ohms. The A&K's output impedance was a low 4 ohms at all audio frequencies (including the cables) and, as can be seen from the player's impulse response (fig.1), it inverted absolute polarity.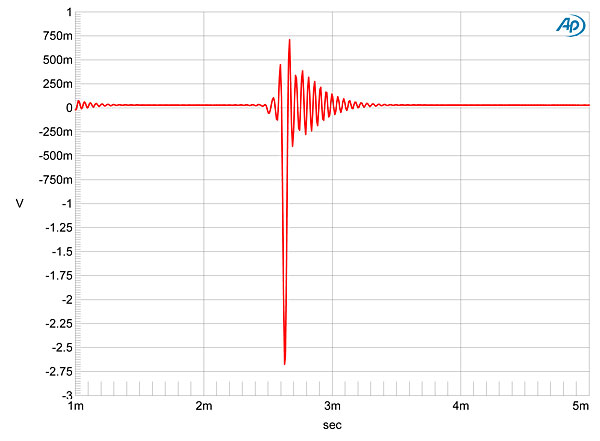 Fig.1 also indicates that the AK240's reconstruction filter is time-asymmetrical. A wideband spectrum of the player's output while it decoded 44.1kHz-sampled data representing white noise at –4dBFS (fig.2, red and magenta traces) revealed that while this filter doesn't start rolling off the output until just below the Nyquist frequency of 22.05kHz (vertical green line), the low-pass slope is very steep, and there is only a vertical trace of the 25kHz aliasing products that result from a full-scale 19.1kHz tone also sampled at 44.1kHz (blue, cyan).14 Though the second, fourth, and fifth harmonics of the 19.1kHz tone are visible in this graph, they are all at or below –104dB (0.0006%).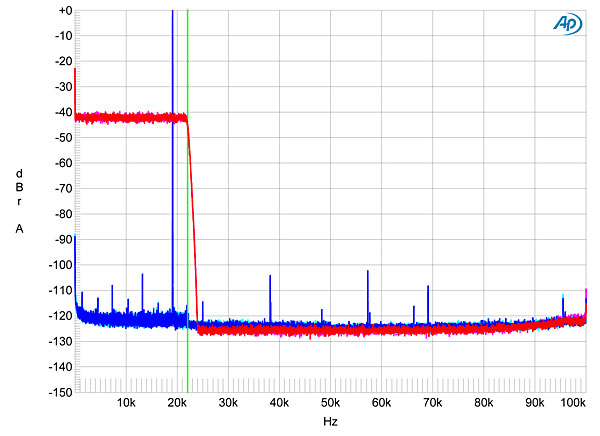 Fig.3 shows the AK240's frequency response with data sampled at 44.1kHz (green and gray traces), 96kHz (cyan, magenta), and 192kHz (blue, red). The shape of the low-pass filter is different with each sampling rate. With 44.1kHz data, the response is dead flat to just above 20kHz, with then a very sharp rolloff. With 96kHz data, the response peaks very slightly between 25 and 45kHz before dropping rapidly. With 192kHz data, the output gently rolls off above 20kHz before dropping like a stone above 95kHz. Channel separation (not shown) was excellent in the midrange and below, at 101dB, L–R, and 98dB, R–L. It was still 83dB in both directions at 20kHz.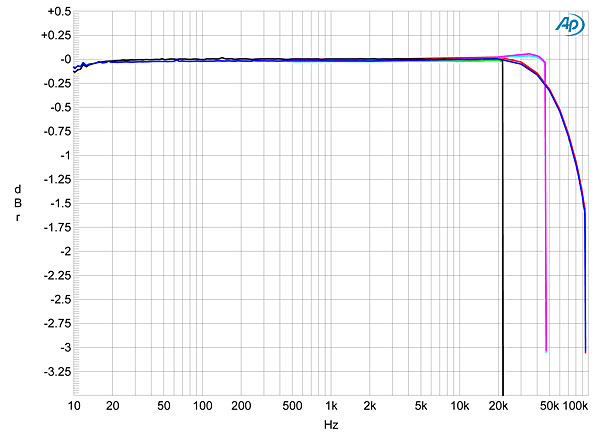 The AK240's resolution is sufficiently high, and its audioband noise floor sufficiently low, to allow it to do justice to high-resolution files. Fig.4 shows the spectra of a 1kHz tone at –90dBFS encoded with 16-bit resolution (cyan and magenta traces) and 24-bit resolution (blue, red). The increase in bit depth drops the noise floor by almost 20dB. This suggests resolution of at least 19 bits, which would be excellent in a conventional high-end DAC, let alone a portable media player, and easily enough to resolve a tone at –120dBFS (fig.5). And note how clean the 24-bit noise floor is in figs.4 and 5. However, when I examined the waveform of an undithered tone at exactly –90.31dBFS, the three DC voltage levels were overlaid with ultrasonic noise (fig.6).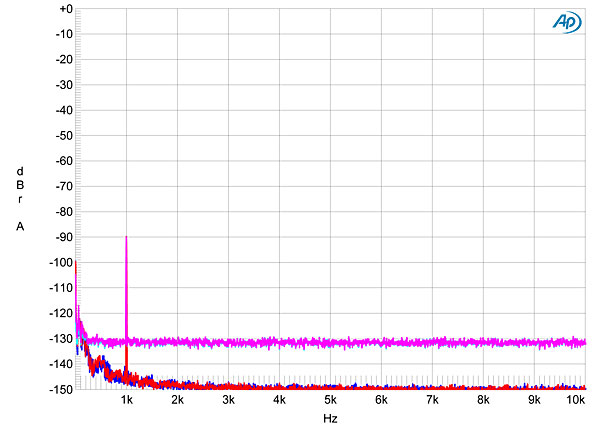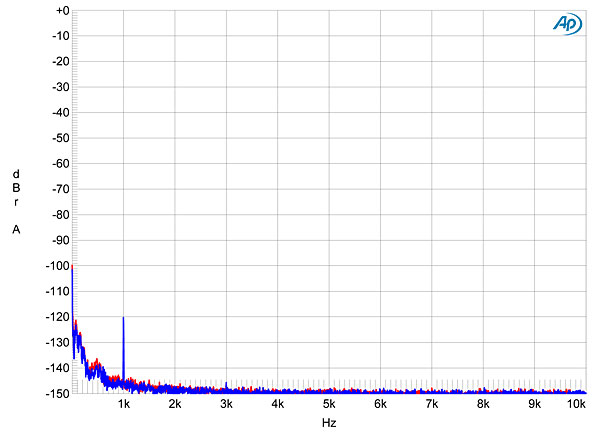 The AK240 offered very low levels of harmonic distortion into the high laboratory load impedance of 100k ohms, even with its volume control set to the maximum (fig.7). The two highest-level harmonics, the third and fifth, were both 110dB down (0.0003%). However, when I reduced the load to 300 ohms (fig.8), a picket fence of harmonic products appeared, with the second harmonic now the highest in level, at –70dB (0.03%). Reducing the volume control by 3dB gave a much cleaner spectrum (fig.9), and with 6dB of attenuation, the second harmonic now lay close to –90dB (fig.10). In practice, the AK240 will be used at much lower volume-control settings. With my Audeze LCD-X headphones, for example, which have an impedance of 22 ohms, I used a range of settings from "55" to "65," respectively equivalent to attenuations of 20 and 10dB. With a volume-control setting of "69," intermodulation distortion into 300 ohms was very low (fig.11).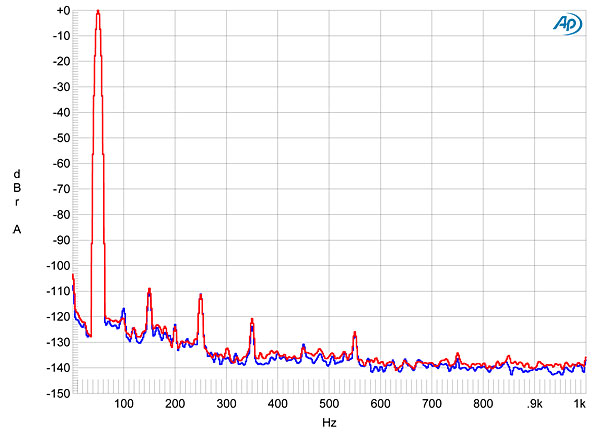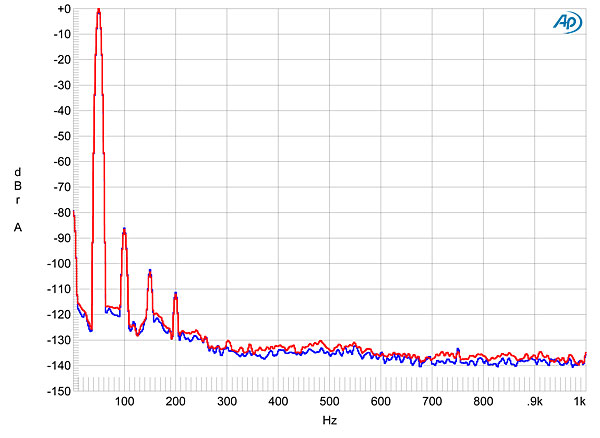 Although, strictly speaking, the Miller-Dunn J-Test is not diagnostic for digital systems in which the clock is not embedded in the datastream, I still find it useful. Fig.12 shows the spectrum of the AK240's output while it played 16-bit J-Test data from its memory. The odd-order harmonics of the low-frequency, LSB-level squarewave are all at or very close to the correct levels (green line), and no other sidebands can be seen. A low-level spurious tone can be seen just below 8.2kHz, and with 24-bit J-Test data (fig.13) the harmonics have dropped away, leaving the tone exposed. With the same 24-bit data fed to the AK240 via USB, the spurious tone disappeared, though a much lower-level spike appeared at exactly 8kHz. At almost –140dBFS, however, this is of only academic interest.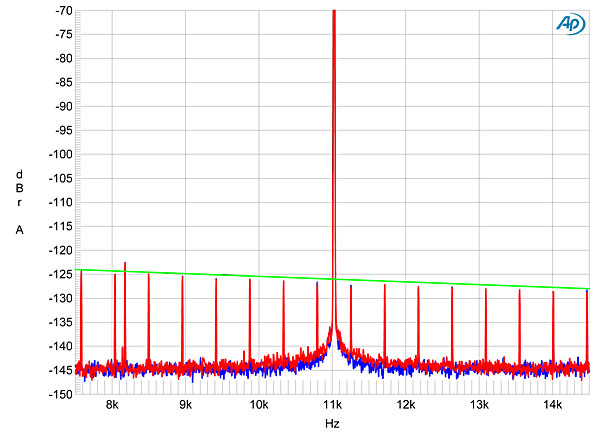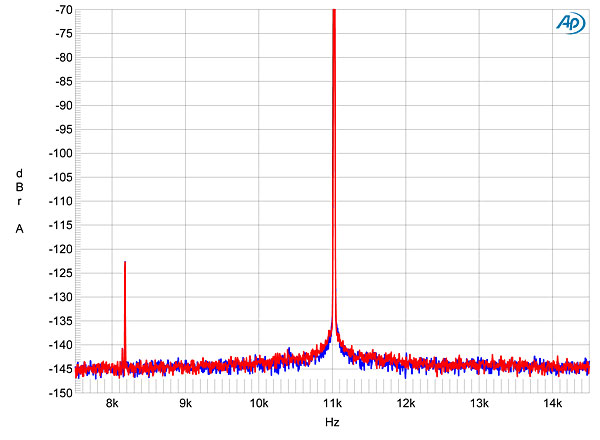 JA Listens
Measurement-wise, Astell&Kern's AK240 gets a clean bill of health—and I shared ML's enthusiasm for its sound. With both Audeze LCD-X and Sennheiser HD650 'phones (the latter, with their higher impedance but lower sensitivity, requiring volume settings about 6dB higher than the Audezes), there was a seductive bloom to the sound. The double-bass solo in "Too Rich for My Blood," from Patricia Barber's Café Blue (DSD64 rip from LP, Premonition), was reproduced with almost physical weight and superbly defined leading edges, and the superior palpability of the DSD version over the "Red Book" equivalent that I found on the review sample of the AK240 was obvious: The driving tom-toms in the coda had more punch on the DSD file.
But high-resolution PCM wasn't lacking, the 24-bit/88.2kHz FLAC file of Mahler's Symphony 6, performed by Iván Fisher conducting the Budapest Festival Orchestra (Channel Classics), sounding rich and well resolved (though I was concerned that the massive hammer blows in this work clipped the AK240's output with the Audeze 'phones with the volume control set to "65").
While the AK240 is expensive, high-resolution sound on the go doesn't get any better. I'm sending the review sample back to iRiver before I'm tempted to buy it!—John Atkinson
---
Footnote 1: This way of displaying the behavior of a reconstruction filter was suggested to me by Jürgen Reis, of MBL.