Art's Montreal Wrap: How the Ouest Was Won
At the Montreal Audio Fest, Graham Audio's North American distributor, On A Higher Note, brought along the British speaker manufacturer's latest variation on the BBC-monitor theme: the LS5/9f ($US7995/pair in oak, as shown), described as a floorstanding version of the BBC-designed LS5/9 stand-mounter. According to On A Higher Note's Philip O'Hanlon, seen above, the LS5/9f was created by Derek Hughes, the son of the founders of Spendor (themselves once a BBC licensee—this is slightly complicated). Hughes reportedly intended the extra cabinetry to support the speaker without adding to its internal volume or otherwise altering the essential LS5/9 sound.
In a system with a Gryphon Audio Diablo 120 integrated amplifier ($9990) and Scorpio S CD player ($9400), Artesania Exoteryc equipment rack, and Truitt Physics cable, the Grahams were remarkable for both their bass extension and the clarity of the information within that range—I could hear, literally for the first time, the interplay between the double bass and the kick drum in Lou Reed's "Walk on the Wild Side"—and on a large-ensemble version of Duke Ellington's "It Don't Mean a Thing (If It Ain't Got That Swing)," the soundstage was remarkably deep. Among the best-sounding systems at the show.
Although you can't see them in the photo above, the loudspeakers in use when I visited the room sponsored by Quebec electronics manufacturer Heaven 11—their Billie integrated amp ($CD1795) uses a tubed front end and a solid-state output section—were vintage Magnepans. Unfortunately, they were installed with their ribbon tweeters on their outer rather than inner edges, resulting in a lack of center fill: Voices and solo instruments on a song from Getz/Gilberto seemed as though they were coming from the side walls. Which I found disconcerting.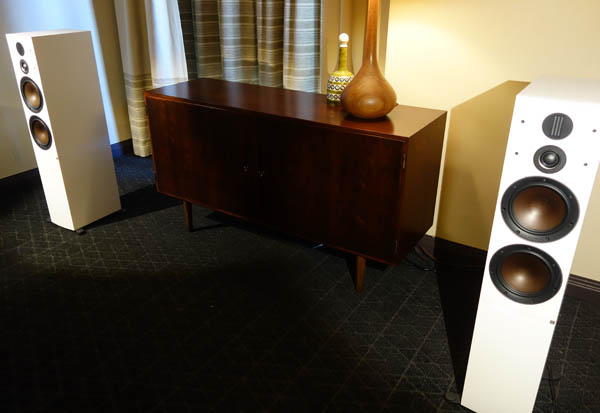 In a room sponsored by Art & Son (love the name!), I heard a pair of DALI Callisto 6 C wireless loudspeakers ($CD7000/pair). Actually, "heard" is too strong a word: The DALIs were being played rather softly, all the while a conversation between four or five people was being conducted not so softly. After five or so minutes, I had to bail and move on—sorry!
In the room sponsored by Nation Imports, I heard a new model from the Danish loudspeaker manufacturer Davone, whose products have impressed me at previous shows. The Twist (on the left in the photo above—$CD6000/pair) is a two-way speaker in a cabinet whose baffle can, for an additional fee, be upholstered in virtually any fabric the buyer chooses. With the class-D, 400Wpc TDAI 3400 integrated amp from Lyngdorf, which is both Tidal- and Qobuz-ready, and cables from a new Belfast-based company called Titan, the system sounded exceptionally good on a 48kHz file of a Dire Straits song: every instrument and voice in the mix had color and substance, and was, for lack of a better word, illuminated to perfection. The sound was wide open without being the least bit bright—a very pleasant experience.
Given the less-than-palatial size of the demonstration room, I was surprised at the downright magical sound I heard from the DeVore Fidelity O/96 loudspeakers ($US12,000/pair) in one of two rooms sponsored by Montreal retailer Coup de Foudre—not in terms of bass or spatial performance or any other single performance parameter you could name, but by the ease with which the music emanated from those boxes: melodies and beats hovered, and Louis Armstrong and Ella Fitzgerald were reproduced with physicality and attitude: two of the three rarest qualities in even the highest of high-end playback. At the left in the photo, but not in use during my visit, were Auditorium 23's Hommage 755a loudspeakers ($US11,500/pair).
Rounding out the CdF system were an MSB D/A processor; Leben's RS-28CX preamplifier and CS-300XS integrated amplifier, the latter used as a power amplifier; a Shindo Mr T power conditioner; and Auditorium 23 interconnects and speaker cables.
I love moving-coil step-up transformers! And I found a new one at the Montreal Audio Fest: the Orange ($CD2500), from Quebec-based cable company Luna. The Orange has multiple secondary windings, and is switchable between high-gain and low-gain settings—and even has a mono switch! A review loaner has been promised.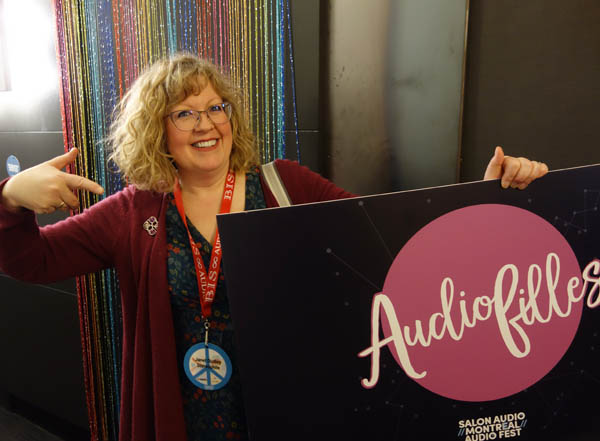 For the first time in nearly 20 years, my wife, Janet, accompanied me to the Montreal Audio Fest, and on Friday, while I went from room to room, she enjoyed a Bob Marley album on the system in La Salle des Audiofilles (geddit?), which this year featured loudspeakers from MartinLogan. Janet said she enjoyed the experience, and the next day she returned to the Audiofilles room with me in tow, camera in hand—but it was closed for a private event: We couldn't get past the (beaded, in honor of the 50th anniversary of Woodstock) door. C'est la vie.
I'll be brief, if only because the subject of this report is too genuinely modest to abide gushing: The organizers of the Montreal Audio Fest asked Stereophile's Publisher, Keith Pray (left in the photo above) and me (in the middle) to assist in presenting their Lifetime Achievement Award to John Atkinson (on the right), in recognition of his incalculable contributions to audio journalism—an award the show organizers conceived well before John announced his intention to step down, on March 31, from his post as Editor. John accepted the award with good grace, and then . . . after a pause . . . we all went out and drank wine and told jokes. (Thanks to Robert Schryer for taking the photo.)
All in all, the 2019 show was the best, most memorable Montreal Audio Fest I've yet attended—and since my first Fest, which I believe was in 1999, I've missed only a few. Kudos and thanks to show organizers Michel Plante and Sarah Tremblay for once again going above and beyond.