Antelope Audio Zodiac Platinum D/A processor–headphone amplifier & Voltikus power supply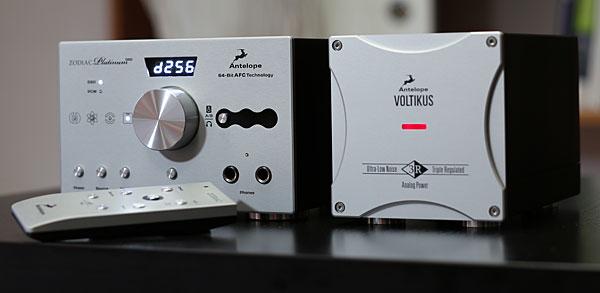 Professional digital audio is like gravity to consumer audio's antigravity: pro gear draws music into digital files, and consumer audio releases those same notes back out again.
It's not surprising, then, that many audiophile digital-to-analog converters come to us from the pro-audio industry, which has a hierarchy similar to the consumer side: value-oriented products all the way up to ultimate-performance brands. Examples of pro-audio companies that also offer audiophile DACs for consumers abound: Benchmark, CEntrance, Grace Design, Korg, Mytek, and Nagra, to name a few.
Igor Levin's Aardvark Audio began offering digital clocks and converters for recording studios in 1990, and quickly became known for its AardSync external clock. Aardvark eventually closed, and Levin opened Antelope Audio in 2005, making his mark in recording studios with the Isochrone digital clock and, later, a line of premium A/D and D/A converters. Antelope made a splash on the consumer side in 2012 with the Rubicon Atomic A/D–D/A preamplifier ($40,000), which, with its exotic rubidium atomic clock and over-the-top, Metropolis-style design, looks as if it had stepped out of a classic sci-fi film.
With the Rubicon, Levin and company were clearly making statements in both electronic design and aesthetics, but with their Zodiac line of DACs they were also distilling their technology into more affordable, no-nonsense products. Antelope's Zodiac Gold 384kHz DAC, which was supposed to be future-proof, turned out not to be when it came to DSD. Thus was born the Zodiac Platinum. For this review, Antelope shipped me a Zodiac Platinum DSD DAC in a bundle that included the second generation of their Voltikus power supply. The Platinum functions as a DAC, a headphone amplifier, and a preamplifier with analog and digital inputs.
The Zodiac Platinum is as complete as a $5771.15 (footnote 1) DAC can be in 2014, accepting any PCM format now commercially available and some that generally aren't (eg, 384kHz)—as well as DSD 64 and 128 via USB (DoP), which it upsamples to DSD 256. Antelope claims that the Platinum converts DSD streams directly to analog—it does not first convert it to PCM. Inside are two independent Texas Instruments dual-DACs per channel, as well as dedicated FPGA processing for its user-selectable upsampling. The Zodiac has linear-phase filters, and its digital and analog circuits are on separate boards, each with its own power feed.
Easy Bake
The Zodiac Platinum includes Antelope's Acoustically Focused Clocking (AFC) with 64-bit DSP, which uses what the company calls an Oven-Controlled crystal oscillator. Oven-Controlled Clocking was Antelope's early claim to pro-audio fame, and the company says that OCC's implementation in the Zodiac Platinum is essential to keeping jitter under control. Antelope's Marcel James e-mailed me to explain that Igor Levin felt that "if he could keep the word clock's quartz crystal oscillator at a constant temperature, he could significantly improve its performance. Igor decided to seal the oscillator inside its own enclosure, thereby thermally stabilizing it."
If Oven-Controlled clocking isn't enough, there's a 10MHz input for Antelope's Rubidium clock ($5995), if you're so inclined. At press time, the company was also promising to ship their new Audiophile 10M Atomic Clock (advertised on the company's website for ?2104 or $8293.50) as an option, in a case similar to the Voltikus power supply.
On the Case
The first thing I noticed when I received the Zodiac Platinum bundle was its beautiful, thick, shiny cardboard box with color photos and, inside, ample padding for the components. Included are a pile of cables for most connection scenarios, including a nicely made DC power cable, the all-metal remote control, and the two components: the Zodiac Platinum DAC itself and its Voltikus power supply.
At 6.5" wide by 4.4" high by 7.5" D and weighing 4.4 lbs, the Zodiac Platinum is well proportioned and compact. The Voltikus power supply is smaller (4.2" W by 4.4" H by 6.6" D) but heavier (6.4 lbs). Though the cases are the same height and are both made of all-black metal, their silver faceplates look as if they're from two different product lines. Unlike the DAC, the power supply's front has arcs machined out of all four sides, and small bolts to hold it on. The fit and finish are top notch, but unlike with Antelope's Rubicon, there are no gratuitous metal or design flourishes anywhere.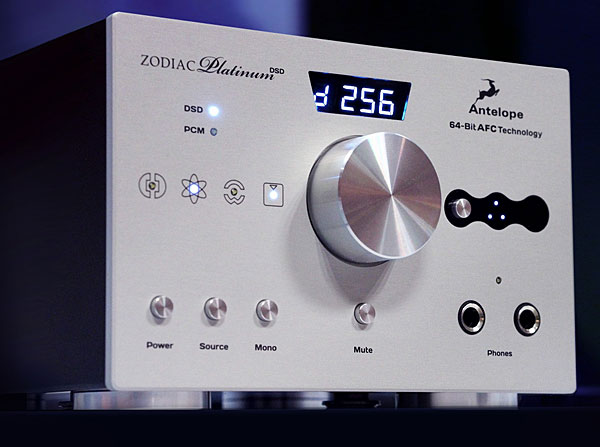 On the Zodiac's front panel, two small lights indicate whether a PCM or a DSD signal is being processed, and below those are four more small lights, with symbols indicating digital signal lock, atomic clock present, word clock lock (via a BNC connector on the back), and mono mode. Below those is a row of four buttons for, from left to right: Power/Standby, Source, Mono, and Mute.
At the top center, a small screen displays, in sequence, the sample and DSD rates, input, headphone impedance, USB info, and volume level. Only four characters can be displayed, but Antelope has so configured it that it shows you what you need when you need it. When you turn the volume control, the attenuation is shown; otherwise, you see the selected input and the sampling rate—or, during setup, other options.
Below the display is the large volume knob, which nicely fits the fingers and makes a satisfying light ticking sound as it runs through the relay-switched precision resistor ladder attenuators, which Antelope claims are accurate to 0.05dB. I love this approach—a hefty, well-calibrated control for a device with preamplifier aspirations—but the volume control produced a bit of a raggedy zipper sound through my system as I raised or lowered the volume (footnote 2).
To the right of the volume control is a button for selecting the output mode, and to its right is a small cluster of lights. Tapping the button switches the volume control between the two ¼" headphone jacks below the button (a small LED above the jacks then lights up) and the preferred output on the rear panel (one or three LEDs next to the button). It took me a few seconds to figure out how this output button works, as it was defaulted to the headphone jacks and balanced outputs. Finally, I realized that when all three of the top LEDs glowed, that meant balanced output; when one LED lit up, that meant unbalanced output; and that I had to hold the button in to switch between those modes. In any case, it's all in the owner's manual.
On the rear panel, starting at the top left, is the three-pin locking jack for DC current from the Voltikus power supply. Next to that are two sets of analog inputs: one pair for +4dBu pro-level equipment via ¼" jacks, and one pair for unbalanced consumer RCA connections. Next are the balanced (XLR) and unbalanced (RCA) analog outputs. The bottom row is all digital, beginning at the left with a BNC connector for an outboard clock, two S/PDIF and two TosLink inputs, a USB jack, and an AES/EBU three-pin input. To their right are an AES/EBU three-pin and two S/PDIF RCA outputs.
The Voltikus power supply has a single red LED on its front panel; on the rear are the fuse bay, power rocker switch, and IEC inlet for the detachable AC cord. There's a switch to lift the ground (never needed in my case), and below that is a three-pin socket for the connector that supplies 18V DC to the Zodiac Platinum.
---
Footnote 1: Yes, it's an odd price, but that's what it costs if you buy it online, direct from Antelope Audio. [Note: After this review was posted, Antelope wrote to state that the retail price is actually $5,500 in the US, and that the website is adding taxes and charges.]
Footnote 2: Jeffrey Touzeau, Antelope's representative, sent an email to explain that "The 'raggedy zipper sound' is due to the stepped relay technology which provides the highest transparency and most accurate stereo image at all levels. The step relays are an industry standard for mastering rooms which proves their high quality."