Andrew Hill's Point of Departure on 45 rpm vinyl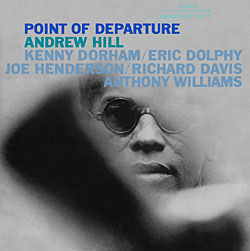 Music Matters Jazz—the L.A.-based audiophile label that reissues classic Blue Note titles, each on twin slabs of thick, quiet vinyl, mastered at 45 rpm and eased into gorgeous gatefold packages—keeps churning them out.
One of their latest, and greatest, is Andrew Hill's Point of Departure, a jaw-dropper from 1964 that sounds as fresh as tomorrow.
Hill, 33 at the time (he died in 2007, active till the end), was a precisely adventurous pianist and one of the most inventive composers of that transition era, pushing metric rhythms and chord-based harmonies right up to the edge dividing structure from freedom (he received informal lessons from Hindemith in his youth). Every player in his band—Eric Dolphy on reeds, Joe Henderson on tenor sax, Kenny Dorham on trumpet, Richard Davis on bass, Tony Williams on drums—was top-notch and hitting their peaks.
What Hank Mobley and Art Blakey signified for Blue Note in the hard-bop '50s, Andrew Hill meant for the label at the dawn of the avant-garde '60s, and Point of Departure stands as his masterpiece.
Listen in particular to Dolphy, his fleet phrasing, fluent speed, and extended harmonics: more than anyone, he was the true heir to Charlie Parker—covering ground that Bird might have, had he lived—and the forerunner to Henry Threadgill and David Murray.
One curious thing: The album was recorded within weeks of Dolphy's Out to Lunch (also reissued by Music Matters Jazz, though sold out); yet, even though it was miked by the same engineer (Rudy Van Gelder) in the same studio, and involved some of the same musicians (Dolphy, Davis, and Williams), Point of Departure doesn't sound quite as pristine: the drums aren't quite as crisp or dynamic, the bass is a little less plucky. Could it be due to the absence of an open-lid piano on Out to Lunch (which featured, instead, Bobby Hutcherson on vibes) with its attendant reflections and diffractions?
Still, we're sniggling here. The sound is still excellent—and much better (fuller, more detailed, dynamic, dimensional, and tonally true) than either Blue Note's RVG-edition CD or Mosaic's Andrew Hill LP boxed-set from several years ago (which is out of print in any event). It's a vital album, in the best sound that I've heard.