AMG Viella Forte 12 Turbo Engraved Turntable Debut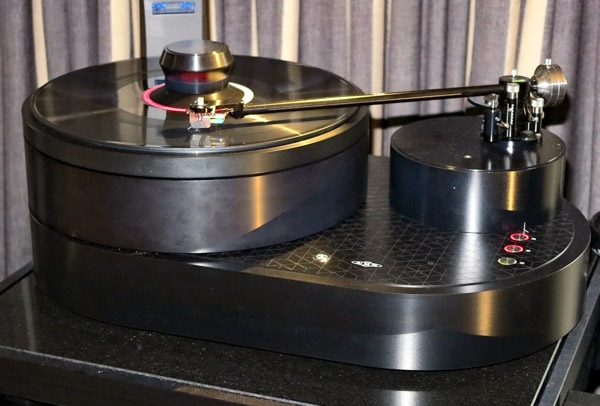 The big news in the Musical Surroundings room was the introduction of the AMG Viella Forte 12 Turbo turntable ($30,000), shown in its engraved version ($32,000). The "super" version of the German-made Viella table, it includes a plinth that's 280% larger than the standard Viella plinth, a taller, thicker, machined-PVC platter, a larger clamp, a 130% larger arm base, enhanced circuitry, and a new toroidal transformer in the power supply.
The Viella Forte 12 was in some pretty rich company, including $150,000 worth of Boulder electronics, a Clearaudio Jubilee cartridge ($6000), Vienna Acoustics Liszt speakers ($18,798/pair in Rosewood), REL S/812 subs ($2899/each), HRS VXR equipment stands with MX3 platforms, a Nordost QB8 Base power conditioner, and Valhalla 2 cabling. While I was able to briefly enjoy some really lovely and mellow sound on "Greensleeves" from the Shoji Yokouchi Trio with Yuri Tashio, the social activity in the room was such that focused listening was impossible. When the volume of the music went up, so did the volume of the voices.