Alta Audio Alyssa loudspeaker Jim Austin December 2020
Jim Austin reviewed the Alta Audio Alyssa in December 2020 (Vol.43 No.12):
At first look, our November 2020 review of the standmount loudspeaker ($5000/pair) from Alta Audio appeared to be a thorough vindication of the Stereophile method of reviewing, combining measurements with a subjective listening journal. John Atkinson's measurements were generally fine, but he uncovered "strong discontinuities in the impedance traces at 174Hz and 291Hz [that] imply the presence of resonances." (See fig.1 below). They could only be internal airspace resonances, since he found the Alyssa's cabinet to be admirably inert.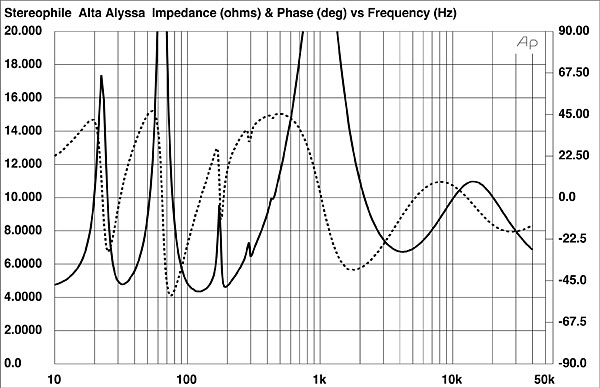 Nearfield measurements of the port and woofer showed response peaks close to those same frequencies. The sonic and musical effects of such resonances would at worst be modest, but they could be audible; in fact, John predicted that they would be. "I would expect this behavior to color the sound of male vocals," John concluded.
Independently—Stereophile reviewers don't see measurements until after their review is submitted—Herb Reichert reported "a vexing lack of focus in the lower midrange and upper bass." It was especially noticeable in male vocals, including two tracks he auditioned from Ry Cooder's album Jazz.
Herb wondered, "Was it the speakers I was hearing or their interactions with the room and my amplifiers?" Because of his room's modest dimensions, Herb avoids speakers he thinks might overload it. He reviews almost exclusively standmounts, smaller floorstanders, plus the odd smaller Magnepan. The Alyssas are standmounts, but they go deeper than is usual for standmounts of their size and weight. "In a larger space, with lower levels of reflected bass energies, the Alyssas would, perhaps, present themselves with a more balanced tone and sharper lower-midrange focus. Perhaps another Stereophile reviewer can audition these speakers in a larger room." I decided to try to answer Herb's conjecture.
My room isn't perfect (footnote 1), but it's big, and I've rarely had any serious problems with room interactions—just the usual bass modes, and here they're reasonably tame and well-spaced.
Based on conversations we've had, I would describe Mike Levy, Alta Audio's CEO and chief speaker guy, as an intuitive designer who prioritizes what he hears over design orthodoxy. An example: He doesn't believe in stuffing his speakers with lots of sound-absorbing foam, which can lower the Q and hence the level of internal resonances but only, he believes, at the cost of musical realism.
The conventional wisdom about low bass, here at Stereophile at least, is that it's nice but not essential. Levy disagrees. To him, low bass is a necessary foundation for music. So, when he set out to design a small standmount loudspeaker, producing low bass was a necessary design goal. His solution was to combine two ideas that usually are employed separately: bass reflex and transmission line, putting a longish, skinnyish port tube at the end of a folded pathway. Conventionally, transmission lines are stuffed to soak up resonances—but as I already wrote, Levy doesn't like stuffing. The result is what you might expect: John's measurements found both an unusually low port-tuning frequency for a speaker of this volume—32Hz—and the aforementioned internal resonances. That's a fine tradeoff if the resonances are inaudible or sonically unimportant. But in that case, what was Herb, who has an exceptional ear for reproduced music, hearing? My job was to evaluate the audibility of those upper-bass/lower-midrange airspace resonances and figure out what was causing the lack of focus Herb heard (footnote 2).
Here, I must interrupt this narrative with an odd, ironic twist. After the original Alyssa review had gone to press, Levy discovered that the stuffing had been left out of the Altas' ports. He delivered the Alyssas to me, for this follow-up review, with the ports stuffed. Indeed, they arrived here stuffed quite tightly—tightly enough that the Alyssa was essentially a sealed-box speaker with, it seemed to me, significantly reduced low-frequency extension (see fig.2). I'll come back to this point at the end of this followup review.
I started my investigations with the Alyssas still in their boxes by listening to some test tracks on my main system, which currently (for a few more weeks) features the full-range Magico M2 loudspeakers, which were just named Stereophile's 2020 Loudspeaker of the Year. I also listened, several times, to the two Ry Cooder tracks that Herb used to audition the Alyssas. I wanted to commit to memory how those tracks and that music sounded in my room with speakers I was used to.
I took one of the Alyssas out of its box, left the port stuffed, installed the spikes, and put it on a stand in the middle of the room—a trivial task because the Alyssas are blessedly small and light.
Let's return briefly to JA's measurements. Those previously mentioned nearfield measurements found a sharp dip around 170Hz, a sharp peak just below 200Hz, and a sharp dip and peak together right at 300Hz. Musically, all those frequencies fall between musical notes. Being sharp and narrow and between the notes should make them musically less important.
Not long ago, I found, on Tidal, an album I often listen to while partying down on Friday nights: Ellen Johnson's The Vocal Warm Up CD/Male High and Low Voice (Vocal Visions, Cat. # unknown). Of course I'm kidding about Friday nights and partying down, but this recording is useful in situations like this. I played the "Chromatic Scale" track, on which a male voice and piano sing and play, together and separately, all the half-steps from the C below middle-C (130.81Hz) up through middle-C (261.63Hz)—the range where all but the highest of those nearfield-measurement features occur. I listened both from my listening chair and from directly in front of the Alyssa's mid/woofer, being careful to keep my head still. I heard no noticeable changes in volume and no audible artifacts. Which means that music will likely not be affected by those volume changes, as long as the musicians sing and play in tune.
Next, I loaded up a signal-generator app on my MacBook Pro (AudioTest v2.2, Katsura Shareware) and created a 20-second sinewave frequency sweep from 100Hz to 350Hz. I planted myself directly in front of the mid/woofer, so that I could be sure that whatever I heard would be characteristic mainly of that driver (as employed in the Alyssa) and not of the room. I played the sweep several times, loud, again keeping my head still. I heard some easily audible volume changes over quite small frequency steps, which could well correspond to those details in this range in JA's quasi-anechoic measurements—but, again, I could hear none of this in that chromatic scale. I also heard no distortions or extraneous sounds that might correspond to what John's measurements showed or be responsible for what Herb heard. (It must be remembered, however, that the Alyssas I auditioned had been modified with the addition of those port plugs.)
So far, the Alyssas were acquitting themselves well, but most real music is more complex than either sinewave tones or a male vocalist and piano singing and playing chromatic scales. I pulled out the second Alta Alyssa, installed its spikes, and placed it on its stand. I moved the heavy Magico M2s out of the room so as to avoid intra-loudspeaker interactions.
I listened to those generator tones again with the second speaker—no issues—and then put on those two Ry Cooder tracks—one at a time of course.
Herb had been "instantly impressed by the tone, dense, bas-relief textures, and vibrant life of the upper midrange and highs. Ry Cooder's familiar voice was enjoyably natural in tone." But "there was some blurring and loss of intelligibility at the lower end of his vocal range," Herb continued. "In my room, with this Rogue tube amp and this recording, the Alyssas exhibited a vexing lack of focus in the lower midrange and upper bass."
I concur with Herb's comments about the upper midrange and highs: The guitar, for example, on "Nobody," sounded great. In the upper bass and lower treble, I heard, well, not much—nothing specific that would obscure clarity or cause a loss of focus. However, it did seem to me that the Alyssa's particular tuning emphasized higher sounds, like those of the guitar, which seemed articulate and oh, so present, while Cooder's vocal, though fully there, was less distinct, pushed back in the mix a little. I noticed something similar on other sounds and notes from, let's say, about middle-C on down. This, the Alyssas' particular tuning, lent the music a fine sense of openness and space.
The Alyssas imaged very well, the soundstage extending well beyond the loudspeakers themselves, with good depth, and didn't collapse when I moved off-center. That frequency balance accentuates the physical sense of space produced by this imaging, making the soundstage seem open and airy. (If Levy speakers have a signature character, it's in the way those upper-mid frequencies seem to map out the sonic space in fine detail.)
It's time to return to the question of the stuffing in the ports, which was missing when Herb auditioned the speakers and when John measured them, but which had been added before they were delivered to me.
I found the bass in the speakers as delivered to be reasonably satisfying; the Alyssas followed the bass line well and avoided one-note bass, and the depth and quantity of bass was fine. Then I went to the kitchen, found a pair of tongs, and pulled the stuffing out. I experimented with the amount of stuffing: half as much as delivered, then a quarter, then no stuffing at all.
I found the low-bass reach and the quantity and quality of the low frequencies superior without any stuffing. Even a quarter as much as they were delivered with reduced their bass impact considerably—I'm tempted to say dramatically. (I corroborated this with pink-noise measurements.) Also, with the wool in place, the Alyssas' bass sounded, well, woolier.
In my judgment, the Alyssas are better speakers with no wool in the ports, which is how they were auditioned and tested.
I approached this follow-up analytically, aiming to determine whether those airspace resonances are audible. My conclusion: They aren't, or anyway, I can't hear them, except as modest volume changes in a slow frequency sweep.
I didn't go into this follow-up review asking myself how the music sounds via the Alyssas. But before I was done, I found myself enjoying the music. The Alyssas imaged very well and created a fine, detailed sense of space. With the stuffing removed from the ports, the bass was excellent for a speaker this size—although, ironically, given their designer's tastes and their impressive (wool-free) bass extension, they are at their best with female voices and higher instruments.
In the end, I couldn't put my finger on what Herb heard as a lack of focus in the upper bass and lower mids, unless it was what I heard as the relative accentuation of higher mids and treble. Or perhaps it was his room after all. In any case, when used in a room larger than Herb's, the Alyssas are a speaker with a sound—a point of view—which is something to respect in an era of generic prowess.—Jim Austin
---
Footnote 1: For some thoughts on rooms and perfectionism, see
here
.
Footnote 2: I found Herb's other suggestion, that he was hearing the effects of an interaction between the speakers and the amplifier, less likely.