All There Is: Dynaudio's Focus 600 XD loudspeaker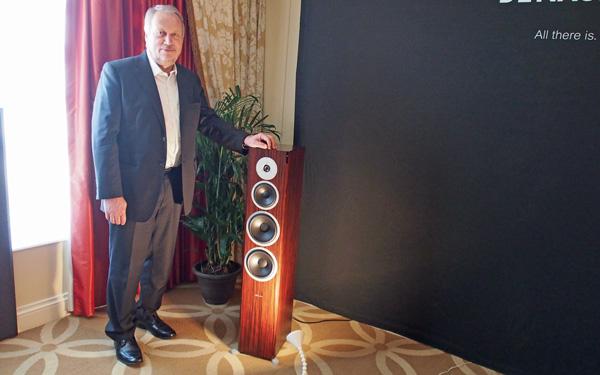 Dynaudio's Mike Manousselis welcomed me to the Danish speaker manufacturer's exhibit suite and introduced both the company's founder, Wilfried Ehrenholz (above left) and their new $13,500/pair Focus 600 XD, active loudspeaker (above right) to me. "All There Is" reads Dynaudio's slogan for the new speaker, as it can be connected directly to a network, wired or wireless, to play music.
This three-way, 43" tall, floorstanding design employs a single 27mm dome tweeter, a 140mm coned midrange unit, and two 180mm coned woofers. It incorporates four 150W amplifiers, one each for the tweeter, midrange, and each woofer. Crossover duties are handled by a DSP engine that also allows the user to tailor the bass response to the room acoustics. The speaker features analog and digital inputs, and can be expanded to deliver wireless or multi-room playback. The digital input can handle native 24bit/192kHz high-resolution music from source to driver.