AkitikA GT-102 power amplifier Measurements
Sidebar 3: Measurements
I measured the AkitikA GT-102 using my Audio Precision SYS2722 system (see the January 2008 "As We See It"). Before I test an amplifier, I precondition it with both channels driving a 1kHz tone at one-third power into 8 ohms for an hour. However, I ended the preconditioning of the AkitikA after 20 minutes, as the left side of its top panel, above the internal heatsinks, was hot, at 130.2°F (54.6°C), and the bottom panel was too hot to touch, at 169°F (76.6°C). The AkitikA doesn't have sufficient heatsinking for sustained operation at this worst-case power level.
The voltage gain at 1kHz into 8 ohms measured 26.15dB, an input of 140mV resulting in an output power of 1W into 8 ohms. The GT-102 preserved absolute polarity (ie, was non-inverting). Its input impedance was usefully high, measuring 49k ohms at 20Hz and 1kHz, and dropping slightly, to 41k ohms, at 20kHz. The output impedance, including a 6', spaced-pair speaker cable, was 0.2 ohm at 20Hz, 0.11 ohm at 1kHz, and 0.13 ohm at 20kHz; as a result, the modulation of the GT-102's frequency response with our standard simulated loudspeaker was ±0.1dB in the midrange and treble, but closer to +0.2dB in the bass (fig.1, gray trace). The AkitikA's frequency response was down by 3dB at 100kHz; as a result, a 10kHz squarewave had short risetimes (fig.2), and there was no overshoot or ringing with a resistive load.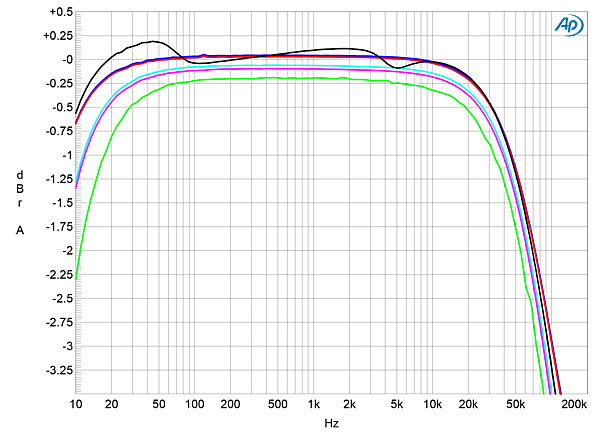 Channel separation was >90dB below 1kHz, and still 70dB at the top of the audioband. The unweighted, wideband signal/noise ratio, taken with the inputs shorted to ground, was a very high 84.7dB (average of both channels) ref. 1W into 8 ohms. The S/N ratio improved to an excellent 95.9dB when the measurement bandwidth was restricted to 22Hz–22kHz, and to 99.4dB with an A-weighting filter in circuit. This is a quiet amplifier. Spectral analysis of the low-frequency noise floor (fig.3) indicated that the AC-supply–related harmonics were at the odd-order harmonics of 60Hz, which suggests that these are due to magnetic interference from the toroidal power transformer. They lay at or below –110dB (0.0003%).
AkitikA specifies the GT-102 as clipping at "a bit more than 60W into 8 ohms at 1kHz." (Texas Instruments' datasheet for the LM3886 chip claims "68W of continuous average power [into] a 4 ohm load.") Defining clipping as when the THD+noise in the output reaches 1%, I measured a clipping power of 64W into 8 ohms (18.1dBW, fig.4), with one channel or both channels driven. However, when I tried to measure the clipping power into 4 ohms with both channels driven, the GT-102 turned off its outputs at 61W (14.8dBW). With one channel driven, the AkitikA clipped at close to 120W into 4 ohms (17.8dBW, fig.5). This lack of power with both channels driven might explain why HR preferred the low-frequency reproduction of the GT-102 when it was paired with the high-impedance Falcon speakers.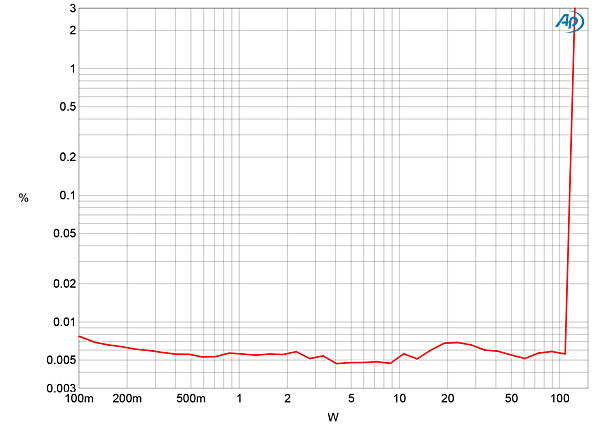 I examined how the GT-102's percentage of THD+N varied with frequency at 8.95V (equivalent to 10W into 8 ohms and 20W into 4 ohms). The THD+N was extremely low in the bass and midrange into 8 ohms (fig.6, blue and red traces), with the usual rise in the treble due to the decrease in open-loop voltage gain as the frequency increases. However, into 4 ohms (fig.6, cyan and magenta traces), while the THD+N percentage in the treble was only slightly higher than it had been into 8 ohms, it rose catastrophically in the bass. This was due to the waveform being interrupted two times per cycle at the positive and negative peaks; I suspect that this behavior is due to the LM3886 amplifier chip's protection circuit.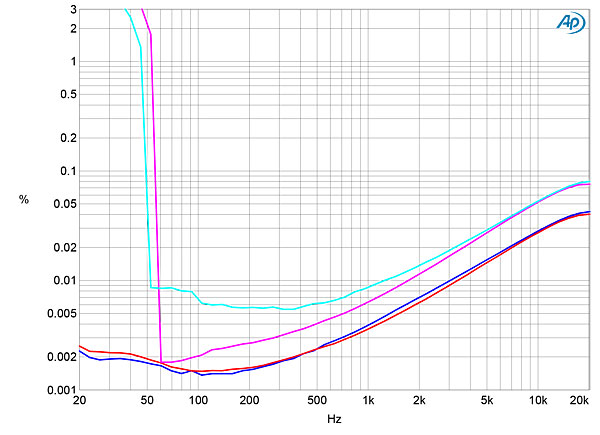 The THD+N waveform at 50Wpc into 8 ohms (fig.7) indicates that, while low in level, the distortion occurs at the signal's zero-crossing points. Even though AkitikA's website describes the class-AB GT-102 as having "an electronically regulated power supply" that, "in some ways . . . offers an advantage similar to class A operation," fig.7 implies a lack of output-stage bias current. Even so, the highest-level harmonic present in the GT-102's output is the relatively benign second, though higher-order products are also present at lower levels (fig.8). Tested with an equal mix of 19 and 20kHz tones, the AkitikA produced relatively low levels of intermodulation distortion (fig.9), with the difference product at 1kHz lying at –94dB (0.002%), and the higher-order products at or below –90dB (0.003%).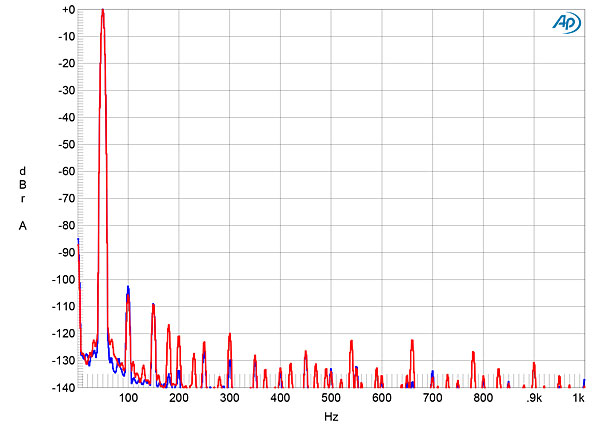 As HR found, its measured performance indicates that the AkitikA GT-102 amplifier is happier driving higher impedances, though this drawback must be considered in the context of its very affordable price.—John Atkinson