Aesthetix Audio Mimas integrated amplifier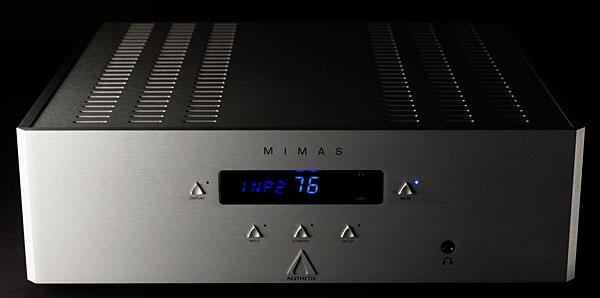 I love listening to new audio products and discovering how they make me feel. I do my best to open my mind, ears, and pores, to trust the process and see where it leads me. Ultimately, for all the words and analogies I or any reviewer may conjure up, what we do isn't very different from a dog sniffing out a new patch of grass or an insect sending out its antennae to determine what's what.
In all cases, the spirit and care with which we approach new territory helps inform our conclusions.
So it was with eager anticipation that I approached the Mimas integrated amplifier, the latest product from Aesthetix Audio, a seven-person company based in southern California and founded in 1994 by designer Jim White.
White claims that the hybrid Mimas's solid-state power and tubed preamp sections combine the functionality of his Atlas power amplifier ($8000) and Calypso line stage ($5000) in a single, 44-lb package costing $7000 in its basic configuration. The name of this and other Aesthetix models sprang from a Monopoly-like game called Solar Quest that White's family used to play. The game involves flying around our solar system on each planet's moons. White had memorized the names of those moons—Atlas, Calypso, and Mimas all orbit Saturn—and thought they'd make great product names. He spoke to me about the Mimas by phone.
"Our goal with the Mimas was to not sacrifice our core values whatsoever as we brought the technologies that are in our more expensive separates into an integrated," White told me. "The power section is a zero-feedback, DC-coupled, balanced, bridged design. We retained the volume control from the Calypso line stage and the whole gain-stage structure. The output stage is very similar to what's in the Atlas. The essence of what is in the other products is in the Mimas. It's not like we made the parts cheaper. The circuitry and parts are identical. All of the cost savings is that it's in one chassis."
Asked what he considers most special about the Mimas, White pointed first to its fully balanced volume control, which comprises 60 individually switched resistors that permit volume adjustment in increments of 1dB. "When you see 0.5dB or even finer resolutions, that usually means it's an [integrated circuit]," White replied. "I'm not saying that all ICs necessarily sound bad, but in comparison to individual resistors, they do. As for traditional potentiometers, they have a particular sound characteristic depending upon the kind of material used, and they don't track well. When you go down to the lower ranges, where most people listen to music, they track very poorly. What I mean by tracking is the channel-to-channel balance. A balanced potentiometer greatly affects the operation of the balanced circuitry. So, for me, the priority in preamps is volume control, volume control, volume control. And preamps are a little bit what I'm known for, because those were our first products." This left me eager to discover whether 1dB volume increments would be too large. Would some recordings always seem either too loud or too soft?
White stressed that the Mimas has a fully differential, tubed gain stage. The output stage has no global feedback or servo for correcting DC offset. He also emphasized parts quality: Roederstein plate-load resistors, Reliable Capacitors as coupling caps. "A power amplifier can be capacitor-coupled, which relieves the burden of DC offset to a certain degree, but most solid-state power amps have to either have some way to correct for DC offset or track so well so that they don't have offset at the output. For Aesthetix, that means we have to take great care in matching individual sets of FETs . . . . The easy solution for this product would be to put in a DC servo, [but] even though it would be a lot easier to build, we're doing without it because its effects would be audible."
The Mimas's power transformers are wound in-house; White says the power supply provides "a ton" of capacitance, allowing the amplifier to "effortlessly drive a wide range of speakers." Would it be able to adequately drive my Wilson Audio Alexia 2s—hardly the easiest load on planet Earth?
There are, of course, trade-offs in squeezing a preamp and a power amp into a single box. Separates isolate functions in individual, (hopefully) well-shielded enclosures, with separate power supplies. The physical distance between a separate power amp and preamp, or between the cases of a two-box preamp, minimizes the interactions of power transformers with low-level signals. The noise resulting from those inter-actions can obscure details, diminish vivid colors, and raise the low noise floors that many audiophiles crave. In the case of the Mimas, Aesthetix has attempted to minimize interactions by using a stainless-steel transformer cover and as much component shielding as they could fit into the box.
There's a lot in that box, even without some significant options that were not yet available for my listening sessions. The first two will likely be available by the time you read this: a moving-magnet/moving-coil phono-stage card ($1250) whose fully discrete, FET-based, high-gain differential circuit uses Wima film capacitors and offers adjustable gain and loading; and a DAC card ($1250) that will permit playback of PCM resolutions up to 24-bit/192kHz and DSD64 via S/PDIF or USB, and 24/352.8, 24/384, and DSD128 via USB. The DAC will include fully balanced differential analog circuitry incorporating Wima film caps and asynchronous USB technology from Wavelength. Due in September: an upgrade of the Mimas's headphone amplifier from the standard 1/3W, IC-based device to a fully discrete, class-AB, 1W amp, with an upgrade to Mogami wire ($500); and an adjustable, high-pass crossover with frequency settings of 60, 80, 100, and 120Hz, to facilitate pairing the Mimas with a subwoofer ($300). Expected by year's end is an Ethernet card with its own control app, which will transform the Mimas into a Roon endpoint (ca $1250).
The only option my review sample came with was Aesthetix's stylish aluminum remote-control handset ($400); it was sent because production of the standard plastic remote was delayed. The upgraded remote, designed and manufactured by Aesthetix, is smaller and heavier than many, with backlighting triggered by movement, but only in low light. This remote comes with its own hefty manual that explains how to cycle through the Mimas's menu system via the remote to adjust its many settings.
On with the show
Setup was simple. To accommodate the lengths of my Nordost Odin 2 interconnects and cables and my limited shelf space, I put the Mimas on a lower level of my Grand Prix Monaco rack. To test the Aesthetix's integrated-amplifier functions, I connected the dCS Rossini DAC's balanced analog outputs to the Mimas's analog Input 1, turned the Rossini's volume control all the way up to unity gain, then ran speaker cables from the Mimas's easily tightened speaker terminals to the Wilson Alexia 2s.
Since the Mimas can also function as only a preamp, I also tried feeding signals from the Mimas's balanced preamp outputs to my reference Dan D'Agostino Master Audio Systems Progression monoblocks to the Alexia 2s. Finally, I returned to my reference configuration—Rossini DAC to Progressions to Alexia 2s, volume controlled by Rossini—and listened again.
One big question concerned whether to plug the Mimas into a power conditioner. Ever since we built my dedicated listening room, I've regularly used two power conditioners: currently a PS Audio DirectStream Power Plant 20 for the front end and an AudioQuest Niagara 5000 for the power amps. I'm not the only Stereophile reviewer who finds that amplifiers sound smoother when plugged into a non–current-limiting power conditioner that's designed to handle heavy loads, with significantly tighter bass—even when, as in my case, that wall houses a carefully designed dedicated circuit whose 8-gauge wiring is fed by a relatively new high-current power transformer that serves only five households.