Adam Schoenberg: Luminous, Rousing Music on SACD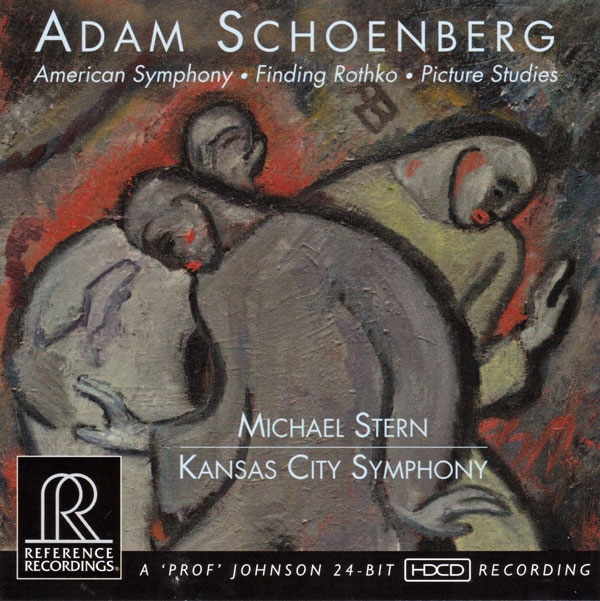 Fear not. Not only is Adam Schoenberg, 36, one of America's most performed living composers, but his music (and, perhaps DNA) bears no relationship to the horrors of that 20th century demon of twelve-tone discord, Arnold Schoenberg. Quite the contrary. The three works on the new, vividly recorded
Adam Schoenberg
hybrid SACD from Reference Recordings, recorded in 24/176.4 surround and played by the Kansas City Symphony under Michael Stern, are deliciously tonal, filled with color and energy, and irrepressibly optimistic.
In some ways, Adam Schoenberg's music is reminiscent of the orchestral work of Mason Bates. Some of Schoenberg's recent compositions come complete with catchy, club-inspired dance grooves and showy instrumental effects. But where Bates can sometimes appear facile, and too immersed in computer effects to achieve profundity, Schoenberg simply dazzles and delights. Plus, anyone who writes a modern-day Pictures at an Exhibition (see below) is someone every music-loving audiophile will want to check out.
Two of the three works on the program, Finding Rothko for chamber orchestra (2006) and Picture Studies for orchestra (2012), were inspired by paintings. The former, written for New York's IRIS Orchestra when our Adam was a 25-year old, second year doctoral student at Juilliard and studying with John Corigliano (The Ghosts of Versailles, The Red Violin . . . ), was inspired by four Rothko paintings housed in museums in New York, Los Angeles, and Potomac, Maryland. The opening section, "Orange," is luminous and mysterious, while "Red" is alternately violent, luminous, and explosive. The final movement, "Wine," mellows out as it unfolds in gorgeous, lush colors that present a winning showcase for a sound system.
The 25-minute, five-movement American Symphony (2011) was inspired by the promise of the 2008 presidential election. In the liner notes for a composition that sounds light years apart from the sonic tapestry of today's news, Schoenberg writes of a time when "both parties asked the people to embrace change and make a difference. I was excited about ushering in this new era in our nation's history, and for the first time, I truly understood what it meant to be American."
Schoenberg explains that he heard, coincidentally, Copland's quintessentially American Symphony No. 3, composed in 1946, just three nights after Obama was elected. ". . . Seeing that our country and world had needs similar to those of Copland's time, I was inspired to make a difference. I set out to write a modern American symphony that paid homage to our past and looked forward to a bright future... The symphony reflects a respect and responsibility for the great potential of our nation and a hunger to affect positive change. It is about our collective ability to restore hope within ourselves and our neighbors, both here and around the world."
The first movement fanfare sounds a bit Bates-ish, and the second redolent of Copland. Regardless, the symphony is variously colorful, exciting, unabashedly positive, touching, and luminous. Aretha, Barack and Michelle would have had a ball dancing through the "stars, stripes and celebration" finale. There are no walls in this symphony.
Conceived as a 21st-century Pictures at an Exhibition, Pictures Studies for orchestra (2012) was commissioned by the Kansas City Symphony and Nelson-Atkins Museum. Its inspiration was eight different works by different visual artists, including Kandinsky (with a lot going on in that movement), Calder (even more luminous, with bells and gongs and deliciously deep double bass that will definitely test your system's low extension and bass control), and Miró (sparkling, light, and danceable). You'll dance right through this symphony's equivalent of Mussorgsky's "The Gates of Kiev," which here, inspired by Francis Blake's photography, Pigeons in Flight, creates a big, unmistakably urban, irrepressibly optimistic danceable climax.
Reference Recordings has previously issued another Schoenberg premiere, Picture Etudes for Solo Piano, on Nadia Shpachenko's triple Grammy-nominated Fresh! disc, Woman at the New Piano: American Music of 2013. Next month, the family team of Keith O. Johnson and Sean Martin will record Schoenberg's Second Symphony, Migration for wind ensemble. All the company needs to do is add music by Andrew Norman to its discography, preferably performed by one of the new music ensembles inspired by the Kronos Quartet's trailblazing example, and they will be right in tune with the times.