Aardvark Boutique Audio in Ontario
I ran across the poster above in
Canada HiFi
magazine: an announcement of the launch of a new audio store with an evening of vinyl playback. Located in the town of Orangeville, Ontario (population 30,000, about an hour's drive from Toronto), the store, with the intriguing name of Aardvark Boutique Audio, hadn't opened yet, but the event, taking place in the Orangeville Opera House, promised "Canadian Musicians On Vinyl—In Amazing Hi Fi Sound." I had to go and check it out.
When I got to Orangeville, I went to the address of Aardvark Boutique Audio, and saw that the construction of the store was indeed still in the drywall stage. But, down the street, I found another store with a similar name: Aardvark Music and Culture. This could not be a coincidence. I went into Aardvark Music and Culture, and chatted with its genial owner, Perry Joseph—see photo below.
Aardvark Music and Culture is apparently a well-established music store, selling musical instruments and offering music lessons. Joseph, a singer/songwriter himself, is an audiophile, who says he has often thought of expanding the store to include selling audio equipment, but the space was not available. The solution was a new store, to be owned and managed by Peter Wolter, Joseph's friend and seasoned audiophile, who has long dreamed of opening his own hi-fi store. Wolter and Joseph are not partners, but Joseph contributed use of the Aardvark name, which has a strong association with music in Orangeville. To the best of my knowledge, the music store/audio store association is a first, but, when you think about it, it makes perfect sense.
The Orangeville Opera House is an auditorium with a seating capacity of about 300, and this sort of large space is not ideal for demonstrating audio equipment designed for playback in a home environment. The DeVore Orangutan 0/96 speakers (see photo above), although capable of higher output than most speakers intended for home audio, were initially having a hard time trying to fill the space, producing audible distortion, perhaps due to amplifier clipping. This was fixed by the simple expedient of turning down the volume a bit. (The system included a Funk Vector V turntable and FXR-II tonearm, Dynavector 20XL cartridge, Finale Audio Au Preamp, Finale Audio KT 88 monoblocks, and cables by Furutech.)
At a more modest level, the sound of LPs—recordings by Canadian artist like Neil Young, Gordon Lightfoot, Joni Mitchell, Ian and Sylvia, and Glenn Gould—had the kind of smooth musicality that's much admired by vinyl fans. Here you see, left to right, Reinhard Goerner (rep for Funk turntable/arm used in the demos) and Peter Wolter treating LPs with loving care. You can tell by their expressions that these are real vinyl-lovers!
The evening concluded with a live performance by Erin Bolton, a talented singer/guitar player who lives in Orangeville—see photo above. Vinyl may be good, but it's not the same as live...
A few weeks after the vinyl playback event, I received in the mail an invitation to the formal opening of Aardvark Boutique Audio. The invitation included a sample 45rpm record—which should give you an indication of what the store is about—see above. (Yes, I played it. Didn't sound too bad, either.)
To me, the term "boutique" means a small store that carries a narrow, "exclusive"range of products—at correspondingly high prices. The first part of this definition applies to Aardvark Boutique Audio, but the second part assuredly does not. Peter Wolter (see picture above) refers to his approach as "Humble Hi End," with an emphasis on providing exceptional value and quality. He wants the store to represent a return to "yesterday's hi-fi shop," a place to come for advice and guidance, building a long-term relationship with customers. He sees his customers as music lovers rather than "audiophiles." The most expensive speakers he's going to carry are $6000/pair. (The $12,000/pair DeVore Orangutan O/96s used in the system at the vinyl playback evening were borrowed just for that event, because of their high sensitivity.) Wolter told me that he's very excited about some speakers he's considering that provide exceptional sound quality and will sell for about $700/pair. For amplification, it's tubes all the way—affordable tubes, that is. Aardvark carries the full line of Finale Audio tube electronics, which start at $1199 for an integrated amp. The Finale electronics are designed and made in Toronto.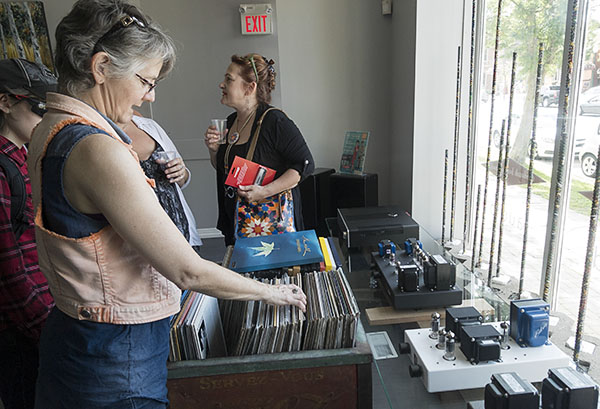 If you've read this piece up to here, it should be no surprise to learn that a focus on record players is a major part of the Aardvark approach. This includes entry level turntables with clear upgrade paths—and, of course, a good selection of vinyl (see photo above, which also shows the Finale electronics). Although the press release refers to Aardvark providing "help navigating the new world of hi-resolution audio," and the store carries Cambridge Audio and Cocktail music servers, I think it's fair to say that analog is closer to Peter Wolter's heart. He also has an unusual take on home theater: "Most rooms just don't work with typical 5.1 systems." He suggests that a well-set-up 2.1 system can provide an effective "surround sound" effect while maintaining the primacy of music reproduction.
An interesting tie-in with the world outside audio is an association Aardvark is developing with an art gallery: the Bartlett Gallery, also located in Orangeville. The idea is that each will have a "satellite installation" in their respective spaces: Aardvark is providing a stereo system to play in the gallery, and the gallery is providing works by prominent local artists to be displayed in the boutique. You'll see an example of the art in the photo above.
Peter Wolter says that he wants Aardvark Boutique Audio to present a "welcoming, relaxed, but visually stimulating environment." In this, he has already succeeded, but there's more to come, including acoustical treatment of the listening room. "Come and see us in six months and see how we're doing."
That I will.