All:
For about $250, one can have a nearly silent, thin, rack mount server with USB output of the highest calibre. The secret is the Operating System. It will drive a modern USB DAC from 44.1-192/24, as well as stream AIRPLAY for iOS and Apple OS X running iTunes, and serve last.fm and Spotify streaming radio.
For $450 total cost, add a $200 USB/SPDIF BNC or COAX card if USB isn't your bag or if you have an older high end DAC. This is exactly what I did in my case.
So the secret: LINUX! High end hifi companies like Bryston use Linux in their media servers...and a program called mdp...so I did the same with off-the-shelf hardware and the savings are astronomical..for just a little effort. Here are the specifics:
I actually just finished converting my existing intel workstation into a music server as a proof-of-concept, and it sounds amazing so far! My only complaints are rack space, power, and noise. I too use liquid cooling, but my radiator has a fan on it and an i7 needs a lot of cooling!
When running my entire operating system and playing a 192/24 file, my CPU usage is 1%. So, spec'ing out a much more modest, quiet, and power efficient system certainly is possible.
Here is my current choice of components for a hifi music server from Newegg with prices:
$59.99 iStarUSA D Value D-214-MATX Black Steel 2U Rackmount Compact Server Case
$59.99 SeaSonic S12II 430B 430W ATX12V V2.3/EPS12V 80 PLUS BRONZE Certified Active PFC Power Supply
$21.99 Kingston 4GB 240-Pin DDR3 SDRAM DDR3 1333 Desktop Memory SR x8 STD Height 30mm Model KVR13N9S8H/4
$69.99 ASRock Q1900M Intel Quad-Core Celeron Processor J1900 Micro ATX Motherboard/CPU/VGA Combo
$45.99 Kingston SSDNow V300 Series SV300S37A/60G 2.5" 60GB SATA III Internal Solid State Drive (SSD)
Total: $257.95
here is what the case looks like: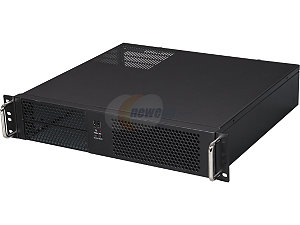 Bear in mind I've chosen good to very good components so this machine is *quality*.
I have successfully configured my prototype and it is driving my Bryston DAC at 44.1-192/24 via SPDIF(see next sentence). If you want to try further USB isolation, an M2TECH HiFACE TWO USB/SPDIF converter can be had for under $200. This is actually the way I ended up going because my older Bryston BDA-1 only supported up to 48/16 via USB, but 192/24 via SPDIF...however, ANY new DAC will support USB without the M2TECH interface..thus saving potentially that extra $200.
My total system cost, including the M2TECH USB/SPDIF converter comes to $450.
Without the SPDIF converter, again $250!!!!
It is easily on league with the Brsyton BDP-1 USB for 15% the cost.
Let me know if you have any questions.
Kind Regards,
Ron
ps. in addition to AIRPLAY, free clients for mdp FLAC servers are available on iOS for iPAD and iPHONE. They are good quality and automagically grab album art and track info.
pps. For the same $450 total cost, one could instead of the M2TECH USB/SPDIF converter, choose the $200 Juli@ XTe sound card offering more choices of SPDIF, balanced AES, and other outputs.