2014 Records To Die For Page 6
---
JASON VICTOR SERINUS
---
Jonas Kaufmann: Wagner
Wesendonck-Lieder
, plus scenes and arias from:
Rienzi
,
Tannhäuser
,
Lohengrin
,
Die Walküre
,
Siegfried
,
Die Meistersinger von Nürnberg
Jonas Kaufmann, tenor; Orchestra of the German Opera Berlin, Donald Runnicles
Decca 478 5189 (CD). 2013. David Groves, prod.; Philip Siney, eng. DDD. TT: 74:21
It's no surprise that this all-Wagner CD from the most versatile tenor of the decade has received multiple accolades, including from my colleagues Robert Levine and Richard Lehnert. Released to commemorate the 200th anniversary of Wagner's birth, it confirms that Kaufmann is indeed the heroic Wagnerian tenor of our generation. What is most amazing about his artistry is that his gleaming, metallic sound is allied to a personality that eschews macho posturing. A case in point is the sensitivity that distinguishes his gorgeous rendition of the five Wesendonck-Lieder. In songs customarily performed by sopranos and mezzo-sopranos, Kaufmann lightens and sweetens his voice to reveal the tenderness and longing at the heart of these great compositions. This is a great disc. (XXXVI-5)
Ella Fitzgerald: Sings Songs from the Soundtrack of "Let No Man Write My Epitaph"
Ella Fitzgerald, vocals; Paul Smith, piano
Verve/Analogue Productions AVRJ 4043-45 (2 45rpm LPs), CVRJ 4043 SA (SACD/CD). 1960/2013. George Marino, remastering. AAA/ADD. TT: 43:00
Since 1997, I've treasured Bernie Grundman's Classic Compact Disc remastering (out of print) of this great collection, initially recorded for the soundtrack of the film Let No Man Write My Epitaph (1960). Now that Chad Kassem's Analogue Productions has augmented the late George Marino's 45rpm remastering, made with the George Massenburg GML 20-bit A/D, with a stereo SACD/CD edition (not available at press time), silver-disc lovers can again enjoy the brilliance of Ella Fitzgerald in her prime, singing 13 great classics. Surprisingly, for a collection that includes Dorothy Fields and Jimmy McHugh's "I Can't Give You Anything But Love (Baby)," and Maxwell Anderson and Kurt Weill's "September Song," every close-miked, impeccably voiced performance catches Fitzgerald in a mellow mood. In the face of such great singing, arguments about the depth of her interpretations seem tantamount to Grinches bickering about how best to steal Christmas. (XX-2)
---
DAVID SOKOL
---
Gary Nicholson: The Sky Is Not the Limit
Ardeo CD9501 (CD). 2000. Gary Nicholson, Ricky Fataar, prods.; Rob Fraboni, prod., eng.; Clarke Schleicher, John Hurley, engs. AAD. TT: 55:19
In the world of smart country music, Gary Nicholson has long been an A-lister's A-lister, writing songs for everyone from George Jones and Waylon Jennings to the Mavericks and Trisha Yearwood. And B.B. King, Etta James, and Buddy Guy are among the multitude of luminaries who've tapped into the Nicholson songbook. But the songwriter, who seamlessly bridges country and blues, is also a topnotch recording artist, though few have heard those recordings. Many of the songs on Sky may be familiar to aficionados of hip country and rock from the 1990s: "The Trouble with the Truth" is the title song of Patty Loveless's 1996 album; "Somebody to Love You" has been recorded by Wynonna as well as Nicholson collaborator Delbert McClinton; and "Shadow of Doubt" closes out Bonnie Raitt's chart-topping Longing in Their Hearts. Nicholson knocks these all out of the park, as he does with the topical "The '90s Is the '60s." His savvy writing is filled with humor and wisdom. In "Somebody to Love You," he sings, "You need a job so you can make some money / You need a nice warm place to stay / A sense of humor 'cause life is funny / A big stick to keep the wolf away," before invoking such modern-day necessities as barbecue, jumper cables, and a snooze control. Plenty of fellow A-listers join the Sky party, including, just for starters, Raitt, McClinton, Don Was, Vince Gill, and Lonnie Mack. Indeed, for these pros, and for anyone fortunate enough to hear this album, the sky is not the limit. (XIX-9)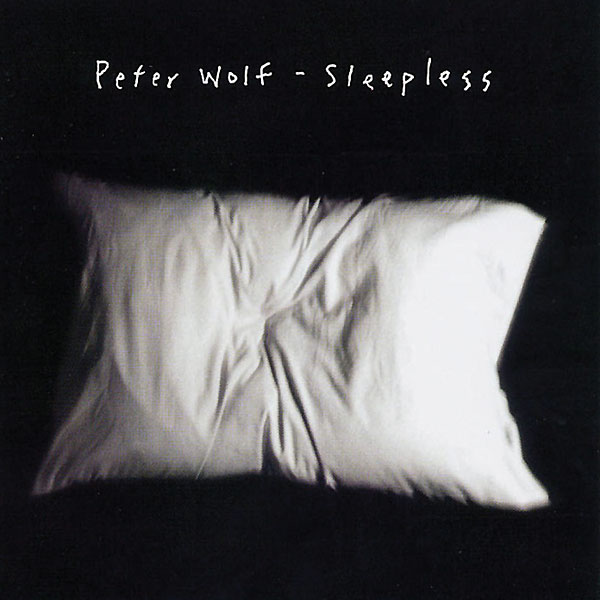 Peter Wolf: Sleepless
Artemis 751125-2 (CD). 2002. Peter Wolf, Kenny White, prods.; Rob Eaton, eng. AAD? TT: 41:00
It's great fun to listen to those early J. Geils Band albums on Atlantic, with the ever-rambunctious singing of Peter Wolf front and center. Three decades later, Wolf's swagger may have mellowed but his voice hadn't lost one ounce of punch. Sleepless—like, say, Keith Richards's Talk Is Cheap—is the product of a journeyman star wise enough to have perspective but frisky enough to make you forget he's not a kid anymore. Sleepless boasts astute track-by-track notes by the artist, and for "A Lot of Good Ones Gone" Wolf tells how the song—which he wrote with Will Jennings—makes him think of his friend John Lee Hooker, while invoking Muddy Waters and a Wolf named Howlin'. Another of the nonstop highlights here is a punchy version of John Scott Sherrill's "Nothing But the Wheel," which a decade earlier had made the country charts for a twangy Patty Loveless. Here, Mick Jagger guests. Other tracks on Sleepless feature Richards, as well as Steve Earle and longtime bandmate Magic Dick. The ace studio musicians, who include several once-and-future members of Bob Dylan's band, rock throughout, and it's safe to say that Wolf, who always sounds good, has never sounded better.
---
JOHN SWENSON
---
Champion Jack Dupree: New Orleans Barrelhouse Boogie
Columbia/Legacy CK 52834 (CD). 1940–41/1993. Lester Melrose, prod.; David Mitson, remastering. A–D. TT: 68:19
These first recordings by the great singer and pianist Champion Jack Dupree were made in Chicago for OKeh records, but they carry the history of New Orleans barrelhouse piano, as taught to the then–30-year-old Dupree by Willie "Drive 'Em Down" Hall. Dupree's forceful, two-handed style and tales of gambling, doping, womanizing, and Mardi Gras revelry are all over this set, which includes previously unreleased and alternate tracks, including a terrific version of "Oh, Red!" The classic is the ancient lament "Junker Blues," which inspired everybody from Professor Longhair to Dr. John, launched Fats Domino's career in its reimagined version, "The Fat Man," and continues its peripatetic journey through the music of contemporary New Orleans.
The Bonzo Dog Band: The Best of the Bonzo Dog Band
Rhino R271006 (CD). 1990. Apollo C. Vermouth (Paul McCartney), Gus Dudgeon, Gerry Bron, others, prods.; Terry Brown, Andy Johns, others, engs. AAD.TT: 72:25
The Bonzos were the apotheosis of 1960s British comedy applied to popular music. Their albums were daft collections of brilliant pop structures often in service to parody, absurdist ditties and manic visions perfectly suited to the mind-altered state of late-1960s psychedelia. The group's two visionaries, frontman Vivian Stanshall and musical director Neil Innes, somehow meshed perfectly in the fragile but singular vision of this completely uncompromising project. This album shows the breadth of the band's concerns, from Stanshall's twisted literary references to everything from Kipling to Sartre, to Innes's way of folding Beatles-esque melodies into the unlikeliest of arrangements. Includes their hit-single ode to amphetamines, "I'm the Urban Spaceman"; Stanshall's seduction masterpiece, "Tent"; and a version of "Sound of Music" that will forever change the way you think about the song.