2008 Records To Die For Page 6
FRED KAPLAN
---
MILES DAVIS QUINTET: The Complete Columbia Studio Recordings, 1965–1968
Miles Davis, trumpet; Wayne Shorter, tenor saxophone; Herbie Hancock, piano; Ron Carter, bass; Tony Williams, drums
Mosaic MQ10-177 (10 LPs). 1965–68/1998. Irving Townsend, Howard A. Roberts, Teo Macero, orig. prods.; Frank Laico, Fred Plaut, Stan Tonkel, orig. engs.; Michael Cuscuna, Bob Belden, reissue prods.; Mark Wilder, remix. AAD. TT: 7:21:52
All the great albums, plus extras, by Miles' greatest quintet— E.S.P., Miles Smiles, Nefertiti, Filles de Kilimanjaro, etc.—recorded in a time of exuberant experimentation, embracing free-jazz cadences and harmonies but constraining them in song structures. The tension is riveting, the lyricism sublime. Columbia's original pressings were compressed and EQ'd, but these vinyl reissues, from the original tapes, are superb. (XXI-5, XXVIII-2)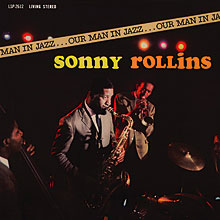 SONNY ROLLINS: Our Man in Jazz
Sonny Rollins, tenor saxophone; Don Cherry, pocket trumpet; Bob Cranshaw, bass; Billy Higgins, drums
RCA LSP-2612 (LP). 1962. George Avakian, prod.; Paul Goodman, eng. AAA. TT: 48:55
Recorded live at the Village Gate during Rollins' free-jazz phase (his quartet included Ornette Coleman's trumpeter and drummer), this is one of the most thrilling albums ever: Rollins dashes through standards with hair-raising verve and depth, Cherry blows counterpoint, Higgins pushes everyone to new heights, and Cranshaw keeps it all anchored. The sound is staggeringly realistic; various vinyl reissues by Classic Records, especially a 45rpm set some years ago, are equally or more so. (XX-3)
RICHARD LEHNERT
---
THE INCREDIBLE STRING BAND: Wee Tam & The Big Huge
Hannibal HNCD 4802 (2 CDs). 1968/1994. Joe Boyd, prod.; John Wood, eng. AAD. TT: 87:49
Almost 40 years ago, I knew a young woman who lived out of her battered VW bug and owned only six records, every one an Incredible String Band album; two of them were Wee Tam and The Big Huge. If I had to pare my own collection down to a hundred or so, these would be among them. This is the ISB—Robin Williamson and Mike Heron—at their height of late-'60s hippie inspiration, when the Everything that then seemed just around the corner sometimes actually occurred. Making "world music" long before it was called that, the two mixed vocal styles from India and their native Glasgow with Jamaican rhythms, Irish harp, fiddle, organ, sitar, pennywhistle, skiffle, and old-timey string-band music to create a sound that has never been imitated, not that anyone ever tried. It all supported the timelessly Blakean lyrics of Williamson, whose sole rival as a master imagist was Bob Dylan, and then only briefly: "In time her hair grew long and swept the ground / And seven blackbirds carried it out behind / It bore the holy imprint of her mind / As green-foot slow she moved among the seasons." The sound is legendary producer Joe Boyd's clear, pristine best. (XVII-12)
KEITH JARRETT/GARY PEACOCK/JACK DEJOHNETTE: My Foolish Heart
Keith Jarrett, piano; Gary Peacock, bass; Jack DeJohnette, drums
ECM 2021/22 (2 CDs). 2007. Manfred Eicher, prod.; Martin Pearson, eng. DDD. TT: 108:49
It's downright embarrassing to have to write yet another rave review of yet another release from Keith Jarrett's Standards trio, but goddammit if this isn't the most joyous, ebullient—in a word, lovely—piano-trio music I've ever heard. From the serenely liquid chiming of Jarrett's long, long lines in the fast tunes to his subtle reinventions of the harmonies of such ballads as the title track and "What's New," to the veritable potted history of jazz that is "Ain't Misbehavin'," with Gary Peacock's wittily nuanced bass solo and Jack DeJohnette's relaxed discipline—whoever thought drums could sound so slap-happy?—this album is the embodiment of light, delight, and grace, and the same goes for the warm, spacious sound. These three may have permanently sewn their foolish hearts on their sleeves, but without a stitch of sentimentality.
ROBERT LEVINE

---
MESSIAEN: Turangalîla-symphonie
Garrick Ohlsson, piano; Jean Laurendeau, ondes martenot; Saint Louis Symphony Orchestra, Hans Vonk
ARCH PTC 5186320 (CD). 2007. Thomas Drake, prod.; Paul Hennerich, eng. DDD. TT: 74:49
Recorded live in Powell Symphony Hall on February 12–13, 1999, this sonic spectacular (the bass could have you evicted) has only now been released. For those of you who've always been puzzled by this supremely strange work—and who hasn't?—this recording won't solve those puzzles. It will, however, make you revel in them. The fact that it alternately sounds like a child's idea of being chased by monsters, or the soundtrack to a sci-fi movie, or a dance-hall on acid, or tender love music, does not really describe it. More than the sum of its parts—the ondes martenot, that weird, electronic, Theremin-like keyboard instrument, with its bizarrely piercing swoops and whooshes (ondes is French for waves, and that's what we hear); the glockenspiel and vibraphone that sometimes lull and sometimes alarm; the cruelly difficult solo-piano part, alternately gentle and maniacally pounding—the work offers up some of the most glorious colors the ear has ever seen. On some level, all performances of Turangalîla-symphonie are thrilling; this one makes its kitchen-sinkness sound coherent.
MONTEVERDI: L'Orfeo
Monica Piccinini, Anna Simboli, sopranos; Sara Mingardo, contralto; Furio Zanasi, Luca Dordolo, tenors; Sergio Foresti, Antonio Abete, basses; Concerto Italiano, Rinaldo Alessandrini
Naãve OP30439 (2 CDs). 2007. Jean-Pierre Loisil, prod.; Laure Casenave-Päre, eng. DDD. TT: 103:00
There are now a dozen or so recordings of this once-rare, "first" (1607) opera, at least a half dozen of which are excellent. But this one is different: It rocks. It is, noticeably, the sole recording sung only by native speakers of Italian, and conductor Rinaldo Alessandrini relies heavily on changing rhythms to emphasize aspects of song as speech—which is the gimmick in opera, right? And while he favors quick tempos, it is the accents and the emotional temperature of the situations that drive the performance rather than the speeds themselves. In the happy passages, you can almost see arms waving, and the tragic moments are personal rather than melodramatic: Hell is terrifying in a very still sort of way. The singing is stunning: Tenor Furio Zanasi (he's billed as a baritone on other recordings and that's what he sounds like) sings Orfeo with dignity and amazing fluidity; he doesn't overly emote the character's joy or his grief, and his understatement makes you feel both all the more. Sara Mingardo sings the Messenger with such darkness that she correctly stops the opera in its tracks. The Concerto Italiano play with zeal, accuracy, and a sense of the "new," as if opera had just been invented. Which it had.
JOHN MARKS
---
JULIE LONDON: Time for Love: The Best of Julie London
Julie London, vocals; Barney Kessel, guitar; Ray Leatherwood, bass; others
Rhino R2 70737 (CD). 1955–67/1991. James Austin, reissue prod.; Bill Inglot, Ken Perry, reissue engs. A?D. TT: 71:54
Julie London was a former B-movie actress and the ex-wife of Dragnet star Jack Webb when "(Get Your Kicks on) Route 66" composer Bobby Troup became smitten with her. Troup eventually persuaded her to sing in public, and the rest is history.
The song London brought to worldwide attention, "Cry Me a River," has a fascinating backstory. It was originally written for an Ella Fitzgerald movie part, and the film's producer told the songwriter to change the word plebeian, because audiences would not credit a black woman with using such a word. God bless him, Arthur Hamilton refused, and withdrew the song. When Hamilton later learned that his former high-school classmate Julie London was looking for material, he took "Cry Me a River" out of his desk drawer. Well done.
JULIA FORDHAM: Porcelain
Virgin America 91325-2 (CD). 1989. Julia Fordham, Grant Mitchell, prods.; Hugh Padgham, Kevin Maloney, prods., engs.; Dominic Miller, Graham Dickson, Bill Padley, engs. A?D. TT: 47:17
One snappy response to "Cry Me a River" might be, "Did you have any particular river in mind?" A very clever idea Julia Fordham had, to make a Cole Porter–esque list song ("For You Only For You") of the names of the rivers the newly resolute narrator rues having cried: "The Ganges, the Clyde, the Amazon, the Nile / the Avon, the Trent, the tears that I spent!" But the lyrics alone suggest only an idea of Fordham's languid, breathless, hypersexual delivery. Every time I've asked an audio-show exhibitor to play a track from Porcelain, people have scrambled to take notes. If you love Dido or Norah Jones, you'll love this. An undiscovered gem.