The 2002 Products of the Year Joint Analog Source
2002 Joint Analog Source Components
Graham 2.2 tonearm (review) ($3200; reviewed by Michael Fremer, Vol.25 No.7, July 2002)
VPI TNT V-HR turntable (review) ($6000; reviewed by Brian Damkroger, Vol.24 No.12, December 2001)
Runners-Up (in alphabetical order):
Dynavector XX-2 phono cartridge ($1650; reviewed by Michael Fremer, Vol.25 No.7, July 2002)
Lyra Helikon SL phono cartridge ($2195; reviewed by Michael Fremer, Vol.24 No.12, December 2001)
Music Hall MMF-7 turntable ($999 with tonearm and cartridge; reviewed by Michael Fremer, Vol.24 No.11, November 2001)
Ortofon Kontrapunkt B phono cartridge ($950; reviewed by Sam Tellig, Vol.25 No.8, August 2002)
Tivoli Audio Model Two stereo table radio ($160; reviewed by Sam Tellig, Vol.25 No.4, April 2002)
VPI Memorial JMW-12.5 tonearm (review) ($2800; reviewed by Brian Damkroger & Michael Fremer, Vol.24 No.12 & Vol.25 No.3, December 2001 & March 2002)
Though normally we wouldn't see "Product of the Year" alumni back at the top of the class, we make an exception for the new incarnations of the Graham tonearm and VPI TNT turntable, whose improvements so radically change their performance that they demanded second terms in office.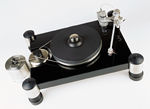 The revised 2.2 tonearm sports one-piece base-plate construction, new internal armwand wiring, and Graham's blue silicone damping oil. Improvements include greater solidity and weight on bottom, and enhanced richness and harmonic development in the midrange. How much better can it get? Mikey put it succinctly: "I think Bob Graham has refined his design about as far as he can, and has kicked the fit'n'finish, already high, up another notch. To surpass what he's already accomplished with the 2.2, he'll have to start with a blank piece of paper."
Like Bob Graham, VPI's Harry Weisfeld is a gifted tinkerer, and his TNT V-HR is the latest step in the turntable's evolution. The new Rulon bearing makes the original's subchassis obsolete while subtracting noise created by the old three-pulley design. Detail and resolution are heightened, making it easier to "imagine the sounds originating within the soundstage rather than at the stylus/record interface." Brian Damkroger was delighted with the changes: "It's thoughtfully designed, beautifully built, simple and intuitive to use—and, quite likely, one of the premier record-playing systems on the market today."