Wired with Sound: Marantz Model 30, Definitive Technology D15, Kimber Kable, Torus Power, and Salamander Designs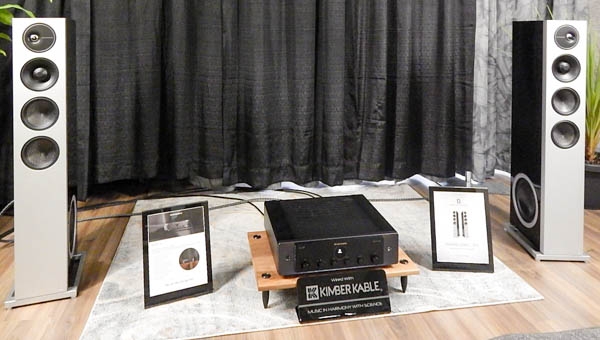 (All prices are in Canadian dollars unless otherwise indicated)
In the mood for an under $20,000 audiophile-grade system? Excellent, because I found one in the room sponsored by Wired with Sound. There, I met owner James Drew, a chap I liked as soon as he'd offered me a beer (which, for the record, I politely declined). On display was a simple (but potent) little system comprising a pair of 3-way Definitive Technology Demand D15 speakers ($3999/pair), the 100Wpc class-D Marantz Model 30 integrated amplifier ($3999; see Herb Reichert's review, here), and 30N SACD-streamer ($3999), with cabling by Kimber Kable, power conditioning by Torus Power, and racks by Salamander Designs.
On two Roon-streamed tracks, one by Supertramp and the other by post–Peter Gabriel Genesis, I heard great imaging, a well-sorted soundstage, and an overall character that was lively and detailed but non-fatiguing.
As a side note, James said two things that left an impression on me. He said he couldn't remember previously having so many women and new-to-the-hobby enthusiasts visit one of his exhibit rooms as at this show—a claim corroborated by other exhibitors. He also said that many of those visitors expressed the same sentiment when they entered his room: "Finally, a system I can afford." An audiophile-grade system that doesn't cost as much as a (new) car!