Grand Prix Audio Monza equipment supports
Why?
That's the question that many will ask about the new Grand Prix Monza equipment rack, prices for which start at $19,000 for a four-tier, 42"-tall rack and can even stretch to $29,500 for my review sample, which comprises a double-width, fourtier, 42"-tall rack (two side-by-side stacks of four shelves each) with two matching Monza amp stands. Why spend all that money when a solid oak table, built-in shelving, or Great Aunt Tillie's antique cabinet might do the trick?
Alvin Lloyd, owner/designer of Grand Prix Audio, has an answer for you. "Much like room acoustics, you need to have the fundamentals, and a good stand is a fundamental," he said during an in-person interview after he had set up, in my dedicated music room, the support system described above.
"If you bought your rack early, as you assemble your system, you might save yourself a lot of money because you could better hear what each piece of equipment and your cables are doing. But people tend to buy it last because it doesn't directly make sound.
"Our products are based on Newton's law of equal and opposite that no one has gotten around. Energy will go where it's going to go, in both directions. Whatever energy is not completely absorbed, ie, attenuated, is going to turn around and come back in again. If you're trying to construct something that efficiently moves energy through something that has very little mechanical impedance—something that's very stiff and strong—it will be very inefficient. Although a little bit of energy will get wasted as it moves through, the rest will just zip through it, turn around, and come right back again. That's why we use materials to dampen vibration, the primary one being Sorbothane viscoelastic. They are essential."
Lloyd disputed the notion that stands and supports "drain" energy out of a component. "Energy always comes out of a component," he said. "You can't stop the bell from ringing. Loudspeakers, which are giant transducers, pound the room and send energy through the floor, even if it's a suspended wood floor or a concrete slab. They produce the biggest assault. You also have airborne energy that is assaulting the components. All that, plus the little drummer boy that's inside the component (eg, a CD mechanism), is going to affect it.
"When we use different couplers, we're fiddling around with mechanical impedance—how energy moves from the component into everything else, and how it moves back. I want to attenuate as much energy as possible in both of those paths, so that nothing I do will detrimentally affect the signal or sound that's going into or coming from a component. I'm trying to address the ringing bell by putting a finger on that bell and stopping it from ringing.
"Every element of my designs is chosen to attenuate energy. That's why I put polymer in the Monza's stainless steel legs—it challenges the floor-borne energy that can enter the component. The Sorbothane viscoelastic dampers, which convert energy to heat, sit under each shelf. They are like an all-in-one shock and spring on your car and have the most effect. You just need to ensure that the damping and spring rate is sympathetic, which you can do by choosing dampers appropriate to the supported component's weight."
>And wherefore?
The demo that convinced me that a well-designed equipment rack makes a significant difference transpired at Munich High End 2019, where Lloyd moved a CH Precision P1 phono stage, supported by Grand Prix Apex footers, from a basic Quadraspire rack to a prototype of the Grand Prix Monza rack. To quote from my report, "Even with the Quadraspire, the timbres were lovely, the sound quite mellow. Following the switch, however, I immediately sensed more air and crispness to the sound. Layering and image size improved noticeably, the piano's low notes grew more profound, there was spaciousness for days, and I was able to hear new detail in the horn. The difference was major."
That demo left me wanting to conduct my own experiment. Hence this review, which compares the sound of Grand Prix's original three-column Monaco Classic isolation system, which has served as my reference for over three and a half years, with the very different, newly engineered four-column Monza system.
The big overview
Many audio engineers are self-taught, but Alvin Lloyd may be the only one who left college to race cars. "I've run against lots of the famous guys and beat 'em," he said about a career that led to becoming VP for Swift Engineering, "the only American company that successfully designed and manufactured Indy race cars."
Lloyd's solace was listening to music, especially the blues, on his high-end system. After no component isolation system worked to his satisfaction, he designed the first Monaco equipment isolation rack in Swift's Indy-car composite shop.
In 1999, after he conducted a comparative rack demo at an audio store and left a Monaco there, audiophiles began requesting it. Then, in 2006, he developed the Monaco direct-drive turntable because, once again, he wanted something better than the turntables he could find. Other products followed, including Grand Prix's flagship Silverstone isolation system; all were named for famous auto racetracks. Lloyd developed the Monza isolation system in response to demand for a reconfigurable, four-legged double or triple-wide modular stand with smaller shelves and easily adjustable spacing. While he feels, from an engineering standpoint, that separate side-by-side racks work a bit better than two or three conjoined racks, and that a three-leg design is most efficient because three points define a plane, he acknowledges that a conjoined, four-column design takes up less space and offers easier access to rear-panel inputs and outputs. (In my 16' by 20' room, space and access are essential considerations.)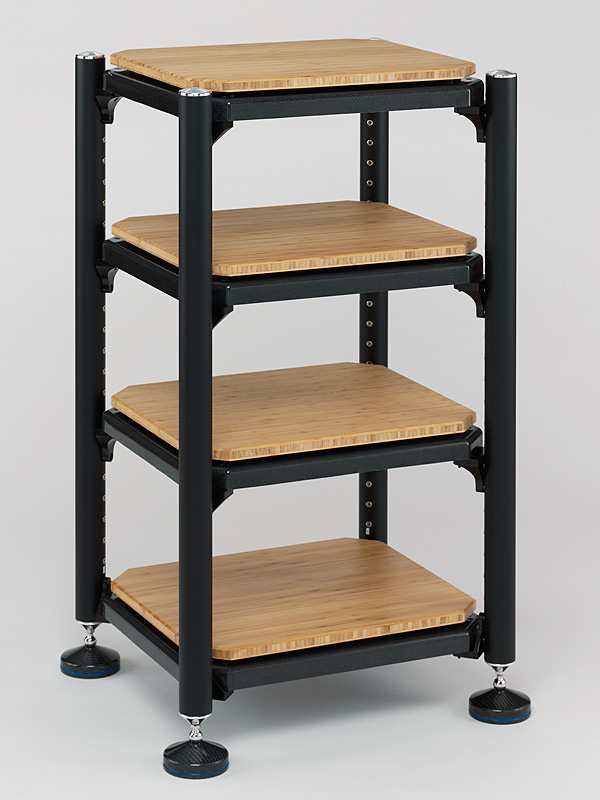 Over time, Lloyd says he's learned more about the best ways to design and utilize the Sorbothane viscoelastic vibration dampers that support each shelf. His new viscoelastic supports differ from those in earlier Grand Prix products in two ways: They are larger, which creates more surface area, and doughnut-shaped rather than solid, to provide more room for the damper to move and change shape. Using four dampers per shelf has enabled development of new weight categories for the dampers, with a narrow range of optimization for heavier equipment. Note, however, that viscoelastic dampers eventually wear out and, much like tubes and some body parts, require replacement.
Lloyd replaced the Monaco's standard acrylic shelves with the Monza's bamboo because he likes the aesthetic. "Bamboo is nature's composite," he said. "It's a grass, not a wood, and it's filled with cells. Consequently, as with the polymer in the Monza's legs, energy has a hard time moving through it."
The standard Monza rack includes extra-large versions of Grand Prix's Apex support footers beneath its four columns; for its part, the Monaco came with spikes, with smaller Apex footers an extra-cost option. Apex footers are claimed to convert energy to heat when it enters from either direction, above or below. They're made of polymer rather than viscoelastic and never need replacement. Apex footers are also offered as an optional upgrade to the stock bamboo-block equipment couplers included with the Monza isolation system.
Each Apex foot is topped by a rigid ball that supports the item above it while allowing for a minute amount of movement, suggested by Grand Prix Audio as further helping attenuate low-frequency energy. Standard balls are shiny chrome, and upgrade balls are gray silicon nitride. "All materials have mechanical impedance which, in the case of the different balls, affects how much energy is moving through the Apex foot itself," Lloyd said. I have no way to validate that claim, but listening confirms that the chrome and silicon nitride balls have markedly different sonic effects.
Carbon fiber is a key element of the Apex footers and the Monza's adjustable frame. It's also used in two options: the Monza's Formula carbon shelf upgrade for the stock bamboo shelves, and the inner core of the new Formula platforms that are offered to supply additional isolation between shelves and equipment. (Note: Specs are not yet available for the new platforms.) All carbon is cured and laminated in a pressurized vacuum environment; Lloyd believes that the process changes the quality of the carbon structure.
"I don't have test results to prove it, but technical information says that carbon is an EM field absorber," Lloyd says. "My empirical testing confirms that it's a fairly significant contributor to our product's performance, but I don't make any claims that I can't substantiate technically." For almost two years, I've used an early version 18" by 19" by 1.5" Formula platform ($2670) under my dCS Rossini Clock, because my experience tells me that clocks are especially sensitive to vibration and EMF/RFI. I had hoped to make a comparison between the sound of my system using the Monza rack's upgraded Formula carbon shelves and its stock bamboo shelves, as well as between the new Grand Prix Audio Formula platform and the original model—the new one has a carbon-fiber inner core rather than Kevlar and an updated internal passive damper—but neither was available by press time.
Lloyd says the Monza's carbon-fiber support frame has been redesigned to include a cellular polymer core material that he believes "gobbles up energy by converting energy to heat." In addition, its polymer-filled steel poles are considerably heavier than the standard Monaco's hollow poles and do not require additional lead filler (which I never messed with) to improve efficiency. Altering, in 1.5" increments, the distances between shelves is as simple as removing eight bolts and moving the four aluminum brackets that anchor the carbon frame that supports the bamboo shelving.
Whatcha gonna do?
An ideal review protocol would have entailed auditioning test tracks with the entire Monaco system in place and then, with minimal disruption, switching to the Monza system. A lovely fantasy.
In reality, there was no room to assemble the double-width, eight-shelf Monza rack beside the single-width, five-shelf Monaco. Nor could we move front-end equipment from one rack to the other without unplugging everything and reorganizing enough cabling to support the Tacoma Narrows Bridge. No easy back and forth was possible.