Manfred Eicher: "You Can't Record Everybody"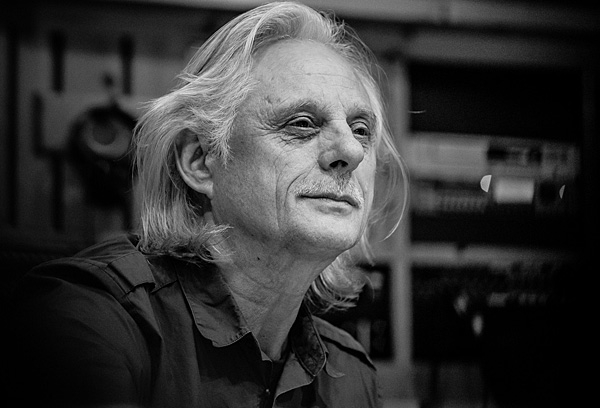 There has never been a record producer like
Manfred Eicher
, founder and sole proprietor of ECM records, the German-based jazz (and sometimes classical) label that celebrates its 50th anniversary this month.
Eicher doesn't quite win the all-time prize for longevity. Edward Lewis started Decca (UK) in 1929 and owned it until 1980. David Sarnoff controlled RCA from 1919–1970. William Paley did the same at Columbia from 1938-1988. But unlike those other, financially heftier titans, who deferred to department heads and studio producers, Eicher has supervised every single one of ECM's albums—more than 1600 of them—signing the musicians, sometimes creating the band, ordering (sometimes suggesting) the tracks, almost always manning the sessions in person, even approving (in many cases, designing) the distinctive, minimalist covers—all while remaining an independent company.
The closest parallel in jazz is Blue Note Records, which Alfred Lion founded in 1939 and ran with an iron fist, assembling a rotating roster of house musicians who played in a similar, or at least tightly compatible, style. But Lion retired in 1967, and the label passed to a series of corporate owners, at one point going dormant except for reissues. (In its current revival, under Don Was, it is owned by Universal Music.)
The comparison with Blue Note is instructive because, in many ways, ECM stands as its aesthetic opposite. Blue Note in its heyday catalogued the experimental reaches of late-1940s bebop (from Thelonious Monk to Miles Davis's Birth of the Cool) and the backbeat-driven, two-horn harmony slick of late-1950s post-bop (Art Blakey, Hank Mobley, John Coltrane's Blue Train). By contrast, ECM has explored the quieter, more complex, almost spiritual side of jazz. Blue Note embodied the hip modern jazz of the New York scene; ECM has presented a headier, in some ways more European perspective.
Both tendencies can be overstated. Blue Note waded deep into the avantgarde in the 1960s (Sam Rivers, Andrew Hill, Cecil Taylor), and ECM has recorded its share of dissonant African Americans (the Art Ensemble of Chicago, the Ornette Coleman-inspired Old and New Dreams). If you own a well-curated selection of Blue Note and ECM albums, you've covered a large chunk of the range of post-World War II jazz.
What's often overlooked is that the two labels didn't merely reflect but in a sense created the two directions in new music. As is true with book publishers, movie studios, art dealers, and other purveyors of mass culture, most record labels release albums by the biggest stars or (in the case of small labels) the best musicians they can afford. However, a small number of these companies craft an identity for themselves; they publish a certain type of author, hire certain types of directors, exhibit a certain type of painter. Blue Note (in its heyday) and ECM (since its inception) are that kind of jazz label. And with their growing dominance in the marketplace, their owners turned the music that they liked into a dominant style, which in turn influenced other musicians and listeners and labels, cementing the notion—in the case of these two labels, very different notions—of what modern jazz is or should be.
The difference between the labels stems from the different backgrounds and tastes of their founders: Lion, a Jewish-German émigré who came to New York in the 1930s and fell for the boogie-woogie then raging; Eicher, born in Bavaria in 1943, who studied violin from age 6 then switched to jazz bass when he turned 16.
"Miles Davis' Kind of Blue was the jazz album that captured my attention," he said in an email interview from his office in Munich. "Previously, most of my listening had been to classical music. Hearing Miles and Coltrane and Bill Evans and Paul Chambers changed my priorities." He started listening to a wide range of the new jazz taking hold in the States in the late 1950s and early '60s—Evans's Village Vanguard albums, Ornette Coleman's The Shape of Jazz to Come and The Empty Foxhole, Paul Bley's Touching and Closer, Chick Corea's Now He Sings, Now He Sobs, Art Farmer's To Sweden with Love, Jimmy Giuffre's Fusion and Thesis (which Eicher later licensed and released on ECM, as a revelatory single album titled 1961).
Still, his tastes—reflected in the albums he would produce—have rarely drifted very far from his classical roots. "At the core is a chamber music ideal, whether improvised or composed," he said. "I prefer smaller groups, intense listening, thoughtful interplay."
He stressed, however, that the distinction between classical and jazz shouldn't be overdrawn. "'Classical influence' is not something I'm particularly looking for in jazz players," he said, "but since at least Duke Ellington, awareness of classical music and contemporary composition is inescapably part of the jazz tradition."
Well into his 20s, Eicher pursued a career as a musician, but in the late 1960s he worked as a production assistant on some studio recordings by Deutsche Grammophon, learning lessons from the engineers about microphone use and editing. He produced a couple of jazz records for a small label, then took out a loan, for the equivalent of $4000, from a record-shop owner to start his own company—which he called Edition of Contemporary Music, soon abbreviated as ECM.
Around this time, pianist Mal Waldron—who'd played with John Coltrane, Charles Mingus, Eric Dolphy, and Billie Holiday, among others—had settled in Munich after leaving the States in the mid-1960s. "Mal was a presence in Munich," Eicher recalled. "I would often see him at the Domicile and other clubs in town. And, of course, he had a rich musical history." So Eicher asked if he'd front a trio for ECM's first album, which came to be titled Free At Last. The session was recorded on November 24, 1969, at Bauer Studios in nearby Ludwigsburg, where Eicher continued to record albums for many years after. He pressed 500 copies; it eventually sold 14,000. (This month, ECM is issuing a double-LP, pressed from the original analog tapes and including several bonus tracks that weren't included in the initial release.)
Galvanized by success in getting the album made, Eicher started writing letters, in appealingly halting English, to some of his American idols, asking them to record for his label. It was a fallow time for jazz, so many of the musicians—Paul Bley, Chick Corea, Anthony Braxton, and others—agreed. Their albums all sold well, especially by jazz standards.