KEF LSX wireless loudspeaker system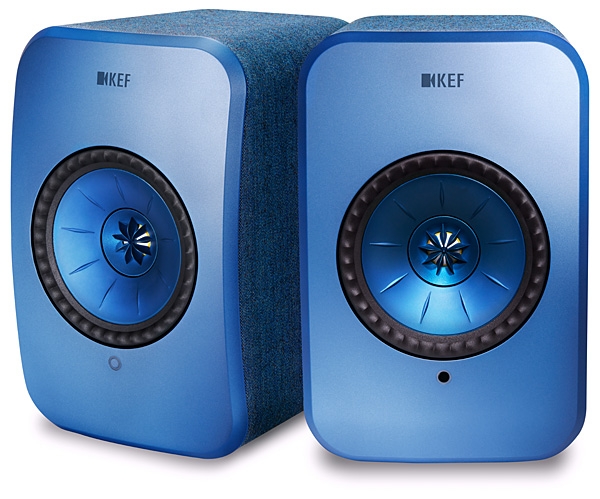 I keep getting older. By the time you read this, I will be
genuinely
old. When I was genuinely young, I bellyached, "Wires are the worst part of hi-fi—there's gotta be a way to get rid of them." I first made that statement when audio electronics and loudspeakers both still nestled inconspicuously in proper bookcases. Back then, people sitting on the sofa weren't forced to stare at diverse audio boxes and ungainly wires.
I marveled when audiophile speakers departed the bookcase and ventured into the walkabout space of the room. I laughed as they and their zip-cord tails inched nearer the sofa or recliner. "Fine!" I said. "What's next? Decorator wires?"
Obviously, someone heard me. The farther loudspeakers moved from the wall, the thicker and fancier their wire-tails got. Nowadays, speaker cables can be as thick as firehoses, cost more than speakers, and be accessorized with battery packs, Teflon tea cozies, and toy-train trestles.
Nevertheless, I was excited to explore a potentially wire-free future with an audition of KEF's new LSX active speaker system ($1099/pair). (KEF calls the LSX wireless, but each speaker cabinet does require a power cord. And if I want to play data with sampling rates above 48kHz, I must connect the left and right speakers to each other with an Ethernet cable.)
The LSX is more accurately called a WiFi speaker system—it's designed to receive audio signals via a WiFi connection and e controlled wirelessly from an iOS device. This is a distinct departure from the LSX's larger, more expensive sibling, the self-powered LS50 Wireless ($2199.99/pair), which can also be connected via USB digital or RCA line-level hookups.
Music signals can enter the LSX wirelessly via Bluetooth 4.2 with aptX or 2.4GHz/5GHz dual-band WiFi—or wired via RJ45 Ethernet, TosLink optical, or its 3.5mm line-level analog jack.
Wait a minute! I just remembered my first-ever wireless audio product: a red-plastic transistor radio that fit in my shirt pocket. It did have two wires, used to connect its 9V battery, but they were hidden inside its palm-sized case. That radio's speaker was the size of the LSX's 0.75" tweeter—but the music it played was 100% free. Unfortunately, playing music from KEF's LSX wireless loudspeaker system is not quite free. You need an iPhone or iPad [or comparable Android device—ed.]; high-speed Internet access; and, optionally and ideally, Spotify Connect or Tidal.
Description
The LSX is actually the 2019 counterpart of a 1970s stereo receiver, except you don't even have to buy speakers for it. KEF has stuffed an entire system—DAC, streamer, preamp, power amps, cables, and, of course, speakers—inside its two sleek, desktop-sized, molded enclosures, each measuring 9.5" high by 6" wide by 7" deep and weighing a little over 7 lb.
I've seen speaker cables that weigh more than 7 lb. But they were strange, alien-looking things—they weren't dressed in designer fabrics from the Danish textile company Kvadrat. Nor were they styled in the LSX's decorator colors of olive green, blue, maroon, or black. However, my review samples weren't bound in cloth; they came in a fashionable-looking, easy-to-clean gloss white that seemed made to adorn a bureau moderne.
The LSX enclosure is attractive from all sides, but especially from the front, where its 4.5" Uni-Q driver array draws the eye away from its glowing, ring-lit indicator lamp and toward its coaxial 0.75" aluminum-dome tweeter. KEF specifies the LSX's frequency range as 49Hz–47kHz, –6dB depending on the Control settings.
The LSX system has four built-in DACs, one per driver, each supporting data sampled up to 24-bit/192kHz, but only with the supplied speaker-to-speaker Ethernet link. Without that interconnect, communication between the two speakers is limited to 24/48. Each LSX enclosure contains two class-D amps: 70W for the midrange and bass, and 30W for the tweeter.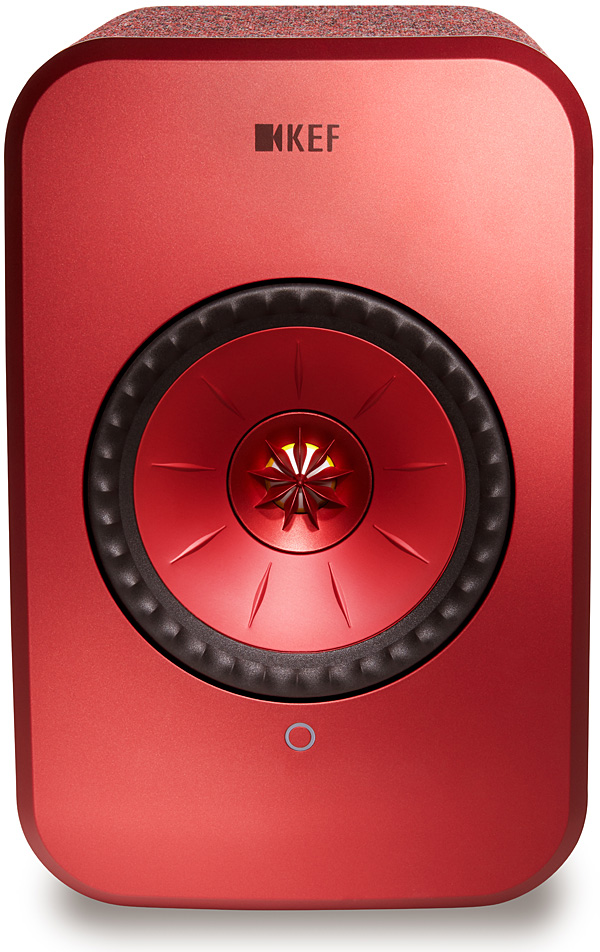 According to KEF's website, the LSX uses KEF's Music Integrity Engine (who thinks up these names?) "bespoke Digital Signal Processing" that "helps the speakers deliver transparent bass with great extension, while reducing distortion." Let's hope that's true.
Setup
When I removed the petite KEFs from their excellent packaging, I disappointed. I'd expected that I'd simply put them on my Sound Anchor stands, plug their power cords into the wall, connect them to my computer with an AudioQuest Cinnamon USB link, and be streaming Tidal and Qobuz, all within two minutes.
But it took me a lot longer than two minutes to get music out of these stylish boxes. Why? Because KEF's "Quick Start" instructions failed to penetrate my aging LSD/DDT brain. At the peak of my frustration I called a young audiophile friend and begged her: "What am I doing wrong?"
She laughed. "You're old—that's all! Anyone under 30 would have it working in five minutes. Did you download both KEF apps?"
"Nope, only one: Control."
I downloaded the Streaming app. After downloading the Streaming app and connecting with Tidal, I heard music and felt younger.