Music in the Round #97: Hegel C53 and DSPeaker Anti-Mode X4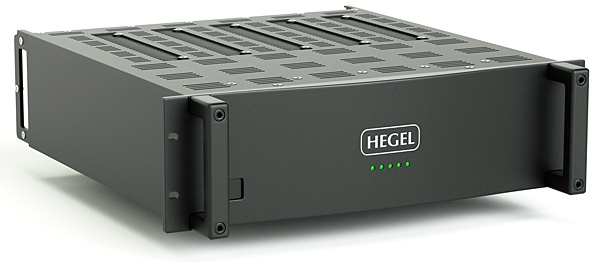 Sometime near the turn of this century, I wandered into a demo room at a Consumer Electronics Show and discovered, in the exhibit of a company I'd never heard of, an integrated amplifier that sounded clean and refreshing. It was the only product Hegel Music Systems displayed at that CES, and I don't recall its name or the associated equipment, but I've always remembered that model's striking appearance and impressive sound quality.
Hegel seemed to have little visibility in the US in the years immediately after, but that has changed. They now offer a full line of two-channel audio electronics, including more integrated amps, power amps, preamps, a DAC-streamer, and a CD player.
At the end of 2018, Hegel announced a new line of modular power amps, the Custom series, configurable for three, four, or five channels: respectively, the C53, C54, and C55. The base model, the C53, costs $6000; each additional channel adds $1000. Hoping to recapture some of the surprise I felt when I first encountered Hegel at that long-ago CES, I began fantasizing: Which model should I request? In which system would I put it? A glance at the 5 series' weights made my choice clear. To assess it effectively in my weekend system in Connecticut, I'd have to wrangle the five-channel C55's 95-lb shipping weight (net weight 82 lb) from the UPS store into my car, out of my car and onto a hand truck, up the stairs, and into our house. Nah. It would be more prudent to review it in our Manhattan apartment, where we get direct delivery and have elevators. But that would mean pitting it against trios of monoblocks and another three-channel amp—it would be wiser to get a C53, and not only for its lower weight (61 lb net, 75 lb shipping). Anyway, the end of the year was busy. I put it aside.
But when Dipin Sehdev, Roon Labs' VP of marketing, visited to deliver Roon's Nucleus+ music server and we talked about the various amps in my room, he reminded me about the new Hegels—he's "a personal fan of Hegel amps." Not only that, he put me in touch with Anders Ertzeid, Hegel's own VP of marketing and sales, who told me he'd be in New York in January with a C53 tucked under his arm.
He spoke figuratively. Ertzeid rolled the C53 into my apartment on a folding luggage cart, before lifting it out of its box and carrying it to the far end of my room, where it then sat among the other amps. Installation was trivially easy, requiring only that I swap the power cord, three input interconnects (XLR), and three pairs of speaker cables from my Parasound Halo A 31 three-channel amp. Ertzeid pushed the C53's power button, and the LEDs for all three channels lit up. We listened and talked for an hour before he left me alone with the C53 . . . and all the rest of my stuff.
The C53 is a substantial, no-nonsense black box of generous size: 18.97" wide by 5.2" high by 20.47" deep. With its useful handles at front and rear, it can easily be mounted in a rack. The top and bottom panels are vented over their entire surfaces, and large cutouts expose the heatsinks for each channel's amplifier. In the lower left corner of the curved front panel is a large, rectangular Power pushbutton, and at the center, just below Hegel's logo, is a row of five LEDs. Push the button and these light up in sequence from left to right—though on the three-channel C53, only LEDs 1, 3, and 5 are active. Each LED is also diagnostic, glowing different colors to indicate its channel's status: dark (off), green (on), orange (temperature safety mute), flashing orange (clipping), or red (protection mode mute).
The rear panel and those vents in the top plate reveal what's really going on inside the C5 amps. The same case and chassis are used throughout the line; each model is defined solely by the number of amp modules it contains. Each module is an entirely independent power amplifier with its own toroidal transformer, power supply, input stage, and heatsink-mounted output stage. Each has both single-ended (RCA) and balanced (XLR) inputs, a switch for selecting between them, switches for selecting Gain (29 or 23dB) and Phase (0° or 180°), and a pair of substantial multiway speaker terminals. The main chassis encloses the modules and provides trigger in/outs, as well as sequencing and supplying of AC to each channel. Each module is, in effect, a monoblock amplifier whose power output is limited only by what your wall outlet can supply; it's not directly affected by the operation of the other channels because it doesn't have to share a common power transformer and capacitor reservoir.
The C5 amp module is based on Hegel's SoundEngine2 Technology. Among its other features, this allows these high-power class-AB amps to run with very low bias currents. This is of particular advantage in the multi-mono C5 series, because what the channels do share is a common thermal environment. Other features are the amps' extremely high specified damping factor (>2000), and the use of feed-forward circuitry to reduce distortion at the output. Hegel specifies each module as having a maximum output of 150W into 8 ohms but a minimum load of 2 ohms; a frequency range of 5Hz–100kHz; a signal/noise ratio of >100dB; distortion of <0.01% at 100W (8 ohms, 1kHz); and intermodulation distortion of <0.01% (19+20kHz).
These specs are more than decent but less than forthcoming because they lack important tolerances and qualifications; eg, the frequency range doesn't specify the output level or range of deviation, and there is no measurement reference for the signal/noise ratio. Hegel's first press release for the C5s said: "The amplifiers maintain a peak reserve capability that virtually doubles down to 2 ohms, closing in at 600 watts per channel." That may be, but there's nothing about this in the specs.
My recollection of that first Hegel integrated amp at a CES almost two decades ago was that it sounded clean and refreshing. This new Hegel amp conjured up the same descriptors. Whether driving a stereo pair of Bowers & Wilkins 802 D3 speakers, or driving three of them as the front left, center, and right speakers of a surround system, the C53's sound was precise but far from sterile. Voices, from the intimacy of Marion Rampal in Bye-Bye Berlin (CD, Harmonia Mundi HMM 902295) to the passionate declamations of tenor Ian Bostridge in Berlioz's Les nuits d'été, with Ludovic Morlot conducting the Seattle Symphony (24-bit/96kHz multichannel download, Seattle Symphony Music SSM2018), to Michael McDonald singing "I Heard It through the Grapevine" on his Motown (SACD/CD, Motown 038 652-2), had presence and tonal roundness. As Bostridge and the Seattle performed works for tenor and orchestra by Berlioz, Ravel, and Debussy, the re-creation of the soundstage was awesome in all dimensions.
Pushing the power envelope, I went through my multichannel recordings of Saint-Saâns's Symphony 3—variously conducted by de Waart, Eschenbach, Munch, Nézet-Séguin, Simon, and Stern—blasting the last movement over and over as my wife retreated behind multiple closed doors. Each was distinctive in ambience, orchestral soundstage, and, as expected, the delivery of the pipe organ; I felt that the Hegel let me hear everything honestly.
From there, it was a leap and a splash into Rimsky-Korsakov's bracing Concerto for Trombone and Band, with trombonist Bart Claessens and Major Arjen Tien conducting the Marine Band of the Royal Netherlands Navy (DSD256 multichannel download, Channel Classics/NativeDSD.com) engulfing me in tiers of winds and brass. But that led to madness—I carelessly switched to the third movement of Berio's Sinfonia for Eight Voices and Orchestra, with vocal ensemble Roomful of Teeth, Ludovic Morlot, and the Seattle Symphony (24/96, 5.1-channel WAV, Seattle Symphony SSM1018). The movement's title may be In ruhig fliessender Bewegung (In a calm, flowing motion), but it begins with an explosion of instruments and voices that floods the concert hall and was devastating in my listening room. I'd played this a few times before, but never at a true concert level, and it stunned me. The effect didn't ebb, even after I'd regained my composure and let the rest of this brilliant mélange of melody and motion flow over and envelop me. Wow.