Philip Glass Premiere from Third Coast Percussion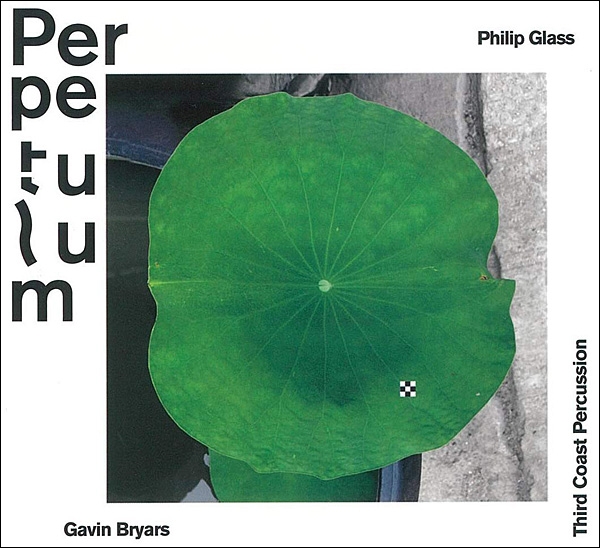 Philip Glass (b. 1937) may not quite be a household name in America, but he's surely as well-known as any living classical composer, and the repetitive minimalism that is the hallmark of his music has influenced everything from rock music to TV commercials. Still, after 5 decades of composing, it took a commission from Chicago-based Third Coast Percussion for Glass to write his first concerto for percussion ensemble, Perpetulum—"What took them so long to ask me?" Glass has said about the commission. TCP has just released the premiere recording of the 21:23 minute concerto on their new 2-CD set,
Perpetulum
(OM 0132), from Glass's own label, Orange Mountain Music.
Glass initially studied flute as a young student, but he also played in Baltimore Peabody Preparatory Conservatory's percussion ensemble. Finally given the opportunity to return to instruments he played as a teenager, he seems to have approached the commission with the enthusiasm of an audiophile given the opportunity to revisit some of his favorite toys.
While a lot of Glass' later career music is laced with depressive elements—he has often spoken of his despair at humanity's current direction—"Perpetulum" is an upper, not a downer. As you experience its three parts, separated by a free-form cadenza that the four members of Third Coast Percussion created by invitation, it's hard to escape the feeling that you're listening to a composer going, "Wow, look what I can do with this drum, and now this instrument, and—oh boy—this one!" Forget about age; there's an aura of youthful excitement and optimism here, and a definite penchant to create sweet little tunes, that I find irresistible.
Glass starts his concerto softly, varying percussive elements in a manner that emphasizes color and textural differences. The first of many songs emerges, and then one of many surprise shifts. The beat may remain steady, but dynamics transform from soft and delicate to, at the end of Part 1, a delightful surprise.
On your mark, get set, go! Unusual rhythms and cross-rhythms are the name of the game in Part 2 as repetitive patterns and sounds change frequently. Optimism, excitement, and inventiveness rule. Audiophiles with subwoofers or speakers with low bass extension are in for a treat.
Third Coast Percussion's short Cadenza is fast-driven and non-stop. Replete with deep bass, it leads to a final Part 3 filled with fun, chimes, joy and beauty. Holy racket one minute, delightfully sweet the next, Glass' "Perpetulum" ends with a smile.
Equally compelling are two other compositions, Gavin Bryars' mysterious, otherworldly The Other Side of the River, and ensemble member Peter Martin's BEND. Martin puts a priority on sweetness, harmony, and movement across a wide sound field. Vibrant and with a spiritual resonance sustained by marimba, BEND's alternating sounds and surfaces captivate.
TCP member Robert Dillon's shorter Ordering-instincts explores an adventurous sound world that exploits contrasts of wood, metal, and hide. Where it's actually going, and what it's trying to say on a deeper level, escaped me on first listen, but if you love energy for energy's sake, prefer surfing to deep diving, and don't mind metaphors that mix sky and sea, Dillon's composition may be your Boeing to paradise.
All that is on CD 2. The first CD (for those who choose the physical product) is devoted to ensemble member David Skidmore's seven-movement, 34:46 Aliens with Extraordinary Abilities. One thing is certain about these aliens: they may occasionally broadcast some strange sounds, but they're doggedly determined not to let go and slow down. It's an open question whether their ultimate goal is to wear you down with their unceasingly relentless energy.
During one segment, which sounded like the product of a rather ordinary post-adolescent consciousness, a listener well-known to me wrested control of the remote and fast-forwarded through movements titled "Don't Eat Your Young" and "Things May Be Changing (But Probably Not)." The final movement, "Triptan," settles into a retro, mournful groove that may delight those who made it this far and still have their wits about them. Or you just may want to stick to Side 2, where Glass, Bryars, and Martin reward you with bountiful color, rhythm, joy, and inter-dimensional energy of a distinctly non-alien(ating) sort.