Gramophone Dreams #20: Lounge Audio & MoFi UltraDeck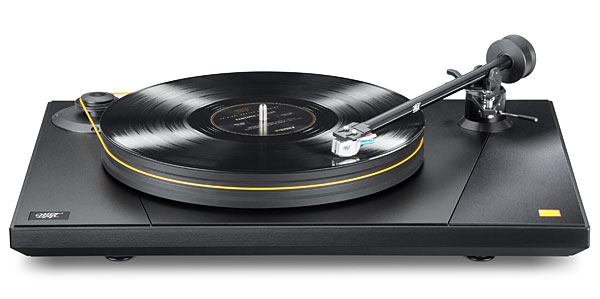 In my
October 2017 column
I reported on two turntables, the Palmer 2.5 and AMG Giro G9, each costing $10,000 and up, depending on ancillaries. It wasn't that I wanted to get all Mikey Fremer Uptown on you; I wanted to refine my listening skills and familiarize my senses with what my own humble system would sound like with a pair of world-class record players.
Armed with those experiences, I continued my research—with MoFi Electronics' new UltraDeck turntable ($1799 with MoFi Ultra tonearm, footnote 1) and their top-of-the-line moving-magnet cartridge, the MasterTracker. Separately, the MasterTracker costs $699; it can also be purchased preinstalled on the UltraDeck as the UltraDeck+MT package ($2198). That's how my review samples arrived.
In March 1958, the newly formed Mobile Fidelity Records released its first audiophile album, Memories in Steam (LP, Mobile Fidelity MF-1)—a recording, made by label founder Brad Miller (1939–1998), of the sounds of Southern Pacific steam locomotives. This and other, similar Mobile Fidelity recordings inspired the father of one my boyhood friends to also record trains, build 1000W tube amps, and fill the walls of his basement workshop with at least a dozen 15" speakers. Remember the Mystic Moods Orchestra? That, too, was Mobile Fidelity—Miller founded and began recording the MMO in 1965. Mobile Fidelity was among the first record labels to release recordings made expressly for audiophiles.
In June 1979, the company—now known as Mobile Fidelity Sound Lab—released Pink Floyd's The Dark Side of the Moon, the first half-speed-mastered release of a sonically improved version of a popular, previously issued album. It was followed by landmark reissues of recordings by the Beatles, the Rolling Stones, and Frank Sinatra, all sold under the label Original Master Recording. Mobile Fidelity heralded the dawn of mass-market audiophile record reissues.
In 1999, hobbled by the demise of a key distributor, Mobile Fidelity declared bankruptcy. Thankfully, in 2001, their assets were acquired by Jim Davis (owner of Balanced Audio Technology and Chicago-based Music Direct), and under his guidance, the company began branching out into audio equipment—first with MoFi Distribution (think: Wharfedale and TAD speakers, Koetsu cartridges, and other products), and then, starting in 2016, with MoFi Electronics. Today, Mobile Fidelity is the hub of a vibrant matrix of renowned brands that serves a large portion of the audiophile software and hardware market.
According to MoFi's Jonathan Derda, the National Sales and Marketing Manager for MoFi Distribution, "The greatest difference in what we're doing now compared to the past is investing in our own manufacturing in Ann Arbor, Michigan, which gives us much greater control over the quality of the final product." The UltraDeck turntable, Ultra tonearm, and MasterTracker cartridge are all made and/or assembled in Michigan. (MoFi cartridges are assembled in Japan using bodies machined in the US.)
Lounge Audio LCR Mk.III phono stage
The sound quality of any analog source component will depend on the sound quality of the phono stage it's connected to. Michael Fremer uses an Ypsilon MC20 step-up transformer ($2800) and VPS-100 phono stage ($26,000) because he feels they're among the best, if not the best, components of their types, and guarantee that his reviews of cartridges, tonearms, and turntables will not be compromised by the devices that load and amplify the cartridge's output.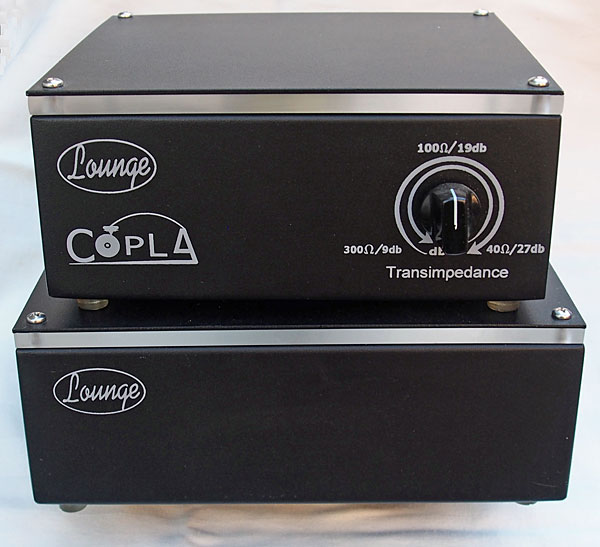 The phono stages I use cost a lot less, and since I've been writing for Stereophile I've been privileged to have used the following: the Schiit Audio Mani ($129), the Lounge Audio LCR Mk.III ($300), the Tavish Design Adagio ($1490), and my longtime reference, the Parasound Halo JC 3+, designed by John Curl ($3000). Only the Lounge LCR Mk.III remained unreviewed by Stereophile (footnote 2).
I first heard about Lounge Audio and their affordable phono preamps and moving-coil step-up devices from my old friend and turntable setter-upper, Michael Trei. Michael sets up more than 100 turntables a year, and has been doing so since the Reagan administration. One day he texted me: "This guy has a $3000 cartridge and a $300 Lounge Audio phono stage and it sounds really good! It might be a good product for you to review."
That very day, I contacted Lounge Audio's Robert and Daniela Morin to request review samples of their LCR Mk.III moving-magnet phono preamp ($300) and Copla moving-coil step-up amp ($275). They sent them. That was two years ago.
The good news (for me): I've been using these extraordinary products for almost two years. This means that I've listened to them thoroughly, with a wide range of high-quality MM cartridges: the Ortofon 2M Red ($99) and Black ($755), the Roksan Corus Silver ($995), the Shure SC35C (almost free), the Grado Labs Reference Platinum 2 ($350), the Soundsmith Carmen ($799), and the MoFi MasterTracker ($699) described below. I've used Lounge's Copla active step-up with MC cartridges that include the Dynavector 20x2-L ($995), my Zu Audio–modified Denon DL-103 (from $459—an excellent combo), and my cherished Denon DL-103 (mono). The Copla allowed me to discover the musical merits of the Hana by Excel EL ($475). And recently, I've used the LCR and Copla with the AMG Teatro ($2749) and EMT TSD 75 ($1950). Today I'm using it with the Koetsu Rosewood Standard ($3495), and am beginning to wonder if these low-priced Lounges will ever show their limitations.
The bad news (for Lounge and for you): It's taken me way too long to get this well-deserved story into print.
The LCR Mk.III ($300), made in California, is a passive (ie, no feedback), inductor (L)–capacitor (C)–resistor (R) RIAA phono stage that uses, Lounge says, "Hi-speed, video bandwidth op-amps" to achieve its gain of 40dB and output impedance of 50 ohms. I prefer not to debate what type or configuration of gain stages, resistors, capacitors, and inductors produces the "best" RIAA phono preamplifier. Traditional RIAA preamps were all CR, and were either passive (no feedback) or active (all feedback). I've tended to favor two-stage, passive LR or LCR phono stages—and, long ago, when digital began to supplant analog, I imported from Japan audio transformers made by Tango, and strongly promoted their EQ-600P, a transformer-driven, 600-ohm, LCR potted phono stage. Of their LCR Mk.III, Lounge says, on their website, "The LCR network is a discrete circuit assembled with the rest of the preamp so it is not an OEM module. It is based on the schematic used for the Tango EQ-600P LCR module."
Generally speaking, all LR-LCR variations are attempts to eliminate large amounts of series resistance and capacitance from the path taken by delicate phono-cartridge signals. Many feel that series resistance dulls the sound, that series capacitance blurs or adds ringing, and that what least harms the sound are small, low-capacitance, low-resistance series inductors. This is why many of today's cost-no-object phono stages, such as the Ypsilon VPS-100, are LCR designs. The Lounge LCR Mk.III is beautifully executed and enjoyable to look at, and costs 1.15% the Ypsilon's price.
I began my listening with the MoFi UltraDeck and MasterTracker feeding the Lounge LCR Mk.III. The Lounge was connected to my Rogue Audio RH-5 preamplifier, which drove the First Watt J2 amplifier, which drove Stirling Broadcast LS3/5a V2 loudspeakers. The first track was "The Riddle Song," an English folksong of the 15th century, from Doc Watson's Southbound (LP, Vanguard VRS-9213). The tone of Doc's voice was rich, like fine red wine. By the time the song was over, I was choked up with sweet, high sentiments.
Then I played "Tennessee Stud," from the same album, and wept. Doc and his son, guitarist Merle Watson, did both tunes right: these performances are masterfully executed, understated, and sincere, with minimal schmaltz, and maybe a little smiling irony. Could the Ypsilon make me cry
---
Footnote 1: MoFi Electronics, 713 W. Ellsworth Road, Ann Arbor, MI 48108. Tel: (312) 738-5025. Web:
www.mofielectronics.com
.
Footnote 2: Lounge Audio, 13691 Gavina Avenue #383, Sylmar, CA 91342. Tel: (818) 332-3346. Web: www.loungeaudio.com.86.7 times easier? I doubt it.