Recording of August 1964: Vaughan Williams: Symphony No.2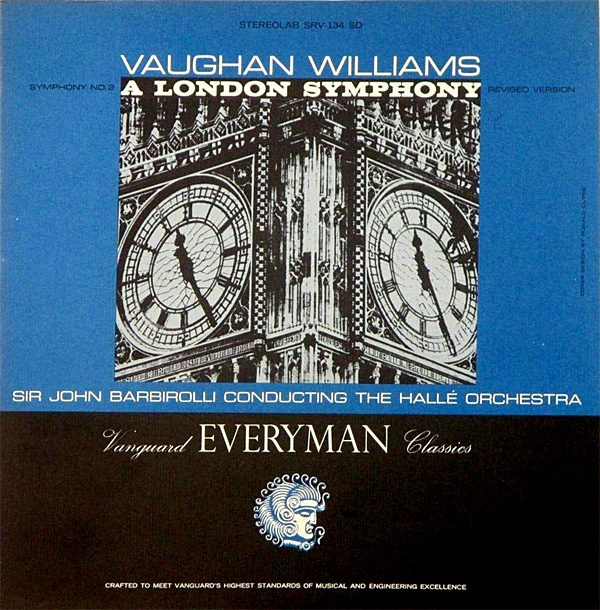 Vaughan Williams: Symphony No.2 (A London Symphony)
Hallé Orchestra, Sir John Barbirolli, conductor.
Vanguard Everyman, SRV-134-SD (1963 LP). Reissued in 1982 as PRT Collector GSGC 2035 (LP). Recorded by Pye (UK) in 1957.
This is undoubtedly the best London Symphony that's been committed to stereo to date, and I wouldn't be surprised if it held top place for years to come. I can find nothing to criticize about the performance, and the recording is awe-inspiring—rich, warm and natural, with some phenomenally low bass and very wide dynamic range, yet without the slightest audible trace of breakup during crescendos.
Technically, the only problem turned out to be a direct result of two other things that make this such a superb recording in all other respects; namely, its wide dynamic range and its conservative cutting levels. Holding the modulation to within fairly cautious limits permits clean crescendos, but it forces the entire signal further down toward the residual surface noise that is on every disc. This one has less actual surface irregularity than most, but the wide dynamics drop the quietest sections down to where they start to compete with the normally inconspicuous ticks and pops of microscopic dust particles.
Noise was not a problem with this disc, but it was higher than on some discs with equally wide dynamic range (but higher peak cutting levels).
I refuse to quibble over the slight noise increase, though, when everything else about this disc is so good. Highly recommended.—J. Gordon Holt