Hendrix Alert: Only 1000 Stereo Copies Left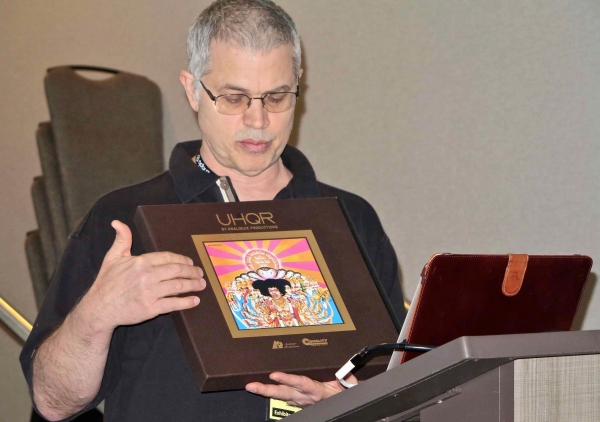 At an early morning press conference at the Rocky Mountain Audio Fest, presented jointly by Sony and Acoustic Sounds, the latter company's Chad Kassem announced that of the 5000 stereo copies pressed of the company's new UHQR LP reissue of the Jimi Hendrix Experience's
Axis: Bold as Love
, only 1000 remain. (The 1500 mono copies pressed are already sold out.) Hand-pressed, one-at-a-time, on 200 gm clarity vinyl that has no incline, the $100/each stereo copies are housed in an expensive Teflon jacket, and come with lots of documentation. Copies can be ordered online from Acoustic Sounds.
Chad explained that it only took him 20 years to get the rights to the pressing. "There's years, and there's Pink Floyd years," he quipped. "The Hendrix years aren't quite as long, but it still takes a long, long time."
Chad also announced that two years after he purchased Doug Sax's fabled mastering lab equipment, it has finally been restored to vintage state, and is ready to roll out recordings in Acoustic Sounds' Salina, KS church facility. Acoustic Sounds can now do everything in-house—from recording to pressing and distribution—save for printing the album jacket.
With the restoration comes a return to direct-to-disc recordings. Shelby Lynne has already signed on, and Dave Mason has expressed interest. Whether Kassem will also make simultaneous DSD recordings of these sessions, for issue on SACD and file format, is under consideration.
Acoustic Sounds is now the only approved pressing plant for the Beatles in the US. The LP release of the remastered The Beatles (aka The White Album) is due on November 9.
You read it here first.