RMAF Announces the Big Move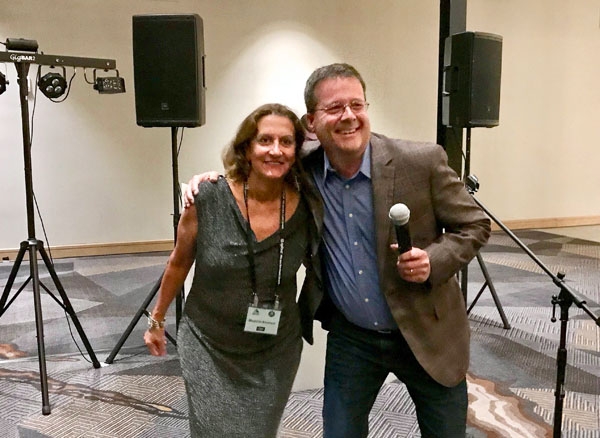 On the eve of the 15th annual Rocky Mountain Audio Fest, being held this weekend in the newly remodeled but acoustically challenged Denver Marriott Tech Center, show organizer Marjorie Baumert revealed the show's future venue: beginning in 2019, RMAF will relocate to its new home in the brand new Gaylord Rockies Resort & Convention Center, just five miles from Denver International Airport. Baumert made the announcement alongside Gaylord Rockies' Director of Sales, Jeff Lindeblad (on the right in the photo above), and used the occasion to reveal that show dates for next year will move up a month, to the first weekend in September.
The move looks like a win-win. While room dimensions were not immediately available—the resort and convention center will open to the public on December 18—the facility's whopping 1501 rooms includes 114 larger suites. This means that one of the major, long-standing problems with RMAF's current venue—its lack of sufficient large spaces to satisfy exhibitor demand—will no longer be an issue.
Ditto the lack of dining facilities in and near the hotel. The resort itself will boast at least eight restaurants, including Italian and Asian cuisine, a steak house, a two-story sports bar, a grab-and-go with take-out and room service options, and a bar with views of downtown Denver and the Rocky Mountains.
Given the Gaylord Rockies' proximity to the airport, tedious long rides to and fro—and even longer waits for shuttle service—will be ancient history. Instead, attendees will be able to board the light rail either at the airport or in downtown Denver, and take it to the hotel's free shuttle service that will run non-stop. Locals who choose to drive instead will find up to 2700 parking spaces waiting for them (albeit along with potentially steep parking fees).
The Gaylord Rockies' indoor open space has been characterized as "immense," and includes a 25-foot granite fireplace and a "crystal lake." There are also two pools, a huge jacuzzi, and a "lazy river" ideal for anyone who wants to pretend they're Cleopatra or a member of her consort, floating down the Nile on a high-end inner tube.
Until the next RMAF takes place eleven months from now, no one can know for certain how audio equipment will sound in the Gaylord Rockies' standard and larger rooms. Keep in mind, however, that some industry members cursed the size of the rooms in AXPONA's new venue, the Renaissance Schaumburg Hotel & Convention Center—until they discovered how good their equipment sounded in them.
RMAF will issue a formal press release on the move on October 8, the day after the last show in the Marriott closes. More to come…