John Coltrane's Both Directions at Once: The Lost Album Debuts at Englewood Cliffs
A stunning jazz discovery presented at a historic citadel of recording technology. That event took place June 11, when the new John Coltrane recording,
Both Directions at Once: The Lost Album
, which will be released June 29, was unveiled at Van Gelder Studio, the fabled location where the celebrated engineer recorded many jazz masterpieces.
From the early 1950s to his death, Rudy Van Gelder recorded 1000s of sessions for such iconic jazz labels as Savoy, Impulse!, CTI, Prestige and Blue Note at his Englewood Cliffs, New Jersey studio. Notoriously tight-lipped regarding the details of his recording processes, which included innovative close-miking techniques, direct to two-track recording, in-house mastering and lacquer cutting, much of it before the era of multitrack recording, Van Gelder's secrets died with him at age 91 on August 25, 2016.
One "RVG" (the Van Gelder signature etched or stamped in a vinyl's dead wax) session that somehow escaped release was recently discovered in the form of a 7" reference tape reel found among the belongings of John Coltrane's first wife, Juanita Grubbs, or as Trane fans know her, "Naima." That reel became Both Directions at Once: The Lost Album.
"Rudy had refined this sensibility for recording jazz artists," recalled saxophonist Ravi Coltrane, John Coltrane's son, to a packed house of journalists and family friends at Van Gelder Studio, a large, vaulted, wood-and-masonry-block space that feels like a holy place—the church of John Coltrane. "The first time I played in this room was on a record date with Elvin Jones."
"This music is over a half century old," Coltrane continued, "and was made at a time when these players were really cultivating a new sound in jazz. 50 years later, our ears are acclimated to this style of playing. But this approach to improvisation, the energy, the fearlessness these guys put out there . . . it influenced everything that came after it."
Recorded at Van Gelder Studio on March 6, 1963, Both Directions at Once marked a transitional period for Coltrane's classic quartet of McCoy Tyner, Jimmy Garrison and Elvin Jones. Also recorded by Coltrane in 1963 at RVG's: Ballads, Duke Ellington and John Coltrane, and one day after the Both Directions . . . session, John Coltrane and Johnny Hartman, all considerably more conservative albums than his later Impulse! efforts. Both Directions . . . straddles the two eras, documenting Coltrane's ongoing use of American songbook standards (which began with "While My Lady Sleeps" from 1957's Coltrane recorded at Rudy's Hackensack, New Jersey studio), and his emergent improvisation and composition style, the latter hinting at 1964's Crescent and Trane's 1965 masterpiece, A Love Supreme. Both Directions at Once is a worthy addition to the Coltrane canon.
"There's an arc of consciousness that carries the listener throughout the A side," Ravi Coltrane noted in conversation with Verve Records VP of Jazz Development, Ken Druker. "John's relationship with Bob Thiele, the producer at ABC, they were close . . . and also, John's relationship with Rudy Van Gelder, John almost had a set of keys to this studio. When the spirit moved him, or he felt he had something to document, he was at a point in his career where he could and did make music as he wanted to. The quartet was in the middle of a [two-week] run at Birdland, and they were planning on this very unique concept record. They came to Rudy's to get a little loose . . . they recorded enough music to fit on two sides of a record almost perfectly."
To give you an idea of Van Gelder's work load during that heady jazz era, in that same March week Van Gelder recorded McCoy Tyner's Nights Of Ballads & Blues for Impulse!, Hank Mobley's No Room For Squares and The Turnaround! for Blue Note, the Coltrane Quartet/Hartman session, and Lucky Thompson Plays Jerome Kern and No More for Prestige. (See Ashley Kahn's excellent liner notes for Both Directions . . . for further history of the session.)
The standard version of Both Directions . . . begins with "Untitled Original 11383," titled as such because the tape reel lacked notation beyond the word "Triangles," the title referring instead to the song's slate number. "11383" blasts off, Coltrane on soprano and drummer Elvin Jones kicking it forward with knotty, rolling, hard swinging intent, a solid choice for an "Impressions" bookend. "Nature Boy," which Trane also recorded for 1965's The John Coltrane Quartet Plays sounds hot and humid, Elvin popping the dry, mournful air with heated jabs. "Untitled Original 11386" follows, sweeter in intent, the rhythm veering from Afro Cuban to swing with an easy gait. "Vilia," from Franz Lehar's The Merry Widow, shows Trane working standards-type territory, another breezy swing treat. "Impressions (Take 3)" follows, a piano-less trio version with Elvin and Jimmy Garrison driving hard—tumbling, circling, pummeling. This first ever studio version of the Coltrane classic is a revelation. "Slow Blues" could be straight off 1962's Coltrane Plays the Blues, but Trane's solo is more exploratory, adventurous and assured. "One Up, One Down (Take 1)," "Impressions," and the two untitled originals form the album's highlights. "One Up"s acerbic, jagged opening gives way to a classic Trane/Jones battle, a seismic, eruptive, disruptive improvisational tour de force with machine gun-to-the-skull breaks from Elvin and an equally powerful solo by Jimmy Garrison.
Impulse! is releasing Both Directions . . . on June 29 as a single LP and CD (the black and white cover) featuring one rendition each of the seven tunes the band recorded. A deluxe edition (the in-studio photograph) includes seven alternate takes from the same session on a separate disc, including four trio versions of the piano-less "Impressions." As well as the two originals, 'Untitled Original 11383' and 'Untitled Original 11386', both album versions feature the studio version of "One Up, One Down," previously released only as a live bootleg recording. Sequencing looks like this: Disc #1: "Untitled Original 11383 (Take 1)," "Nature Boy," "Untitled Original 11386," "Vilia (Take 3)," "Impressions (Take 3)," "Slow Blues, One Up, One Down (Take 1)." Disc #2 (deluxe version): "Vilia (Take 5)," "Impressions (Take 1)," "Impressions (Take 2)," "Impressions (Take 4)," "Untitled Original 11386 (Take 2)," "Untitled Original 11386 (Take 5)," "One Up, One Down (Take 6)."
Visiting Van Gelder Studio is no simple thing. There are no busloads of Japanese tourists stopping off on their way to Harlem for hush puppies at Sylvia's. And no tours of local historic interest, though that may occur one day. Ordinarily, you had to be a musician with a scheduled session to enter Van Gelder's hallowed hall of sound. So, walking into this studio where so many geniuses of jazz have recorded is akin to approaching Mecca, or in pop music terms, Liverpool's Cavern Club. It's holy ground zero for jazz.
Van Gelder Studio and its neighboring mid-century modern home were designed in 1959 by Frank Lloyd Wright associate David Henken. The studio's stunning interior space is reflected in its subtle exterior design. Listening to Coltrane's music where it was recorded, the eyes and mind wander, poring over every detail of the large space: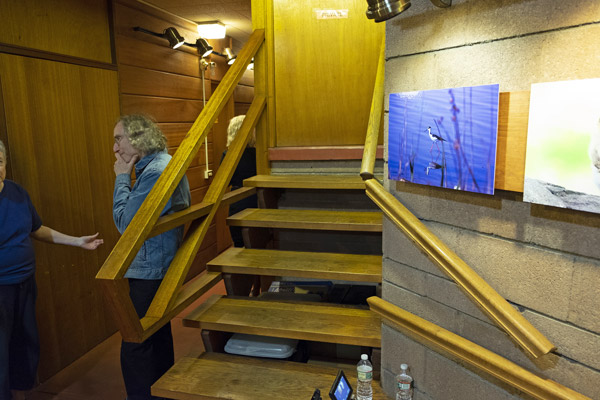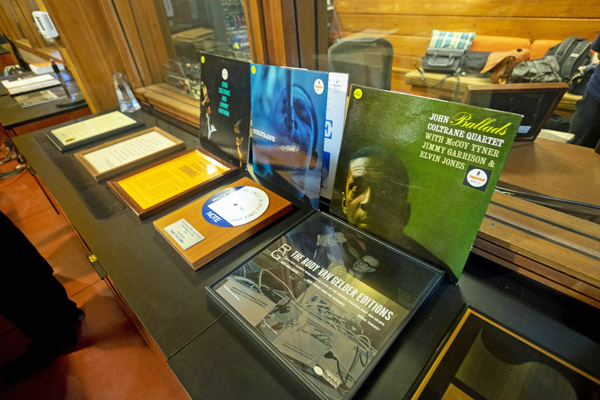 A small stuffed bird stands sentry on an isolation booth ledge. If a drummer played too loudly during a session, the bird would fall off is perch, signaling Van Gelder to either decrease the volume of the drummer's channel, or if prior to multitrack recording, ask the musician to do so himself.
Before Van Gelder passed, he willed the studio to his longtime assistant and engineer, Maureen Sickler, who, aided by husband Don Sickler, operates the studio today. With rising real estate values, a Korean conglomerate has attempted to purchase the studio, raze it, and build the usual office towers/luxury housing. Maureen Sickler is working with the Bergen County Historical Society to obtain landmark status for this very important part of American music history. Who knows what further gems lurk in its storied walls, if only they could talk?
"John's music was different from what then was the norm for jazz musicians at the time," Ravi Coltrane noted, regarding his father's Impulse!-era music. "This music . . . particularly 'Impressions,' it was such a shift. It's amazing to hear it today. It sounds as modern as it did in 1963."