BorderPatrol P21 EXD power amplifier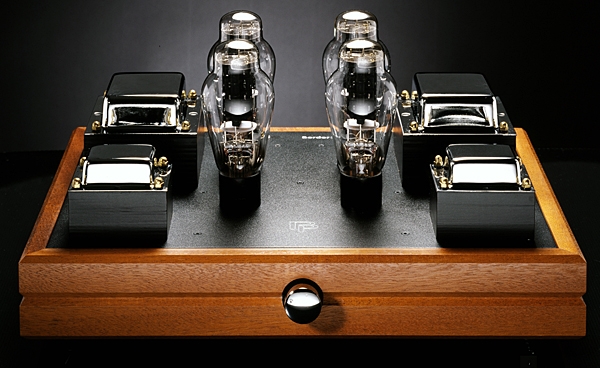 Back at the beginning of 2017, Greg Roberts, of Volti Audio, devised a clever way to bring his Rival floorstanders up to my penthouse pad, for what resulted in a
rave review
of those horn-loaded wunderspeakers.
I live on the top floor of a seven-story, elevatorless building on a busy street in Greenwich Village. A vertical challenge? No problem! Roberts is resourceful in many things, from speaker design to his former profession, the building of custom homes. Affixing a pair of unguent-saturated straps to the screws on each side of a Rival, we lifted and transported the 106-lb speaker high in the gritty Manhattan sky as if it were child's play. Neither of us emitted a huff or a puff.
Afterward, speaker installation complete, we decamped to my favorite Italian restaurant, on Father Demo Square. Over spaghetti and meatballs, Roberts said, "Your Shindo amplifier sounds great, but you've got to get Gary Dews's BorderPatrol amps in your system. I use them at every show." When a designer as talented as Roberts—whose Rival is one of the top five speakers I've ever heard—recommends a component, I listen.
Months passed. Things got interesting. Steve Guttenberg raved about the BorderPatrol DAC on his popular CNET blog, reporting that "the BorderPatrol struck me as the ideal converter for audiophiles who complain about the sound of digital audio, and prefer listening to LPs." And, as if on cue, Stereophile's own Herb Reichert—who knew I had a BorderPatrol P21 EXD stereo amplifier in-house—said, over Chinese chops in Chelsea, "That's an amplifier I should be reviewing!" If Herb's all in, well . . .
With Roberts acting as middleman, BorderPatrol owner and British ex-pat Gary Dews hand-delivered one of his P21 EXD stereo power amplifiers to my building's pink-and-blue-tiled lobby. As his amp, its external power-supply unit (PSU), and a box of tubes were easily toted, the usual slog up six flights of stairs was painless. After a few hours of listening to LPs and CDs, I invited Dews to accompany me to my habitual red-sauce joint. We ordered, and I quizzed him about the design of the P21 EXD, a most unusual amplifier whose 300B output tubes are configured in push-pull mode offering 20Wpc.
Beyond Borders?
Gary Dews builds three levels of the P21, which is the two-channel version of his P20 monoblock power amplifier: the P21, with aluminum chassis and stock power supply ($9325, 300B tubes extra); the P21 EXD, with better internal components, cryogenically treated copper chassis, and cryogenically treated interstage and output transformers, with stock external PSU ($13,150, 300B tubes extra); and the P21 EXS, which has the same specs as the EXD but comes with a special twin-power-transformer EXS PSU, in heavy gauge copper casework and full cryogenic treatment ($18,775, 300B tubes extra). My review sample of the P21 EXD had two pairs of EML 300B tubes ($650/pair), bringing its total cost to $14,450.
The P21 EXD is 17" wide by 13.5" high by 13.5" deep, weighs 35.2 lb, and is hardwired point-to-point throughout. Its internal shell comprises a copper chassis and base plate surrounded by an outer wooden plinth. My review sample's plinth was finished in rustic mahogany (ash, cherry, and maple are available). The P21 EXD's features are plentiful and good: fixed-bias output stage; multi-section, split-bobbin output transformers; carbon-film resistors; and DC filament supplies for the 300B tubes, rectified by Schottky diodes. Among its other novel design distinctions, the P21 EXD uses interstage transformers to couple the driver tube to the 300Bs, and does not employ global negative feedback.
BorderPatrol's website describes the P20 and P21 as "Single-ended all the way up to the inter-stage transformer"; both amps "[take] advantage of this supposedly antiquated technology to split the phase in a more accurate and time consistent way than the much more common active phase splitters. . . ."
"The P21 doesn't use coupling capacitors between the small 6C45pi input/driver tube and the 300B output tubes," Dews told me. "It's transformer-coupled using an interstage phase splitter/driver transformer to couple the driver tube to the 300Bs. This is rare but has several advantages. A transformer provides a very high-impedance load to the driver tube, linearizing its operation and maximizing its voltage output. It provides perfectly matched phase-split output voltages to the 300B pairs."
Why design a 300B amplifier in push-pull rather than single-ended-triode (SET) mode?
"A push-pull 300B design will typically have 20Wpc, which allows it to work with a wider range of loudspeakers," Dews said. "Push-pull amps typically have tighter, punchier bass than SETs, can drive much more difficult speaker loads, and play a wider selection of music. A stiff power supply, like the ones used with BorderPatrol SETs, addresses the SET dynamic and bass issues significantly, but a similarly executed push-pull like the P21 will still be superior in those areas."
Note Dews's description of the typical sound of 300B SET amplifiers: "[They] are often charming and beguiling but have low power, are limited dynamically, and have poor bass performance. They need to be partnered with loudspeakers that have very high sensitivity, and a high and uniform impedance characteristic. Complex music with heavy bass is best avoided. SETs predominantly generate even-order harmonic distortion, which gives them the characteristic open, airy, romantic sound. It's not accurate, but it can be nice. Push-pull amplifiers predominantly generate odd[-order] harmonic distortion, which leads to a sharper, less romantic sound, but one that is still engaging."
Built into a separate aluminum enclosure is the P21 EXD's stock PSU. At 35 lb, it's beefy, and chock-full of technology.
"The PSU contains three independent tube-rectified, choke input filter, high-voltage supplies to independently feed the 300Bs, the input/driver tubes, and the negative bias supply," Dews wrote in an e-mail. "It also supplies filament voltages for the 300Bs and small signal tubes. A pair of 6AU4-GTA high-voltage rectifier diodes are used in the 300B supply, and EZ80 full-wave rectifiers are used in the input/driver and negative-voltage bias supplies. The use of choke input filtering is a critical difference, and is unique to BorderPatrol power amplifiers. . . . A choke-input-filter design has far superior voltage regulation (stiffness) and noise rejection."
Setup
Though a vintage Thorens TD 124 Mk.I turntable has recently taken up residence in domum Micallef (thanks to Art Dudley and Sound & Vision's Michael Trei for setup assistance), I relied on my Kuzma Stabi turntable and Stogi tonearm with Hana EL moving-coil cartridge for analog duties, wired through my Auditorium 23 step-up transformer to my Shindo Allegro dual-mono preamplifier. An LG Blu-ray player and PS Audio NuWave DAC fed the Shindo digital signals via Triode Wire Labs American interconnects. With my Follow-Up on Klipsch's Heresy III loudspeaker still dripping digital ink, those horn-loaded squat-boys remained in the system for the first part of my listening, followed by DeVore Fidelity's Orangutan O/93 floorstanders. Auditorium 23 and Triode Wire Labs American speaker cables were used for both.