Art's Friday in Munich, Part Two
Reminders were everywhere that the High End show, which takes place in a 30,000-square-meter convention center, differs from the hotel-centric North American norm in its preponderance of silent displays—silent, but seldom inconspicuous. A fine example was the room occupied by the 33.3-year-old Danish firm Gryphon Audio Designs, which used the occasion to display their 93.5"-tall, 2002-lb (net weight), twin-tower Kodo loudspeaker system (price on request). The Kodo—which, when I visited, enjoyed tremendous popularity as a selfie prop—is a four-way design, specified as reaching from 16Hz to 25kHz.
Also on silent display was The Mono Amplifier ($34,995/pair) from Doshi Audio of Manassas, Virginia. Founder and designer Nick Doshi described the Corian-topped amp as a three-stage design that's almost completely hand-wired. Doshi runs the KT-150 output tubes as pure pentodes—he spoke passionately and convincingly on how best to regulate the DC that's applied to the tubes' screen grids—and gets about 180W per side.
Vivid Audio, whose chief designer, Laurence Dickie, is pictured above, used the Munich show to introduce their new Kaya range of loudspeakers. As Dickie explained, that choice of names—Kaya is the Zulu word for home—is meant to reflect the new line's increased domestic friendliness compared to the company's Giya line: the Kayas are designed to blend well with their surroundings, aesthetically and sonically. And their glass-fiber sandwich enclosures are, according to Dickie, "less price-intensive to build" than the Giya enclosures, the construction of which involves cutting and hand-fitting a great many balsa-wood pieces.
The first three Vivid Kaya models are the Kaya 90, Kaya 45, and Kaya 25, the numbers corresponding with cabinet volume in liters. Along with my colleague Kal Rubinson—as it happened, we dropped in on Vivid at the same time—I auditioned a system built around the top-of-the-range Kaya 90 ($26,000/pair), with Jeff Rowland Design Group amplification and the stunning Blackstone turntable from AudioSilente of Rome, Italy (as opposed to Rome, New York). The system, which was set up in one of the MOC's pre-fab break-out rooms, was abundantly detailed but not the least bit overbearing or harsh: the treble range was sweet—in my notes I wrote "sweet and untroubled"—and music sounded lively and dynamic.
On hand for the demonstration was AudioSilente's Simone Lucchetti (above), who also designs and manufactures replacement parts for various classic audio products, including the Garrard 301. (In the forthcoming July 2018 Stereophile you'll be able to read about AudioSilente's brand-new replacement idler wheel for the 301.) Here Lucchetti shows off one of his recent specialty items: upper and lower motor bearings for the 301, precision-molded from sintered bronze.
Here's another turntable specialist I've written about but never before met: Igor Gligorov (above), of Soulines, the Serbian manufacturer whose Kubrick DCX turntable I wrote about in my "Listening" column in the July 2017 Stereophile. Earlier this year, that Soulines model went on display at the Deutsches Filmmuseum, as part of a collection of designs and works of art that were inspired by Stanley Kubrick's 2001: A Space Odyssey.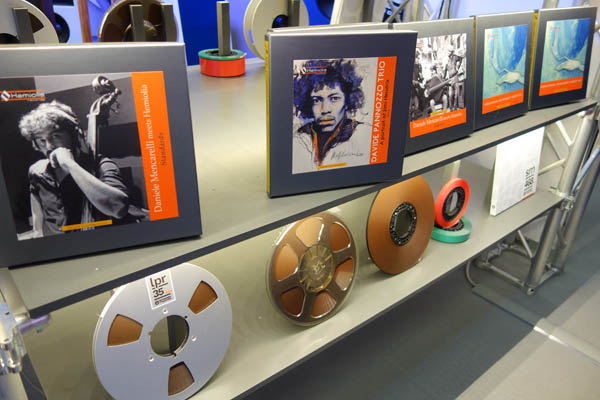 The booth sponsored by Hemiolia Records was among the ones so consistently thronged with customers that finding an unbusy company rep proved impossible. But I learned ahead of the show that Hemiolia meant to use the High End show as the premiere of the first unpublished commercially available open-reel tape by the late Luciano Pavarotti. Developed in cooperation with the Luciano Pavarotti Foundation, the recordings on the tape originated from the tenor's private collection, later held by his Foundation.
Another perennially busy exhibitor: Peter Ledermann (above) of Soundsmith. Ledermann and I live only two and a half hours away from each other, yet I've seen him more often in Munich than here in upstate New York!
That being said, the last time I dropped in at Soundsmith's Peekskill, New York factory, I got an early look at this Plexiglas display, which was made specially for this year's High End show. The system, which used all Soundsmith electronics plus a full Soundsmith Strain-Gauge cartridge system ($8599.95) on a VPI turntable-tonearm combination, sounded extremely detailed and pleasantly upbeat on a Steely Dan record (but don't ask which one: that's one of those groups I respect but never really warmed to).
It's like being invited to an annual party whose guest of honor is a wine collector—one who can be counted on to bring and to share ever-more-spectacular vintages: South Korean manufacturer Silbatone, whose CEO is a renowned collector of vintage Western Electric audio gear, marks every High End show by bringing to Munich one or more loudspeakers that most of us would never otherwise hear. There were many such speakers on tap this year, but the one that caught my attention was this 1947 Western Electric 757-A, a two-way monitor (one 12" woofer, one midrange-treble horn loaded with an upward-firing 713-C compression driver (the concealed part of the horn makes a 90° bend) that works from 60Hz to 15kHz. I have far less experience with the exotic than most of my vintage-loving friends, and it seems all of them have heard this speaker before, but it was new to me. And this extremely well-preserved pair—I was told the white sound-treatment panels covering the front baffles are seldom as intact as seen here—enchanted me with what I can only describe as intense explicitness: a memorable experience that had me muttering "we know nothing at all" for the rest of the day.
Silbatone also deserves credit for playing not only real records but great real records. During my visit, the standing-room-only crowd was entertained by DJ and tonearm builder Thomas Schick (above), whose eponymous tonearm (the arm on the right) is seen here alongside a Frank Schroeder tonearm (the left-rear arm) and vintage Garrard 301 turntable fastened to an especially smart-looking plinth by Berlin-based Vinylista.