Art Dudley's New Listening Room: a Binaural Video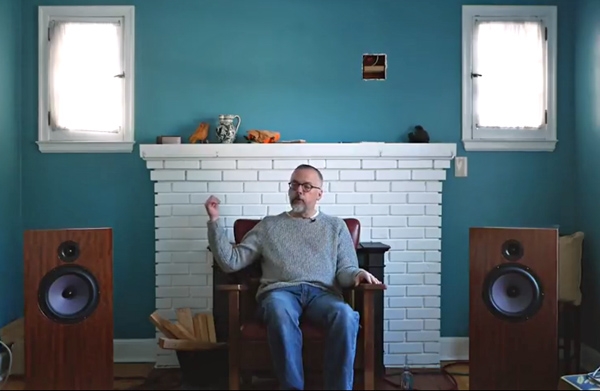 The real star of this video is my dog, Chatter Dudley, an 8-year-old Jack Russell Terrier with a fierce fondness for Herb Reichert (they had met once before), and who had Jana Dagdagan saying, by the end of the day, "I wish I had a dog." Unfortunately, the cameras weren't running when Chatter took a running leap to sit next to Herb while he was on the couch, listening to the blue-vinyl version of Puente Celeste's
Nama
.
Herb and Jana were visiting me in Albany, NY, at the 1936 semi-mock-Tudor house I now call home. Albany-perhaps the only US state capital whose downtown streets are named after birds-is a city of 100,000 souls and at least one great record store (Last Vestige, on Quail Street-which, sadly, we didn't have time to visit that day). King Crimson included Albany in their tour of late last year; in February I heard the brilliant Attacca Quartet in a hall just 20 minutes from my house; Robin Trower played here in March (but I missed that one); last month I heard Hot Rize in a hall just 5 minutes from my house; and just across the Hudson River is the Troy Savings Bank Music Hall, which is renowned for its fine acoustics as both a performance and recording space.
Less renowned are the acoustics in my new listening room, which is also my new living room, which is also where Chatter determined that Herb is indeed a member of her pack. Though imperfect, I think I'm getting a handle on it. And the AC power, which isn't quite up to the standards of my previous and comparatively rural home, is responding well to treatment.
This video includes sketchy descriptions of recent changes to my system. One thing I left out: the very nice Acoustical Systems Arché headshell, seen at the business end of my well-loved EMT 997 tonearm.
One other thing that didn't make it to video: Herb declaring, moments after he sat down in the sweet seat and began listening, "For someone who doesn't care about stereo imaging, you've got these speakers dialed in well!" That's one of the great things about the DeVore Orangutan O/93: unlike other speakers I love, its best room position for spatial performance also turns out to be its best position for other characteristics-bass weight and tactile impact among them. Perhaps you'll hear some of the qualities that we heard, while we enjoyed a few of my favorite records and at the same time recorded the sound with a Sennheiser binaural headset.
Enjoy your visit, and please tell my wife: Yes, it looked as though he had vacuumed recently.