Living Stereo Goes Social and Streaming
In a definite sign of the times, Sony Classical is poised to bring the 60-year old classic RCA Victor
Living Stereo series
to streaming, hi-rez download, and social media platforms. Beginning on Friday April 27, and lasting for two months, Living Stereo playlists—
Living Stereo Spectaculars,
Living Stereo Top 50
, and
Living Stereo Deep Cuts
among them—will stream on Apple Music, Spotify, and Deezer.
Since Sony also lists HDTracks as a source for its catalog, I presume that it, too, would have been listed as a streaming site had its long-anticipated streaming service actually launched in time. It is also possible that any number of streaming services known mainly in Europe and Asia will participate in the program.
In addition, all sorts of Living Stereo visual and editorial content will appear on social media sites that include Facebook, Instagram, and Twitter. Lots of rarely seen session photos plus "behind-the-scene glimpses" of the remastering process will receive star billing, as will the curated streaming playlists.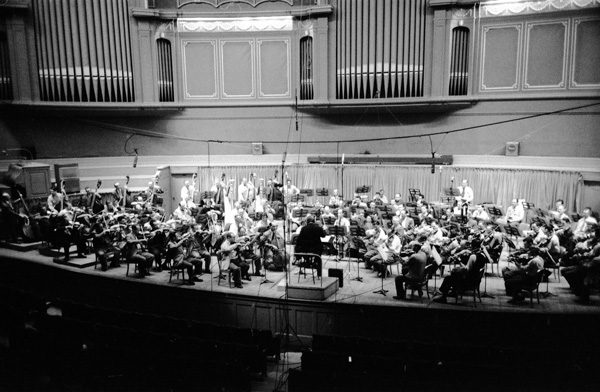 The real stars, of course, are the artists and the recordings. For conductors, RCA made frequent use of Fiedler, Leinsdorf, Munch, Reiner, Kondrashin, and Stokowski with orchestra that included Boston Symphony, Boston Pops, and Chicago Symphony Orchestra. For pianists, they turned to Cliburn, Gilels, Wild, Horowitz, Szeryng, Janis, Richter, and Rubinstein. For other instrumentalists, we're talking Bream, Heifetz, Fox, and Piatigorsky. Last but hardly least, their roster of singers included Price, Nilsson, Björling, Tebaldi, Rysanek, Milanov, Moffo, Lanza, Anderson, and the Robert Shaw Chorale. These were not the only stars of the 1950s and '60s, but they were certainly among the greatest and best-known.
As for the recording technology, many were set down in three channels. Many decades after their initial release on LP, they were reissued first on CD, then remastered for three channels and issued on SACD, remastered on LP, and then remastered again for CD. (I've probably missed several steps and reissues.) It is doubtful that anyone who likes classical music and has ever visited a high-end dealership or an audio show has emerged without hearing at least one Living Stereo track. Why? For the simple reason that, when it comes to color saturation, realistic recording perspective and balance, and thrills, many of the best Living Stereo recordings set indelible sonic as well as artistic benchmarks.
Sony isn't the only label to jump on the streaming bandwagon. Warner's catalog has been streaming for a while in hi-rez "Masters" (MQA) format on Tidal, and ECM has recently come on board. With US consumers turning more and more to streaming platforms for their music, and embracing phones and tablets as their streaming medium, labels large and small have seen the writing on the wall. Artist compensation may remain a major area of concern, but that doesn't seem to be stopping music lovers from streaming music to their heart's content.