Denon DL-103 phono cartridge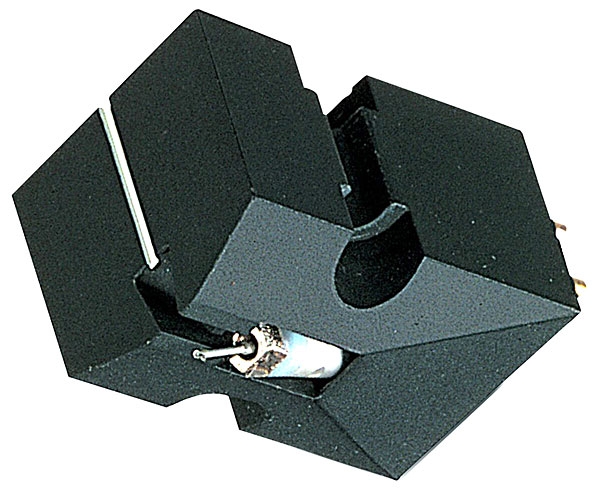 This low-output moving-coil cartridge can be fitted with different styli. The basic DL-103 has a 0.5-mil spherical tip, the DL-103S a Shibata tip. As of the spring of 1975, the '103S is being imported by American Audioport, Inc., in Columbia, MO. the '103 is being brought in directly from Japan by a few dealers. Our '103 was loaned by Music & Sound of California, the '103S came from Audioport.
They are not too similar in sound. The DL-103S is incredibly clean-tracking, with a light, airy high end, a subtle zizz on string tone, and a very slightly withdrawn quality similar to the sound of the Supex 900E, but not as overly rich-sounding as the Supex.
The DL-103 is a hair less clean on very loud high-frequency modulations but is noticeably more "alive," sounding somewhat like a very good Decca with extraordinary tracking ability. Extreme highs are somewhat sweeter from the spherical version than from the Shibata version, making for a more master-tape-like sound. We preferred the spherical to the Shibata.
Although these are moving-coil pickups, they have higher output than most moving-coils, and thus can, if used with a head amp, overdrive the input stage of many preamps. Fortunately, their output is high enough to work properly, at a somewhat higher-than-normal volume control setting, directly into many conventional preamps (such as the Audio Research SP-3 and Dyna PAT-5, the latter especially with its high-gain modification).
We would rank both Denons as equal overall to the Decca Mark V, insofar as their tracking ability is notably better but they do not have the right-there aliveness nor detail of the Decca.—J. Gordon Holt
Art Dudley wrote about the Denon DL-103 in October 2007 (Vol.30 No.10):
Audio maven extraordinaire Garth Philippe, who passed away in July, was among the most eloquent proponents of this simple, reliably musical device. (So, for that matter, is friend and fellow Listener alum Rob Doorack.) Gray-market samples were all we could get for a while, but thankfully the DL-103 is once again an official part of Denon's US product line. Like Bill Monroe's lost love, the DL-103 gives you body and soul—and it's a hell of a bargain. The Denon has an unusual combination of output and impedance specs, which are 0.3mV and 40 ohms, respectively. Its compliance is quite low, and its stylus profile is conical.—Art Dudley
Art Dudley returned to the DL-103 in December 2007 (Vol.30 No.12):
In 1962, when tennis rackets were made of wood, newspeople were known for challenging the government, and the off-Broadway musical The Fantasticks was in its second year (the show closed in 2002), Nippon Columbia's Denki Onkyo (or Den-On) division introduced to the professional audio world a brand-new moving-coil phono cartridge. Developed in cooperation with the Japan Broadcasting Corporation, the DL-103 was one of the first attempts at making a truly wide-bandwidth stereo cartridge that nonetheless could withstand the rigors of back-cueing. The DL-103 was a nearly instant success with broadcasters, and its popularity spilled over into the world of domestic audio.
In 2007, you can still buy a brand-new Denon DL-103—for the almost jarringly small sum of $229. It has outlived The Fantasticks by five years. I'm sure that no one at the Denon of 1962 could have foreseen such a thing, and I'm doubly sure that no one at the Denon of 1982, which introduced the world's first pro-audio CD player, could have seen it coming either.
But here we are: The DL-103 is almost as old as I am, and continues to attract a great deal more attention. Record collectors love the DL-103 because it's cheap and it has gobs of real musical tone. Internet retailers love it because it's consistent—damn consistent—and rugged. And OEMs love it because, like the Garrard 301, the Quad ESL, and the Rega RB300, the Denon DL-103 is one of those products that cries out to be maximized.
The stock Denon DL-103 is a resolutely old-fashioned pickup in which a two-piece aluminum cantilever drives a cross-shaped armature wound with several turns of exceptionally fine-gauge copper magnet wire. The armature rests against a sky-blue rubber damper, under tension from a taut length of the sort of piano wire once used by spies to strangle each other. The magnet is oblong and apparently of no exotic composition, and its flux lines are channeled by a pole piece of the usual shape.
While Denon has offered the DL-103 with various stylus profiles over the years, the square-shank nude diamond of the stock cartridge is ground to a spherical tip—the version that I prefer, for its dependably musical, unfussy sound. And while thousands of words can be written on the subject—Is a spherical tip less susceptible to interchannel phase distortion than an elliptical tip? Should a stylus endeavor to ride on the very bottom of the groove, where damage is supposedly less pronounced? All else being equal, will there be an appreciable difference in record wear when a user switches from a 2gm downforce to one of 2.5gm?—I propose to leave it alone for the time being.
I am, however, interested in the manner in which the DL-103's stylus is fastened to its aluminum tube. While this is normally done in a single machine operation in which the end of the tube is crimped flat and the shank is punched through it from the top, examining the DL-103 under a microscope shows that the business end of its cantilever is machined away—surprisingly neatly—leaving a sort of an inverted scoop in which an opening for the diamond shank is then punched or milled. In terms of shank alignment alone, every Denon I've examined under a microscope have had the most accurately and cleanly made stylus assemblies I've ever seen.
In common with its early broadcasting contemporary, the EMT, specifications for the stock DL-103 show a highish source impedance (40 ohms). The two brands also exhibit similarly low compliance and high downforce (5x10–6cm/dyne and 2.5gm, respectively, for the Denon). The comparison falters from there, in light of the DL-103's comparatively low output (0.3mV) and low overall mass, the latter owing to its two-piece plastic body.
The most common complaint about the DL-103 is also the truest: Its good motor is compromised by a too-flimsy mounting arrangement, with open-edge bolt channels that prevent the cartridge from being rigidly fastened to a headshell.—Art Dudley
Stephen Mejias wrote about the DL-103 in April 2010
Introduced in 1962, the Denon DL-103 moving-coil cartridge ($229) is a music-lover's friend, an audiophile classic, a man's cartridge (footnote 1).
All the cool guys have one. At least one. Really cool dudes have like three or four. Sometimes, you even meet a girl who uses a Denon DL-103, but she is invariably extremely hot. Her name is Charlie or Ingrid or Scarlett, or some crazy shit like that. She owns more records than you do. She'll eventually want to move your furniture. If you're smart, you'll let her. And when you're done moving furniture, you'll sit down with a glass of gin and a smoke, and you'll drop the needle on Dexter Gordon's Our Man In Paris. You'll take the stairway to the stars and spend a night in Tunisia.—Stephen Mejias
Ken Micallef wrote about the DL-103 in June 2017 (Vol.40 No.6):
Finally, after a long hiatus, Denon's trustworthy DL-103 cartridge ($379, often found for less on eBay) returned to my rig. There it happily stays, revealing the souls of jazz, rock, classical, and electronic-music LPs with unfailing effortlessness and honesty. The Denon doesn't deliver the Phoenix's myriad musical minutiae or the Goldring's commodious soundstages, but by any measure it's enormously musical. From its inception in 1962 as the Japanese broadcast benchmark to the present day, the Denon DL-103 remains a standard.—Ken Micallef
---
Footnote 1: The Denon DL-103 was a finalist for
Stereophile
's Analog Component of 2007.