Naim Audio Uniti Nova integrated amplifier-media player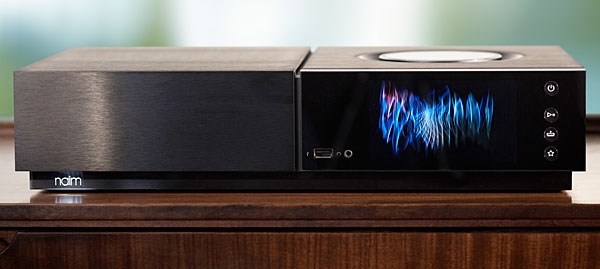 Audiophiles are oblivious to the low-end music-reproduction medium that's currently staging a comeback: the cassette tape (footnote 1). I've adopted the cassette craze in my own small way. I glory in the trusted mixtape, which I play in the stereo cassette deck of my 1990s Toyota. An automobile is a dearly cherished possession in New York City; when I cruise the outer boroughs on Sunday, I want tunes galore. So I retrieved my 1996 Aiwa cassette deck, and, attic-bound as it had been for 20 years, it was in need of repair. Via Yelp, I came across Hi-Tech Electronics, a small repair-everything-electronic shop at the east end of Canal Street, in New York's Chinatown, and a mother lode of classic audio gear and audiophile nostalgia.
Hi-Tech brims to the rafters with electronics from the 1960s through the 1980s: AM/FM console radios, bookshelf speakers, turntables, cassette decks, tuners, shortwave radios, integrated amplifiers, and—taking up an entire wall—classic stereo receivers. Currently experiencing their own renaissance of renewed customer confidence, vintage stereo receivers appeal to those who want to dip their toes in plebeian audio for little cost. (Stereophile's occasional Musicians As Audiophiles interviews have confirmed the appreciation for vintage audio.) Perched on Hi-Tech's showroom wall I saw every receiver imaginable, from Fisher, Kenwood, Onkyo, Pioneer, Sansui, Sherwood, Sony, Technics, Yamaha—even Marantz. Those beauties' backlit tuning dials and faux wood cabinets are as comforting to me as Ovaltine and meatloaf.
Gazing at those vintage products, I couldn't help thinking: What is today's combination integrated amplifier-DAC-streamer-player-ripper-NAS if not a glorified stereo receiver? I had in mind something like the Pioneer SX-1010—which was proclaimed, in a 1974 ad, to be "The finest stereo receiver the world has ever known."
In 1974, the Pioneer SX-1010 sold for $700. Today, Naim's Uniti Nova integrated amplifier–media player–D/A processor lists for $6995. Like everything else, today's hi-fi gear reflects contemporary technology, consumer trends, and the ever-rising cost of living.
Design
The Uniti Nova is basically an amplifier plus a turbocharged computer that offers, in a single oblong metal box, almost everything audio that one could desire. And oh, what a beautiful box it is. The Uniti Nova's case of brushed and CNC-machined aluminum has two long, finned heatsinks as side panels; a sleek-to-the-touch, illuminated volume dial on the top panel that practically spins off rays of light; and a 5", color LCD display. Whether selecting titles via Internet radio, Bluetooth or WiFi, Tidal, Spotify, or a NAS drive—or coupling its internal DAC to a CD transport—all of the Nova's functions other than power-up are accessible from that lovely front display, Naim's app, or the included remote control. The remote seems to awake when it senses you're near—before you even touch it, its touchpad pulses a soft circle of light that's mirrored by the Nova's own volume dial. It seemed like a dance of fireflies floating around my small Manhattan quarters.
Replacing the SuperUniti all-in-one, the 28.7-lb Nova is the flagship of Naim's Uniti line, which also includes Atom all-in-one player, Star CD player/ripper, and Core hard-disk server. The Uniti crew does it all: playback of music files in AIFF, ALAC, FLAC, and WAV formats, all up through resolutions and sample rates of 32-bits and 384kHz; lossy formats MP3, AAC, WMA, and Ogg Vorbis; and DSD64 and 128. The Nova's built-in Bluetooth and WiFi can stream Apple AirPlay, Apple Music, Google Chromecast, Spotify Connect, and Tidal, and it's Roon ready. The Nova's class-A/B integrated amplifier, based on Naim's NAIT, can output 80Wpc into 8 ohms; it and the player's DAC, the latter enabled with a Burr-Brown PCM1791A chip, and the separate preamplifier output, all distinguish the Nova from its Uniti kin.
The "Uniti Nova boasts outstanding new technology which really sets it apart from the rest of the range," boasts Naim online. "Its circuitry features the highest quality discrete components, superior isolation, more inputs than you can shake a stick at and a massive toroidal transformer that brings a whole new meaning to the term heavyweight. [The] Uniti Nova is as good as an all-in-one player can get."
I found Naim's marketing approach, Quick Start Guide, and online materials light on facts, and grilling a Naim representative for details created as many questions as answers. Naim's director of marketing and communications, Ryan Latham, told me about the massive rotary volume dial on the top panel:
"There's a super smooth, ball bearing-raced volume control with damping grease on the top of the product. The actual volume control is a discrete component, digitally controlled analogue volume control designed by Naim. It has a 95dB range, accurate channel matching and constant input and output impedance [which] maintains the frequency response irrespective of volume level. . . . Now, with all signals in the digital domain we can simplify the analogue volume control. From –64dB to –95dB (very quiet listening levels) we introduce digital attenuation in addition to the analogue attenuation. . . . This allows us to remove 1/3rd of the analogue volume control [which improves] the sound quality of the volume ranges 0 to –64dB due to the reduction in component count and parasitic effects."
Unsurprising, given the Uniti Nova's beautiful appearance, is the news that each unit is hand-built by one of Naim's 180 workers in Salisbury, England. Naim is equally proud of the Uniti Nova's component parts, which include leaded polystyrene film capacitors. "Polystyrene is an excellent dielectric having low dielectric absorption, low leakage, stability with temperature and voltage," Latham wrote. "We also use through-hole resistors and -transistors in key locations such as filters and feedback circuits. And large leaded components lower microphonic noise and minimise thermal modulation. We [use] custom made power supply capacitors, and a custom made 770VA Nuvotem Toroidal transformer."
The Uniti Nova's front panel is minimalist, even Spartan. There are only a USB Type A input, a 3.5mm headphone jack, the display, and to the right of the display four flush-mounted buttons for, in descending order, Power/Standby, Play/Pause, Input Selection, and Favorites. The remote's functions mirror those on the front panel, adding buttons for Clock, Brightness, Now Playing, Next, Previous, Multiroom, Mute, and Home.
The Nova's rear panel is only slightly more populated. There you'll find an IEC power receptacle, two pairs of banana-only speaker posts, an SDcard slot, an Ethernet receptacle, USB and HDMI inputs, DAB/FM connector, and five digital inputs: two optical TosLink (up to 24/96), one BNC (up to 24/192), and two coaxial RCA (up to 24/192). Below those are four pairs of analog inputs (two RCA, two 5-pin DIN), two preamplifier outputs (one 5-pin DIN, one RCA), and a switch to lift the ground.
Setup
The Uniti Nova is heavier than it looks. I wrestled it into my equipment rack, where it remained for the duration. I used Auditorium 23 speaker cables, and interconnects by AudioQuest, DiMarzio, Morrow Audio, and Shindo Laboratory to connect my CD transport and phono stage to the Naim. My Western Digital external hard drive was connected using an AmazonBasics USB 3.0 link.
---
Footnote 1: "The bestselling cassette of 2016 was the
Guardians Of The Galaxy
soundtrack, which moved at least 4,000 copies," noted Hugh McIntyre in
Forbes
on May 8, 2017: "
Cassettes Are Making a Comeback, But Which Artists Are Actually Selling Them?
". "Other successful [cassette] titles that sold well in 2016 . . . include Eminem's
The Slim Shady LP
and Prince and the Revolution's legendary
Purple Rain
," he wrote.