Klipsch Heritage Series
"All products in the Heritage Series are built in the Klipsch factory in Hope Arkansas," the company's Kerry Geist begins. Klipsch has chosen to only demo the Heritage stuff here in the Venetian, with the bulk of their contemporary line back at the main convention center. And the room is quite crowded, so they clearly understand their demographic.
For those new to the hobby, the Klipsch legacy goes back decades with the original "K-Horns" as Geist calls them, appearing just after WW2. Those expecting faithful reproductions of the early models will be slightly disappointed however, as Geist tells me that each model, while retaining the original shape and look, has "evolved" drivers and electronic components. "We now have better tools to model the drivers and create the crossover networks," he adds.
"What we've found over the last couple years," says Geist, "is of course a resurgence of two channel, but there also seems to be an interest in a more retro style-type product. It started a couple years ago when we were celebrating our 70th anniversary and we wanted to do something special. So we created a limited run of Heritage products in exotic wood veneers and unique grill cloth combinations. For example," he says pointing to the Heresy pictured above, right, "this is Australian walnut."
In the room is the Heresy, at $2,000 a pair and available in three finishes. Next is the 1985 Forte (coincidentally the first speaker not designed by Paul Klipsch himself), which was pushed out of the market by home theater, but is back retailing at $3,600. The La Scala (the top image), introduced in the early sixties we're originallly created to reinforce sound for a local gubernatorial campaign it turns out, and are now $8,000 pair. The Heritage version of the Cornwalls (above) are $4,400 a pair, and according to Geist are the best value in the line (super-efficient and 15" woofers!!).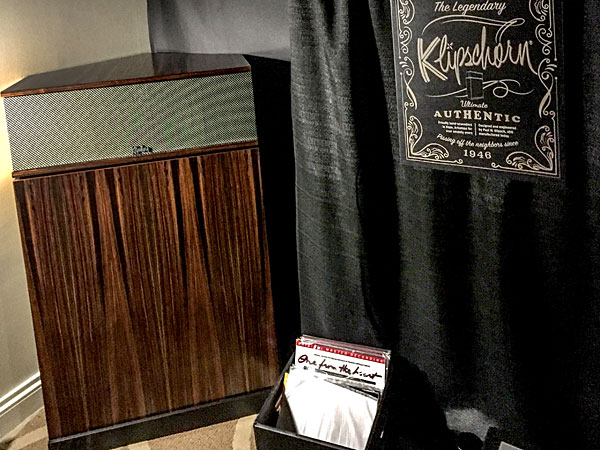 And finally the Heritage Klipshorns were in their own room, placed in the corners and playing The Allman Brothers Band At Fillmore East at a robust volume. These run for $12,000 a pair in standard finishes, and the company does special orders in any desired veneer. In the room was a dramatic looking pair in east Indian rosewood.