Saturday at the New York Show with Ken
The New York Audio Show—really, any audio show within a 100-mile radius of Manhattan—is a chance for this reviewer to hear and see gear of every style and stripe. Right? More important, it's an opportunity to rub shoulders with and learn from like-minded audiophiles and members of my personal tribe: the
Stereophile
team.
In frigid New York temperatures I walked the many blocks to reach the Park Lane Hotel on Columbus Park South. Whose ever-cheerful face did I spot? Kal Rubinson. Sipping coffee and trading war stories—or, in our case, waiting-for-the-show-to-open stories—we pondered why we had arrived early to pick up our press credentials when a wait for Chester Group to produce said credentials was clearly the order of the day. We drank more coffee. We BSed. We waited.
Hey! Robert Ross ofVinyl Times manned a table with free copies; the budding publication is distributed at hundreds of vinyl record shops nationwide. Offering vinyl and vintage gear reviews as well as artist features, this welcome paper is making a mark.
Still waiting for our press passes, Kal and I listened as Herb Reichert, smartly lounging in the hotel's lobby couch, regaled Audio Note UK's Peter Qvortrup with tales of agile young women on Soho rooftops in 1970s NYC. Aw, Herb, such a tease. We waited some more.
Jana Dagdagan appeared. And Steve Guttenberg. And Herb's sidekick Beau Ranheim. And John Atkinson.
"What rooms shall I cover John?" I asked. "Ken, only the rooms you are truly excited about."
That being my assignment, it became my mission. And with only 25 exhibitors and no merchandise floor, covering the show was a study in minimalism, fully actuated!
And wouldn't you know it? I struck gold on the first room I entered, from upstate New York's Adirondack Audio.
Luxman. Even the name puts me in mind of pushbuttons, brushed aluminum, and classic 1960s audio designs. Founded in 1925 in the back room of a picture frame shop, Lux Corporation, aka Luxman, produced a line of globally praised electronics including the SQ-5A integrated amplifier (1961), SQ-38 preamplifier (1964), MQ-36 OTL power amplifier (1966), and the 300Wpc M-6000 power amplifier (1975). But in 1984, Luxman minimized itself in the eyes of audio perfectionists by merging with car stereo manufacturer Alpine.
Under the leadership of Luxman America, Inc. President Jeff Sigmund, Luxman has re-entered the US market with guns blazing, as Adirondack's demo room attested. The Luxman system included the D-08u SACD Player ($14,995), PD-171A Belt Drive Analog Turntable ($6,995), Ortofon Cadenza Blue cartridge ($2039), EQ-500 Vacuum Tube Phono EQ ($6495), C-900u Control Preamplifier ($14,995), M-900u Stereo Power Amplifier ($14,995), the 8Wpc MQ-300 Vacuum Tube Power Amplifier ($20,995), and a pair of floorstanding Triangle Magellan Quatuor loudspeakers.
I asked Sigmund to play my CD of pianist Dan Tepfer's Eleven Cages (Sunnyside). The reproduction quality was beautifully transparent, with an exceptional focus on transients, resolution, and naturalness. The Luxman system seemed to elude room-setup goblins, making music that reveled in the disc's acoustic piano sound and the natural timbres of Tepfer's trio-mates, bassist Thomas Morgan and drummer Nate Wood. There was some hi-fi tomfoolery going on in the shape of long decay trails (the Triangle tweeters perhaps?), but the musicality of the 8Wpc MQ-300 Vacuum Tube Power Amplifier was unmistakable, and welcome. Music sounded rich, and the large soundstage was inhabited by fleshed-out instrumentation.
Herb Alpert & The Tijuana Brass' Greatest Hits barely knocked a dent in my enthusiasm, which was further justified by a vinyl pressing of Keith Jarrett's Belonging, revealed in all its EQ-flat, 1970s ECM glory through the Luxman tube Amplifier. (The M-900u Stereo Power Amplifier was also in-line, but I didn't know where or when). Sonny Rollins's Way Out West, on Contemporary, was equally flat-sounding and super dynamic, drummer Shelley Manne sounding as woody, present, and natural as I can recall hearing him. The LP sounded so good, what I thought was an original Contemporary pressing turned out to be an OJC reissue. The Luxman room became my show reference, mentally if not always physically.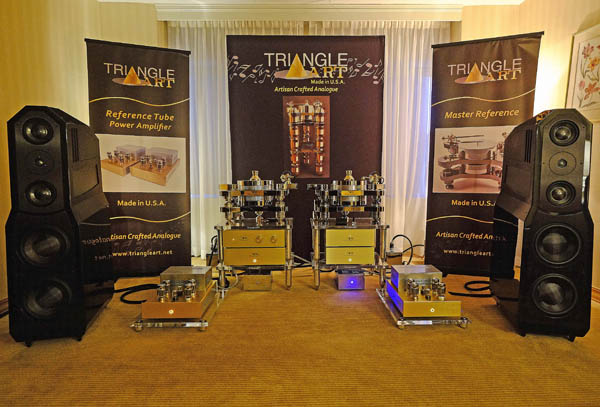 The EgglestonWorks-Triangle Art room featured a ton of impressive-looking gear, much of it branded with the distinctive Triangle Art logo. The lineup included the Triangle Art Master Reference Turntable ($39,900), Triangle Art Osiris MK2 121" tonearm ($6800), Triangle Art Apollo MC cartridge ($8000), Triangle Art Reference Tube monoblock amplifier ($17,998 each), Triangle Art Reference tube preamplifier ($17,998), Triangle Art tube phono stage ($12998), Triangle Art RHEA Reference Interconnect ($2890), Triangle Art Reference Power Cord ($2890), and Triangle Art Reference Power cable ($4990), plus the EgglestonWorks Viginti floorstanding loudspeakers ($39,900/pair).
Spinning Lightnin' Hopkins Goin' Away on the massive Triangle Art Master Reference Turntable, the sound was unfussy and pure—a cognitive surprise given the rather garish, faux gold appearance of the Triangle Art components. Never judge a book…
The noise floor of the Eggleston/Triangle Art setup seemed practically nonexistent, giving the recording a spooky, spectral quality. A 2013 Sony pressing of the RCA Living Stereo LP of Rimsky-Korsakov's Scheherazade, with Fritz Reiner conducting the Chicago Symphony Orchestra, emerged from a black background; this rig also magically escaped the Park Lane's assorted room goblins. Coherent, whole, natural, non-forced and easy: Eggleston/Triangle Art communicated the essence of the music with little artifice or hi-fi filigreed effects. Even at what I considered the rig's lower-than-ideal volume level, the music was lush and rich, yet dynamic and engaging. And fast.
+Audio (Plus Audio) Director of Engineering Bob Hazelwood gave me the full skinny on the Boston/Milan based company's The + Record Player ($1400). This is an all-in-one analog system offering vinyl playback and Bluetooth streaming via a ProJect Debut Carbon turntable/Ortofon 2M Red cartridge, with two 1" tweeters (each powered by a class-D 15W amplifier) and two 3.5" woofers (each powered by a class-D 35W amplifier) enclosed within the unit. The +Record Player has two analog inputs, a coaxial digital input, a headphone jack, and a USB output for dubbing records.
The +Record Player threw a mighty magnificent soundstage, the music coming from well beyond its boxy enclosure. Flying Lotus's You're Dead! jumped out clean, chunky, and expansive, though the unit couldn't reproduce the LP's bass frequencies. A copy of Dexter Gordon's Dexter Blows Hot and Cool sounded hot and fulsome, a woman asking, "Where's the music coming from?" as she entered the room.
Incidentally, $1200 version is also offered, with a more basic tonearm and cartridge replacing the carbon-fiber arm of its upscale kin.
Finally, I hit the crowded merch room on the 7th floor where Acoustic Sounds and Mytek jumped to the tune of show attendees with cash to burn. I nabbed two hi-fi LP reissues par excellence,, Quality Pressings' Music For Bang, Baaroom and Harp by Dick Schory's New Percussion Ensemble, and Witches' Brew, performed by the New Symphony Orchestra of London, Alexander Gibson, conductor.