Ken's Day Two at the New York Show
Seeing as I'd recently been in contact with the good people at Cambridge Audio when hoping to repair a 25-year-old integrated amplifier, it was great to put faces with names in the Cambridge Audio room. Presentation of their current line was well assembled and regarded, I thought. The room was often jammed to where I couldn't nab a photo, much less a seat.
Playing what I believe was a hi-rez file of "All Blues" from Miles Davis's Kind of Blue, the Cambridge Audio rig did the best-selling-jazz-album-of-all-time proud, the overall sound one of cleanness, depth, and flow.
Hinting at a new line forthcoming in 2018, Cambridge Audio's Gregg Chopper led me through the New York Audio Show setup, primarily representing the company's CX line: CXN Network Player ($749), CXA80 Integrated Amplifier ($999), CXC Dedicated CD Transport ($449), 851N Network Player ($1399), Azur 815W Power Amplifier ($1999), Aeromax 2 stand-mounts ($599), and Aeromax 6 floorstanding loudspeakers ($1999/pair). This competitively-priced system offered solid, dynamic, musical sound and great bang for the buck.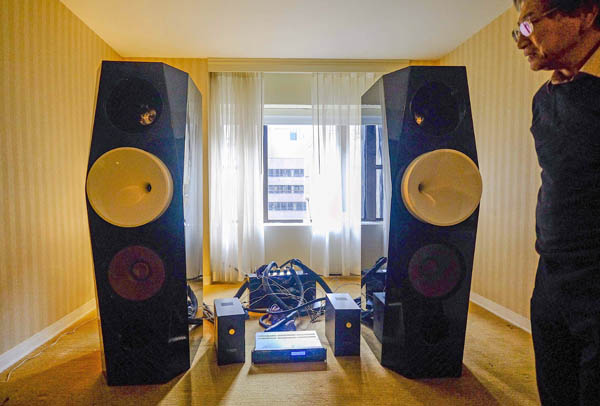 Imagine, if you will, Gulliver poking two fingers through the roof and into the bedroom of a Lilliputian family home. A similar disconnect—is this what I think it is?—was experienced by visitors to the Laufer Teknik/Orinda Acoustics room.
Here stood two coffin-sized (over 6' tall), deep-as-a-barge, oddly-shaped horn-loaded loudspeakers in a room not much bigger than a '60s Cadillac. Everything in the room was black: the simply named 16" 3-Way loudspeakers ($238,000/pair), the various cables—Supreme 11 ($1800/m), Reference ($6000/m)—the Integrated Amp with Passive Pre-amp, Monoblock ($18,200/pair), Power Amp only, Monoblock ($18,200/pair), Passive Pre-Amp (45 Steps) ($8200), and the 33-lb, four-outlet line conditioner called The Box ($13,800). (A Lavry DAC and a Tascam CD player completed the setup). Okay, the giant speaker slabs had beige horns, but the happy man presenting the rig—Sonny Lo, I believe—also wore a black sweater. Was this an homage to the original man in black, Johnny Cash? I can't remember the music played; I was too shell-shocked by the 1000-lbs-apiece speakers to remember the music.
No doubt in the right palatial palace the 16" 3-Ways would produce something dramatic. The speaker is rated at 93db, with compression drivers, "large voice-coil woofers," and "proprietary L-pads using induction-free conductors," noted the one-sheet. "There's no way those speakers can play accurately in that tiny room," I surmised. Indeed, once out in the hallway things fell more into place. A little.
The AVM room, presented by Fidelis AV, was making truly beautiful sounds via AVM electronics; an Acoustic Signature Triple X turntable ($5795 without arm) with TA-3000 tonearm (discontinued) and Dynavector XX2 Mk.II cartridge ($1995); and Harbeth M30.2 Anniversary loudspeakers in Silver Eucalyptus finish ($6495/pair). There were various AVM components in the setup; according to Peder Baeckman, AVM's American Sales Manager, these were the CS8.2 All in One preamp ($12,995), MP6.2 CD/media player ($8995), and SA8.2 stereo amp ($14,995). The small AVM P30 phono stage ($799) was also inline. Wiring from Triode Wire Labs included The Obsession Statement Power Cord ($1399), American Speaker Cables ($949/pair), Spirit XLR and Spirit RCA interconnects ($449 and $349, respectively, per pair), Spirit Digital IC ($299/1.5m), and Discrete USB Digital IC ($299/1.5m).
Baeckman played a file of the hoary audiophile warhorse "Take Five," and while I am insanely bored by the track, the AVM presentation was like no other. I could hear the air around the instruments—but, more surprising, when drummer Joe Morello soloed, I could easily hear the varying degrees of pressure he applied to his bass drum pedal, which shifted throughout his solo. Audio wonks from on high will groan at this kind of sonic dissection, no doubt. But when you hear music you know all-too-well entirely reshaped and reanimated, as it were, it pops in your brain like Einstein's light bulb. The AVM system sound was one of purity and focus, the Harbeths no doubt playing a big role in the rig's excellent sense of synergy and tonality.
I wanted to like the sounds in the Alexis/Bache room, but their Tribeca-001 floorstanders ($6950/pair) seemed to be buzzing. After switching to the smaller Sonata-001 standmounts ($2750), things fell into a better, er, sonic dimension. Perhaps it was Diana Krall spinning on the table, or the soundtrack dreck that followed, or Jazz at the Pawnshop, but mojo was hard to find in this room. Thankfully, Jazz at the Pawnshop didn't sound overly "hi-fi"; it was generally clear, smooth and inoffensive. A cardboard box on the floor held cool vinyl titles for sale; too bad they didn't spin those LPs. Anyway, the beautiful looking gear included the 50Wpc at 8 ohms 845 SE Monoblock Power Amplifiers ($16,995), Signature Line One Vacuum Tube Preamplifier ($5995), Multi-Standard Phono Equalizer EQ-01 ($5995), Passive Preamplifier Zero Gain ($995), AB Audio Preamplifier ($1150), and AB Audio D Class N-Core Hypex Power Amplifier ($2450), with the afore-noted loudspeakers. I'd like to hear this setup again; I'll bring the music.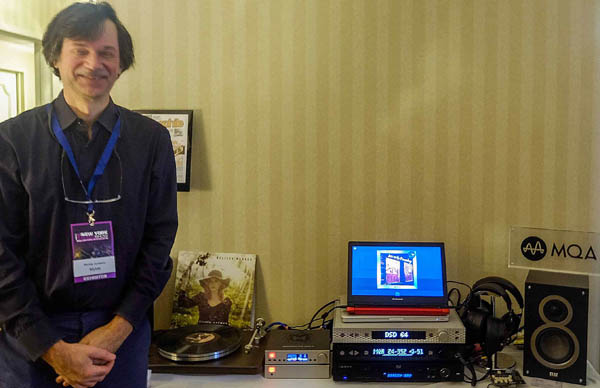 Mytek's Michal Jurewicz co-habited a room with Acoustic Sounds. Made perfect sense to me. Michal presented Mytek's new Brooklyn amplifier ($1995) and DAC ($2195), along with the Manhattan II DAC/preamp ($5995) and pair of Elac B6 standmount monitors ($279).
Down in the Park Lane lobby, John Blomstrom was hawking his already in-demand Seamzeazy album jacket repair kits. "The Seamzeazy Record Jacket Repair Strips actually replace the edge of the damaged jacket from the inside. NO EXPOSED TAPE!!!" exclaims the Seamzeazy website. A repaired copy of a classic rock jacket wasn't perfect; you could see the seam repair, but at $10 per 10-pack, it's a great solution for battered jackets in need of TLC. Blomstrom had already blown through 200 packs over the weekend when I purchased his penultimate pack.
Year after year, show after show, Audio Note UK provides a respite, an oasis of a natural sound reproduction. This year's Audio Note presentation was typically spot-on, rep Andy Whittle playing, among other things, pianist Ivan Moravec's Piano Recital LP on the Supraphon label. Natural, musical, pure—ahhh! What a relief. Whittle also played my CD of jazz pianist Dan Tepfer's Eleven Cages (Sunnyside), the jazz trio CD's sound rich and dynamic. The Audio Note system played music. In line on the sensible fold-out table below the sun-filled window: Audio Note CD3.1X, Audio Note Oto Phono SE Signature, Audio Note AN-S8 SUT, Audio Note TT2 Turntable Deluxe, Audio Note Arm 3, Audio Note IOI cartridge and Audio Note AN-E standmount loudspeakers. (Sorry: In my relaxed state, I forgot to ask for prices!)
I've read reports that New York Audio Show 2017 was "sad," that there was nothing new, and that the small number (25) of exhibitors equals the death knell for Manhattan shows. But, fewer rooms meant the better rooms truly shone. All attendees seemed in good spirits, including the couples who occasionally stopped me asking for recommendations.
Not every audiophile is so well-heeled as to include Munich or London in their travel itinerary. For 40-hours-a week worker bees like myself, a weekend jaunt to DC or Denver is also not a simple thing. The smaller New York Audio Show featured some very good sounding systems, a bustling merchandise room, and exhibitors focusing on attendees beyond simply filling seats. Bigger is not better!