Vintage Vinyl In San Francisco
The agreement was simple. I would confine my record shopping to a single afternoon. No last minute runs to out-of-the-way shops the next day. No desperate pleas about "Just one more," or "I'll be quick, I promise." On the vacation with my wife that we'd been planning for an entire year, and one that almost immediately became a quasi-business trip, I had one Sunday afternoon to satiate my desire—the word "addict" has occasionally been thrown my way in anger—to check out vinyl LP stores in San Francisco. Given my limited time, I decided to ask SF friends for suggestions and to stay away from anything chain-like or the bar/venue/record store places like Amados in the Mission district.
The good news was that many of the SF record stores are located along Haight Street (above). Best of all, any LP shopping trek in SF can and should start where Haight runs into Golden Gate Park. There you will find the San Francisco branch of Amoeba Records. Sizewise, it's somewhere between the Berkeley original and the Hollywood monster—the latter being the only record store on earth with its own parking garage. Even still, the SF Amoeba is gargantuan. Plans are underway to demolish the Hollywood Amoeba store to make way for a residential tower but nothing is finalized quite yet. The new Chris Hillman record, Bidin' My Time, was playing when I walked in.
Interestingly enough, much of the space at Amoeba is still filled with CD racks. Clearly, the powers that be there have not given up on the little silver discs quite yet. Boxed sets (CD and vinyl) and LPs (new and vintage) appear around the edges of each section. I availed myself of a copy of Ash, the new Ibeyi record, as well as a nice copy of the two LP UK compilation Prez & Teddy, which collects all the quartet work Lester Young and Teddy Wilson recorded together in the late-1950s. This includes all the tracks on the 1959 Verve album, Prez and Teddy, which is often cited as one of the most fully realized and heartfelt recordings ever released on Norman Granz's Verve label.
I was a bit distressed to find the magazine rack completely empty and a bit amused to find the store's selection of turntables lined up cover-to-cover and not too accessible. But they did have them. And then there's that rack of Amoeba T-shirts which have become something of an emblem for the survival of big record stores worldwide. While this Amoeba is buying some older, used vinyl, there is not much of a selection. Overall, this remains a store more for CD heads. And those who just wanna stand and worship in a record store the size of a small college gymnasium. I mean . . . goddamn!!!
Up the street, walking back towards downtown San Francisco, was Recycled Records. As soon as I walked in I knew exactly what kind of record store it was. With old copies of Rolling Stone in plastic bags pinned up along one wall and LPs six rows high on the other, I knew this was a place that has been doing things the same way since the '70s. Everything on the walls is nearly inaccessible as you have reach over racks on the floor. And unless you're an NBA star, everything above the second shelf requires a clerk with a ladder. Bleecker Street Records in New York employs the same system: foil the shoplifters but frustrate the legitimate customers who can't examine the records let alone even seen the tiny price tag. I mean, how many teenagers with perfect eyesight, let alone older folks, can squint from five or six feet away and see what's on your average postage stamp-sized price tag? Seems like a retail 101 mistake to me.
Everything at Recycled was in plastic and much of it looked like it had been there for quite awhile. Even the new arrivals section looked like it wasn't full of recent additions. I'm sure if you spent an afternoon digging you could pull a few worthy records out of this store, but the sections I leafed through seemed picked over and the prices were not especially bargain-ous.
Down the hill, and past a pair of stores, Groove Merchant and Vinyl Dreams, both of which were closed, I strolled into Rooky Ricardo's, the store that the dean of SF record store owners Dick Vivian has owned and operated for 30 years. Although he had to move across the street from this original location in 2016, Vivian's store remains a haven for R&B fans of all vintages.
After a cruise around the store, I introduced myself. Vivian was polite and dryly remarked how glad he was that he was relatively friendly to me when I first walked in. He told me '70s soul is what everyone wants these days. He also told me that all the stores along Haight Street feed off each other and the record store biz ain't too bad these days since the flabbergasting return of vinyl. Glancing around, I immediately spotted a gem, which I quickly snatched off one wall rack. A promo-only sampler, Southern Soul is a gold vinyl, 10", 8-song EP from Vivid Sound in Japan, with tunes by James Carr and Sir Lattimore Brown, that pushed all my buttons: rare, colored vinyl, classic soul music.
Although I didn't know it, I'd saved the best for last. I knew when I walked up Fillmore street and down yet another hill—in one of those absolutely gorgeous SF neighborhoods that makes it one of the most magical cities on earth—that the corner store with "RECORDS" painted over the door was gonna be special. There is a new breed of vintage LP record store, run by a younger generation of vintage LP collectors and/or purveyors, who are intent on being cutting-edge. For these stores the formula is the nearly the same. First, someone from the store has to be on a buying trip almost constantly. Places full of retirees, Florida, Southern California, Arizona, are all fertile areas to seek vintage vinyl. Having more vinyl promotes lots of churn of killer titles. And a better overall condition level of everything in the store. It also means a fair amount of rarities, some of which have to stay on the shelves as opposed to going up on eBay or Discogs. The best vintage vinyl LP stores these days all have masses of $1 records left over from big buys. Most crucial of all, the prices have to be fair and if possible lower than eBay and perhaps even Discogs. It also helps that Originals is clean, uncluttered, well-organized and a very appealing place to spend time in. It's built to succeed by selling a lot of cool records to those who know and seek out quality used vinyl. Judging from the serious, absolutely rapt crowd, knowingly leafing through the not-too-full racks when I was there, this place clearly has a loyal clientele. I did not make it to all the Bay Area vinyl stores on this trip but I'm having a hard time imagining there are many, if any, better vintage vinyl LP stores in the Bay Area than Originals.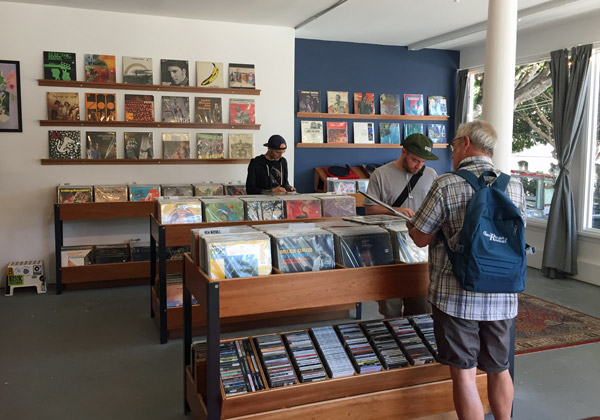 When I struck up a conversation with Dominic Siracusa, who co-owns the place with his brother, he immediately asked me what stores I liked best in New York City and he knew every one I mentioned. After selling me the near-mint mono copy of Bobby Bland's The Soul of the Man that he was playing when I walked in, he gave me a laugh when he got a panicked look on his face when I asked him to be in a picture of his shop. However, as someone who has ruined nearly every photo ever taken that has me in it, I fully get his reluctance. He said his brother is the one who likes doing publicity. Fortunately, this was the final stop on my brief but satisfying dip into SF LP stores. By the time I left I was glad that Uber is based on credit cards because Originals, who'll take cards but prefer cash, nearly took my last dollar.