Jana's RMAF Weekend Continues
In the Krell room, Pink Floyd reverberated through a Krell Vanguard Universal DAC ($4500), a Krell Duo 300 stereo amplifier ($9500), and Focal Sopra No.3 floorstanding speakers ($19,999/pair), with an AudioQuest Niagara 7000 AC conditioner and AudioQuest cabling throughout. "Another Brick in the Wall (Part 2)"—an audio show classic—often sounds harsh and distorted, but here I heard it with a boldly convincing low end and an almost mechanical smoothness up top.
Did you ever buy into the inedible-objects-that-resemble-cute-candy craze? I did. And that's precisely what drew me to the Revel F228 Be floorstanding speakers ($10,000/pair). They reminded me of a white chocolate fondue fountain (not that I have ever seen one), or one of those two-tone modern art pieces you always find in Upper East Side lobbies. Was this my subconscious telling me I should've ordered that chocolate pie on the lunch menu, or that I had already been away from New York for too long? Whatever it was no longer concerned me, because the classic sound of Frank Sinatra singing "What's New" began playing through the Mark Levinson No.519 audio player ($20,000) and No.585.5 integrated amplifier ($16,000). It was scrumptious and filling, with a grand, warm tone that left me feeling weak at the knees and thinking to myself, "Yes, chivalry is still alive." Then came Anne Bisson's rendition of the Beatles' "With a Little Help from my Friends." It was filled with three-dimensional cymbal hits and haunting whoosh-y whispers in a wide soundstage that made me (sitting in the sweet spot) feel like I was actually wearing headphones. And headphones are the way to my heart.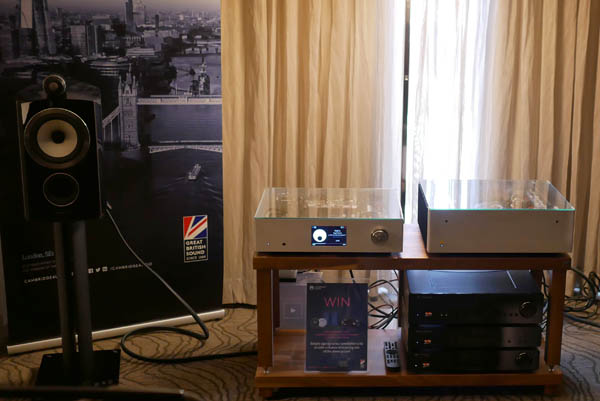 Learning about prototypes of any nature, and at any stage of the process, always makes me feel like I'm in on a secret. Even just breathing the word "prototype" gets me blushing. Even if they're at a show, open to the public, with slideshows and translucent tops, I always force myself into a deep delusion involving myself and (at least) four other hooded ninja-types—yes, I am one of them—in the eerie fog of a dimly lit alley, at twilight (it is always at twilight). At some point there is a rapid street chase, the subtle exchange of foreign currency, a rolled up piece of paper with confidential documents—which we always refer to as "it," especially when saying, "have you got it?"—and the never-ending fight to keep it from "them."
As soon as I walked into Cambridge Audio's room, I felt it, I knew—prototypes were near. Eyes narrowed, lips pursed, I walked up to the nearest uniform I saw and asked, "what have you got?"—giving him the look. He got it. He tells me about two new prototypes coming out in the first quarter of 2018: a network streamer/analog preamplifier, and a 100Wpc power amplifier—names and prices yet to be determined. Or were they just trying to keep these secrets from them?
After British Ninja Spy 1 spoke about the background of Cambridge Audio, British Ninja Spy 2 then described the prototypes. The network streamer/analog preamplifier supports up to 32/384 and DSD256, utilizing Cambridge's proprietary hi-res streaming module "Black Marlin," named after the fastest fish in the sea. The power amplifier has unusual topology and is referred to as "class-XA," because of bias voltage added to the traditional class-AB design. It also stacks two transformers on top of each other, back-to-back, to reduce stray magnetic fields and hum. British Ninja Spy 2 then proceeded to demonstrate by playing "Avalon" by Roxy Music through the prototypes, a Shunyata power conditioner, and Bowers & Wilkins 805 D3 speakers ($6000/pair). The sound was neutral and straightforward, while retaining a certain aura of mystery. Depending on their price (Cambridge tends to be priced within reach) my spy senses tell me these have the potential to be quite a steal.
What do you do if you politely ask for information on a system from a man, who refers you to a less knowledgeable woman, only to then eagerly help a man who arrived after you? I'm asking for a friend…
On a completely unrelated note—in the ListenUp room featuring Pro-Ject, there were two systems. The first: a semi-static display centered around a white VT-E BT vertical turntable ($499), with a MaiA integrated amplifier ($499), and Speaker Box 5 bookshelf speakers ($299/pair), joined by Connect It cables.
The second featured: a Stream Box DS2 T hi-rez audio streamer ($999), an Xtension 10 turntable ($3499), a CD Box RS CD transport ($1299), a DAC Box DS2 Ultra w/ DSD & USB 2.0 ($699), Power Box RS Phono Li-Pol based power supply ($749), a Pre Box RS stereo tube preamplifier ($999), an Amp Box RS stereo power amplifier ($999), a Power Box RS Amp linear power supply ($699), a Power Box RS Uni 4 Way linear power supply ($799), and Sonus Faber Olympica 3 floorstanding speakers ($13,500/pair).
In a dreamy, sun-soaked room on the eleventh floor, I experienced the single most enjoyable home theater demonstration of my young, deprived life. You'd think adding more speakers and high definition cinema to the audio show equation would unquestionably add to a room's cool factor—but this is never the case! It always ends up being absurdly loud, unproductively short clips of overused action films, where the sleazy demonstrator spews lines like, "pay attention to the bullet passing by your head" as he winks off to an imaginary camera to the side. He should really be saying, "pay attention to the hearing damage you're about to incur, because I turned it up way too loud and am actually in cahoots with hearing-aid makers worldwide!"
Basil, a Los Gatos, California based dealer/installer, (and a severely malnourished plant sitting in my apartment in New York) is evidently rebelling against the hearing-aid warlords, and decided to do something completely different: for a good twenty minutes, I watched, riveted, the beginning of the 2017 sci-fi horror film Alien: Covenant, directed by Ridley Scott, playing off of a Sony UBP-X1000ES 4K Ultra HD blu-ray player. (Maybe the film as a whole sucks, but the first twenty minutes are damn good.)
The all-Linn system comprised a Klimax DSM network music player ($27,500), Klimax 350 integrated floorstanding speakers with Exakt technology (front left/right; $71,200) in a high-gloss rosenut finish, Series 5 530 integrated Exakt speakers (surround left/right; $15,760) in a Timorous Beasties Collection Fabrik cover, and Akudorik integrated standmounted speakers with Exakt technology (rear left/right; $24,510) in high-gloss white finish. (Not including installation, system integration, and configuration.) The score, by Jed Kurzel and inspired by the original Alien film, is an extraterrestrial electronic soundscape—and its execution was suspenseful and horrifyingly isolating.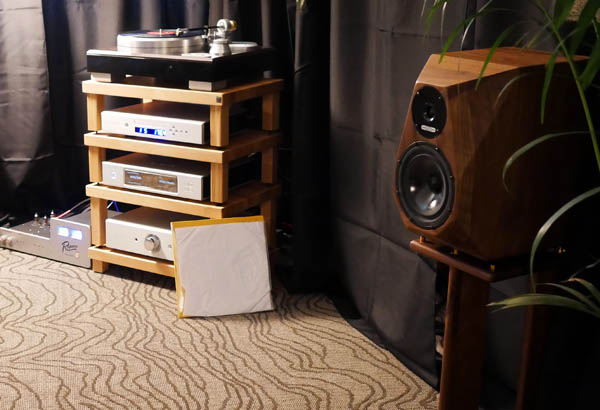 Heard in the Fidelis room: Diapason Adamantes III Anniversary Edition speakers ($5495/pair), a Norma Audio Revo IPA-140 integrated amplifier ($7795), and Tellurium Q Black Diamond speaker cables 3M ($5295/pair).
Keith Jarrett's Köln Concert played on the digital front: an Aurender N10 caching music server ($7995) and Norma Audio Revo DS-1 integrated digital source—CD player/DAC/USB input ($4995). It sounded clean and conveyed emotion well, but I felt like the system really shined on The Essential Elvis Volume 2, a 1957 Living Stereo LP (APP 057-45) played on the analog front end: Acoustic Signature's Triple X turntable in makassa black ($5795) and TA 2000 9" tonearm ($2395), Tango Ultimate phono preamplifier ($2399), and a Soundsmith Hyperion cartridge ($2000). Elvis's dreamy, creamy voice gave me crazy goose bumps! The Adamantes IIIs—whose angular, dark wooden features reminded me of Hawaiian koa furniture from back home—were gentle and airy, in a way that made me eerily sentimental for the '50s (which I will never know).
Have you heard of xiao long bao (aka "soup dumplings")? Not to be confused with any other type of dumpling, this semi-recent foodie sensation in the West hails from China's Jiangnan region, and typically consists of a pork-based filling (sometimes combined with truffle or crab meat) in a hot gelatinized meat broth, encased in a thin flour skin. I will travel great lengths in freezing temperatures at odd hours to eat baskets full of xiao long bao, alone.
Much like xiao long bao, the sounds coming out of this room shared by Lumen White and Ayon Audio contained a solid musical core bathed in warmth, with a delicate nuanced finish. In a system featuring Lumen White Kyara loudspeakers ($49,900/pair), and Ayon Audio Orthos XS Gen 4 mono blocks ($28,800/pair), Spheris III preamplifier ($34,500), CD-35 SACD player/DAC/streamer/DSD ($10,500), and S-10 network streamer/vacuum tube preamplifier ($8300), the unmistakable sound of Wynton Marsalis came on, playing his post-bop style composition "You & Me." What I appreciated most about the Kyara/Ayon combo was their lack of pretentious uber-liquid shimmer (that you hear far too often at audiophile shows). Wynton's hip NoLa-influenced sound and deliberate articulation came through quite nicely.
Xiao long bao holds a very special place in my heart, and if Ayon and Lumen White continue to sound this good at future shows, I'm sure they will, too.
McIntosh was showing their latest MCT80 SACD/CD transport (they declined to provide prices) paired with their MHA150 headphone amplifier and MHP1000 headphones. They also had a static display of a prototype of an integrated amplifier, the MA252. Unfortunately, I have no other details to provide.
In the front of the room: a system containing MC601 mono block amplifiers, an MPC1500 power conditioner, an MCT450 2-channel SACD/CD transport, an MT5 turntable, MP1100 phono preamplifier, D1100 digital preamplifier, and MEN220 room correction system.
Synergistic Research, maker of cables, power accessories, and slightly unconventional room treatments, is naturally one of those infamously polarizing, irrationally condemned manufacturers of hi-fi. My personal thoughts on these chronic discussions: building a quality system is like building a quality cocktail—believe it or not, everything matters. (Margins, on the other hand, belong in a different discussion.) Those who don't believe that cables matter are likely to not believe that ice matters. Cocktails are largely dependent on ice, requiring a specific balance between the dilution ratio and the temperature change. Naturally, different shapes of ice melt at different speeds—you would not dare drink an Old Fashioned with pellet ice, nor would you drink a Piña Colada with a 2" ice cube. But of course both drinks will still taste roughly like themselves, and will certainly both succeed in delivering alcohol content. I won't even bring spherical versus cubical ice into this debate. Let's take it one step further: would you prefer to drink a Martini stirred with old cloudy ice that has been sitting uncovered in the freezer next to your frozen meats or ice frozen in a dedicated, temperature controlled freezer? Everything matters. Everything is not always necessary, but everything does make a difference.
Anyway. For whatever reason, I never really thought about Synergistic Research until I visited Michael Fremer's house, where he raved about the positive effects on his system of Synergistic's products. In a room that was a joint effort between Synergistic Research and Southern Californian retailer Scott Walker Audio, Ted Denney—who would win the "Best Dressed Audiophile" award if there ever was one—demonstrated for me the effects of his products in an A/B demo on a system that consisted of: a Berkeley Alpha DAC Reference Series 2 MQA w/Alpha USB module ($21,395), an Aurender N10 music server ($8000), a Solution 520 preamplifier ($25,000), a Solution 511 stereo power amplifier ($35,000), and Magico S5 MkII loudspeakers ($38,000/pair).
The system featured two Synergistic Research products new to the show: the SR25 Limited Edition AC ($20,000), and Blue Fuses ($149.95/each), in addition to Synergistic Research room treatments: Black Box ($1995), Atmosphere XL4 w/ ATM ($3495), UEF acoustic panels ($595), HFT ($299), HFT 2.0 ($299), HFT X ($299), Vibratron ($1500), MiG 2.0 ($249). Additionally, the Synergistic Research grounding components: Active Ground Block SE ($2995), High Definition Ground Cable ($395); and Synergistic Research cables: Galileo UEF power cable ($5600), UEF interconnect ($7500), speaker cable ($15,000), UEF digital interconnect ($2995), UEF USB ($2995), Ethernet Active SE ($550), and Transporter Ultra SE ($2895). Do I know exactly what all of these are? Nope. But did I hear a difference? Certainly. Ted played "Heroes (Kruder's Long Loose Bossa)"— a Kruder & Dorfmeister remix by Roni Size. He first played it without any Synergistic Research treatments on, then gradually added back one at a time. With each addition, I couldn't believe—maybe even didn't want to believe—that his products would make such an immediately audible difference, but the image became gradually more centered, and sounds grew fuller and more compelling.