Jana's Day One, Part Two
"Oh my god, Justin Timberlake? That room's next." I thought to myself.
JT's album, The 20/20 Experience—which, coincidentally or not, came out when I was 20!—radiated grooviness out of one of the many rooms sponsored by Denver retailer ListenUp, from an LP spinning on a VPI Prime Signature Rosewood turntable ($6799), through a Simaudio Moon 610LP phono stage ($7500) and 600i V2 integrated amplifier ($9000), and Bowers & Wilkins 802 D3 loudspeakers. Afterward, we listened to a very neutral sounding "Reflektor" by Arcade Fire, then a rowdy yet well contained "Be My Yoko Ono" by Barenaked Ladies (which, apparently, Yoko Ono enjoys) through a Simaudio Moon 780D streaming DAC ($15,000). This specific 780D unit was MQA certified, but won't be officially available until next year.
We then listened to an MQA version of "Uprise" by Muse off of the album Resistance. As someone who has little experience with MQA and doesn't own a dedicated DAC (MQA certified or not) or even any type of non-vintage hi-fi gear at all, I haven't been vocal about my opinions on MQA because I don't have any. I didn't A/B it with a non-MQA file because I didn't feel like the sounds of the show would provide the optimal listening experience, so I won't comment on that, but the whole system sounded quite nimble and neutral.
The words "Vintage Listening Session" were written in big letters on the backdrop behind the system.
When I asked what such a thing entailed, I was informed that a "vintage listening session" in this context meant listening to NAD's 3020 integrated amplifier from 1978 (originally priced at $150, now worth approximately $565), paired with a BlueSound Node 2 streamer ($499)—and then to NAD's newest C328 integrated amplifier ($549) with a BlueSound Vault 2 ($1199), both through PSB Imagine XB bookshelf speakers ($499/pair) atop Sanus SF26 speaker stands ($154.99/pair), and connected by AudioQuest Type 2 speaker cables. I listened to Ed Sheeran's "Shape of You" on both systems. (Reader: Do you like Ed Sheeran—aka, Elton John's protégé? He often gets much less credit than he deserves, I think. But did you know he's written songs for Lupe Fiasco, Hoodie Allen, The Weeknd, Taylor Swift, Major Lazer, and One Direction, and is the songwriter behind Justin Bieber's best song "Love Yourself"?)
The C328 struck me as more forward and boldly defined—but also a bit brasher—while the 3020 had a warm and demure softness to it that I actually preferred. With my Fisher 800C and LS3/5a loudspeakers waiting for me at home, I'm really a vintage-listening kind of girl anyway. Regardless, both are modestly priced integrated amplifiers that would serve any affordable system well, vintage or not.
At last year's RMAF, I was able to hear Audioengine's newly released HD3 wireless speakers ($399). But a year ago, I was a bit dumber than I am now, so I didn't have as good of a grasp on the term "affordable" and I noted in my 2016 show report that it wasn't the best bang-for-buck wireless desktop speaker under $500. I was pretty dumb back then, huh? They're quite incredible for their price, and they're now available in white!
At the other end of the room sat a pair of HD3s and a pair of HD6s ($749/pair), reminding me that an affordable-gear company like Audioengine can peacefully coexist with the cost-no-object giants of hi-fi—even if it's just for a few days.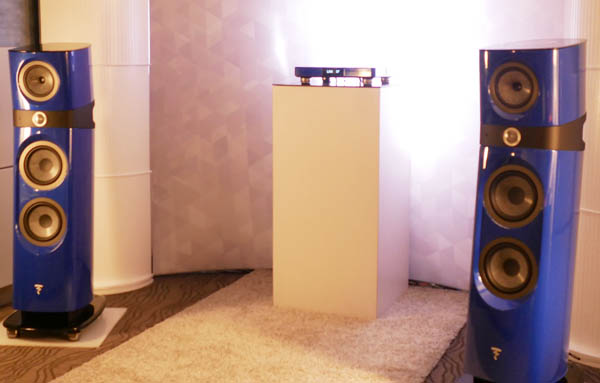 In another room belonging to distributor Audio Plus Services lay Micromega's latest M150 DAC/integrated amplifier ($7499 silver or black anodized; $8499 lacquer finishes), an immaculately designed 150Wpc all-in-one, joining the M100 in Micromega's "M-One Universe." The M150 comes equipped with their electro-acoustic correction system Micromega Acoustic Room System (M.A.R.S.—in an apparent effort to keep up with the space theme).
The ever-fashionable Barnaby Fry played "Skylark," sung by Boz Scaggs, which just happens to be one of this post-jazz-school-nerd's favorite standards. The M150, Crystal Cable Reference cables, and Focal Sopra No.2 loudspeakers ($13,999/pair) produced the deep bass ostinato, smooth Fender Rhodes, and Boz Scaggs' unconventionally comforting voice in a deep, enveloping manner.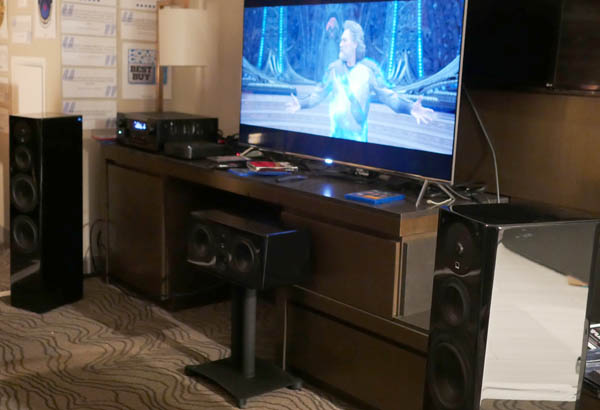 The SVS room had the movie Guardians of the Galaxy 2 playing through a home theater system that comprised an SVS SB16-Ultra powered subwoofer ($1999.99), Ultra Bookshelfs ($499.99/each), Prime Towers ($499.99/each), a Prime Center ($349.99/each), and Prime Elevation surround speakers ($199.99/each)—with Sanus SF26 speaker stands ($154.99/pair) and a Sanus SFC18 center-channel stand ($134.99). All were power by a Peachtree nova300 integrated amplifier ($2499) and a Denon AVR-X6300H 11.2 channel A/V receiver ($1499).