JVS Runs Out of Clever Titles as Day Three Continues
Wanna see the speaker component of my hands-down steal system of RMAF 2017? Introducing the intriguing Tekton Design Double Impact monitor ($2000/pair, or $3000 with upgraded paint finish). Perched atop low-cost Sanus SF 26 stands ($160/pair), and connected to Parasound's Halo Integrated ($2495), forthcoming Halo JC 3 Jr. phono preamp ($1495, shipping later this month), Marantz TT15-S1 turntable with Clearaudio Virtuoso Wood MM cartridge ($1495), and an Oppo BDP-105 ($1200) via low-cost Straight Wire cabling ($700/total), the Tekton monitors, in this excellent system, blew me away.
"What does 'blew me away' mean?" John Atkinson would surely ask. Well, for starters, the sense of three-dimensionality on my CD of Lou Harrison's Violin Concerto was astoundingly good, and the impact and color of his wacky assortment of percussion were simply superb. Soundstaging width, height, and depth in the nearfield were tremendous, with the computer-generated/symphonic music by Mason Bates, recorded by Jack Vad and released on SACD by San Francisco Symphony, astounding in its depiction of particles whirling back and forth in a Fermi particle accelerator. In addition, the speakers totally disappeared on a Michael Hedges LP, and the sound was extremely smooth.
Richard Schram of Parasound contacted Tekton to arrange a joint demo after his friend, Warner Bros. Records VP Michael Howe, told him that he uses both Parasound and Tekton equipment in his studio. This was wise move on Richard's part, because the Parasound–Tekton pairing sounds stupidly good. And not just for the price. It sounds STUPIDLY GOOD, period.
Yes, I'm resorting to capitals, because I want you to take notice. If you can afford this system, you must hear it. Its sound, at least during my admittedly brief audition, far surpassed any number of systems costing way more. A notable achievement, worthy of both review and acclaim.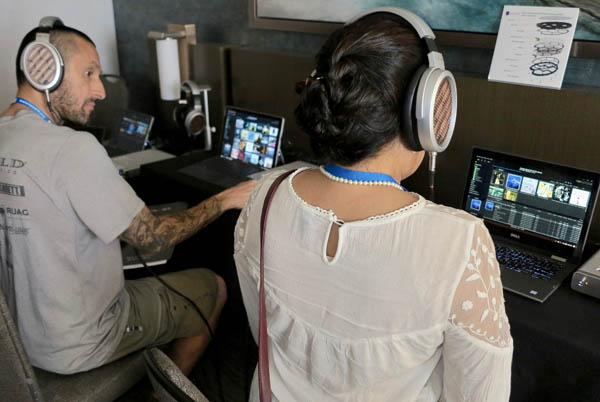 OMG, it's David Kawakami, who ran the first Sony SACD surround demos I attended at the Alexia Park hotel in Las Vegas at CES maybe a decade ago. And who is that next to him, but Gus Skinas! Truly, it was the entire DSD team, together once again to tout their all-in-one Sonoma Acoustics electrostatic laminate transducer headphone system ($5000). This system combines 'phones, a custom low-capacitance cable, ESS Sabre Reference DAC, and class-A electronics in one simple package.
When Gus began my audition with an analog tape version of Dean Martin's "I'm Confessin' That I Love You," it sounded as seductive and smooth as all get-out. Then again, it's hard to make this particular recording sound bad. So, at my request, we switched to a much more challenging file, of Paul Paray's Chabrier on Mercury Living Presence. Again, I experienced the same warm, smooth, seductive excellence that makes this system a must-audition.
Although the prototypes for the new Elac Alchemy series of electronics, which are due in final form in January, were housed in their old silver cases rather than in forthcoming black ones—designed to mate with Elac speakers—they sounded really, really good. The top was lively, the control excellent, and color and impact very, very good. A fine match for Elac Adante AF-61 speakers ($5000/pair), the ELAC Alchemy DDP-1 DAC/preamp + PS-5 power supply ($1995 + $595), Elac Alchemy DMP-1 media player + PS-5 power supply ($1795 + $595), two ELAC Alchemy DPA-2 650W mono amplifiers ($1995/each), ELAC Discover media player ($1099), and 512 Engineering/Marutani Consulting power conditioner plus cabling ($TBD) made for a highly recommendable system.
I won't pretend that I spent any time listening to this Elac surround system, which included four Uni-Fi UF5 floorstanding speakers, one Uni-Fi UC5 center speaker, two debut S12EQ subwoofers, four Debut A4 Atmos-enabled speaker toppers, and a Pioneer Elite SC-89 Dolby Atmos receiver. But the video sure was pretty.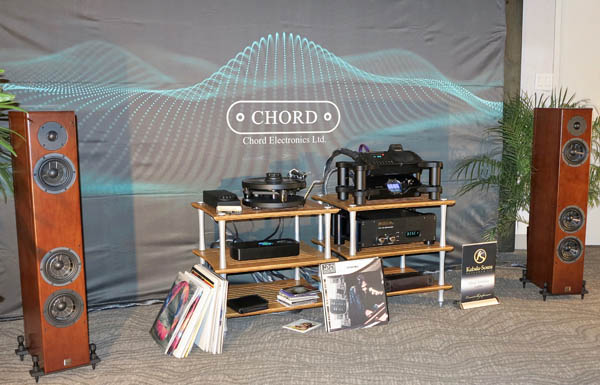 Jay Rein's distribution company, Bluebird Music, set up a system with Vienna Acoustics Beethoven Baby Grand loudspeakers ($5,998/pair) and Chord electronics. Showcasing Chord's Dave DAC ($11,288), which snared a RIHPA on Friday night, the system threw a low, flat-sounding soundstage with impressive-for-the-speaker-size bass. A bit dark in cast, but with nice timbres, this system never achieved lift-off on a track by Borodin. Then again, trying to listen over background chatter neither helped matters, nor encouraged me to stay.
Performing the analog duties were the SME Model 10 turntable with 309 tonearm ($8544) and Ortofon Quintet Black MC cartridge ($999), and the Chord Symphonic MC phono stage ($3995). Also in the system were Chord's Blu-MKII CD transport with M scaler technology ($10,588), CPM 3350 integrated amp ($12,300), and Dave Blu Stand ($1895). A Kubala Sosna cable package ($5000) connected a system whose total cost was $60,607.
It seems I had to travel all the way to Denver to discover that, perhaps an hour south of me, Jeff Jacobs runs J-Corder Custom Reels in Gig Harbor, WA. Of custom reels, there were plenty in this fun, full-range room, including the Technics RS-1500 tape deck ($17,000) that was playing Yello's "I Want to Be with You" when I entered. A sly case of semi-subliminal messaging, to be sure. Given that my scribble in the dark is anything but legible, I believe the tape deck was connected to a vintage Technics preamp, ca. 1980, Technics SER1 power amp ($17,000), and new Technics SB-R1E reference series loudspeakers ($27,000/pair). If I've got all that right, it's a miracle.
Fort Collins Audio showcased a bunch of new products: Spendor A4 speakers ($3195/pair), Rega P6 turntable ($1595), Chord Hugo 2 DAC ($2375), and Cardas Clear Beyond XL cabling ($TBD). Using an Ortofon Quintet Black cartridge ($995) on the Rega, and Quicksilver Audio hand-built line stage ($995), phono preamp ($1595), and Mono 120 amplification with KT150 tubes ($4395, presumably for each), the system did an excellent job of conveying the air around instruments on a DSD recording of Shostakovich. Timbres were also colorful and realistic.
All the system needed was a little more give, a little more ease—more of a sense that the music was alive and organic. (The Quicksilver gear, which I haven't seen at shows in many a year, was new—perhaps its lack of break-in was the cause.) Regardless, I was impressed that this system could handle complex passages with aplomb, and play at high volume without hurting my ears. Digital files sounded far more successful than analog sources, which sounded a mite muffled and too midrange-dominant in this system.