Jana's Day One at RMAF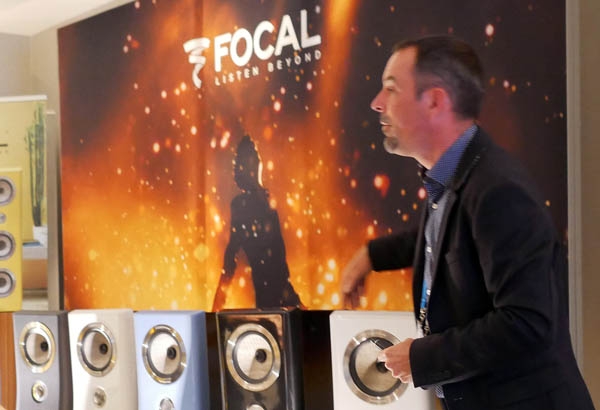 One year to a human is seven years to a dog; one year to an audiophile is…?
A lot has happened in the past year: Macallan partnered with British perfumer Roja Dove to create the "Edition No.3"—an aroma-focused single-malt whisky. Gordon and Macphail released the Glenlivet 1943—one of the oldest and rarest single malts in the world. Port of Leith was announced as Scotland's first vertical distillery (to open in 2019). And Tomatin introduced Europe's first whisky barrel-aged tea leaves!
I can guess what you're probably thinking, what we're all thinking: It's all quite controversial. If there is perfume-inspired single-malt, is there single-malt-inspired perfume? Am I more likely to win the lottery or taste even but a sip of Glenlivet 1943 in my lifetime? Do vertical distilleries mean more affordable whiskies are to come? And is whisky tea more of a breakfast tea or an afternoon tea? My dear reader, how I wish I knew. It hurts me deeply in my heart of hearts to live with fear of the whisky unknown in dark, dark times like these.
Fortunately, in a world of darkness, there is still light. And by light, I mean: hi-fi.
What is cooler than music? And what is cooler than (mostly) good-natured people listening to (mostly) good-sounding music played through (mostly) good-looking gear? Sure, you hear the same music a lot. But what's cooler than someone who knows what s/he likes to listen to and doesn't give a damn how many times everyone hears it? It's admirable. It's even refreshing—in an unconventional sense. Life, liberty, and the neurotic pursuit of sonic excellence—what more is there?
So here's the answer to the question: nothing. One year to an audiophile is nothing, because music is timeless.
Last year's Rocky Mountain Audio Fest was the first show I attended on behalf of Stereophile, and though much has changed in that one year, it feels like no time has passed.
On my first day at RMAF 2017, I joined Herbo in attending Focal's press breakfast for the world premiere of their new Kanta No.2 loudspeaker ($9999/pair). To "kanta" is to sing, in Spanish (and in Tagalog), but these Kantas do a bit more. The Kanta No.2 is the first to be released in what will eventually be a full line, and features Focal's newest generation IAL3 tweeter in combination with Flax midrange and bass drivers.
Pictured above is Focal's Nicolas Debard alongside the Kanta No.2 in some of its many available finishes. For obvious reasons, I detest the overused term wife-acceptance factor (WAF), so I will instead say: the Kanta No. 2's glass-covered top, one-piece integrally molded wooden rear, and cool, subdued selection of finishes definitely pass the Jana-acceptance factor (JAF).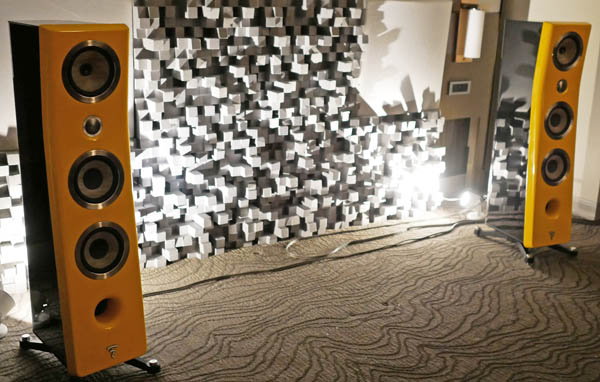 In another very crowded room, a pair of "solar yellow" Kanta No.2s were paired with Naim's Uniti Core hard-disk server ($2595), Uniti Nova all-in-one player/DAC/integrated amplifier ($6995), and Lumina speaker cables ($500/m).
I recently had an exquisite meal at a sushi bar on O'ahu called Sasabune: a mouthwatering fourteen-course omakase (chef's pick) paired with a home-brought bottle of Krug Vintage Brut 1988 champagne. A meal like this will teach you two things: 1) the importance of control, and, 2) to fully appreciate the finer flavors of life. Hearing the Kanta No.2s for the first time reminded me of this. With an emphasis on reduced distortion, the resulting sound is controlled and decisive in detail while maintaining supreme musicality—a delectable meal for the ears.
Let's put it this way: if the devil is in the details, then the Kanta No. 2 is truly diabolical.
In a room sponsored by Denver retailer ListenUp, I got to hear Hegel's new H190 integrated streaming amplifier ($4000) with their Mohican Reference CD player ($5000) through GoldenEar's Triton Reference loudspeakers ($8499.98/pair), with AudioQuest cabling throughout. Sandy Gross of GoldenEar explained, "At CES, we always use uber expensive gear— which is terrific—but we wanted to show that the speakers could be very well driven with high quality gear like Hegel that's very reasonable, in terms of cost."
The Hegel H190, to be released in November 2018, is the H160's successor, and includes a new streaming platform, upgraded D/A converter, twice the power of the company's Röst integrated amp, and a complete redesign of the pre-driver transistors in the output stage, among other things. However, the H190 will not be DSD/MQA compatible. Eileen Gosvig of Hegel says: "The reason is simply that it is very expensive to implement correctly, and steals too much of the budget—given how little music is actually available in these formats. But in sacrificing these we could make a versatile super-amp for all commonly used music files. MQA users can easily connect via something like BlueSound with an optical input into the H190."
When JP Lizars of Aurender had me connect my iPhone 6 to an Aurender USB (via an Apple lightning-to-USB camera adapter), I decided to cue up the track "The Story of O.J." from JAY-Z's latest album, 4:44. But I forgot to pick the clean version. This was the explicit version!!! I began crawling into a tiny dark shame hole of my mind as Aurender's team began reacting to JAY-Z using the "n" word, every other word—playing loud and clear through their new truly wireless S5W speakers ($3000/pair). Or was it just in my imagination?
The S5Ws (pictured here in the "wine red" finish), packed with 2x50W built-in amplifiers, are powered by standard 18V Bosch power tool batteries, which allow 50 hours of continuous playback. (The batteries are not included, but can easily be found online or at any local hardware store.) In the photograph above, an SW5 sits atop its companion Sanus stand (not included).
I picked "Here, There and Everywhere" off of the Beatles' Revolver (Remastered) and David Guetta's remix of Bruno Mars' "Versace on the Floor" on Tidal. The S5Ws sounded nice, but I was more impressed by their portability and lossless wireless dongle, which eliminates the hassle of pairing and makes the whole listening experience a super seamless operation—which, one would assume, would be the primary reason to purchase these.
Another Aurender room at the show featured their A10 music server/preamplifier/MQA certified DAC ($5500; 4TB), a Hegel H30 power amplifier ($15,000), and a REL powered subwoofer ($2599) joined by AudioQuest cables, playing through Magnepan 3.71 floorstanding speakers ($5995/pair). JP played me the dub version of Neneh Cherry's "Move With Me," and the bass really, actually resonated within me.
IsoAcoustics' ISO-L8R series isolation stands have been an integral part of my workstation at home for a little while now, so I had been increasingly curious about their Gaia isolation feet—especially after reading Robert Deutsch's positive review, which closes with the line, "A remarkable product." Upon entering the room, a kind gentleman I was offered the chance to audition the Gaia II ($299.99/4-pack) with Focal Aria 926 speakers. I listened to Daft Punk's "Get Lucky" and James Taylor's "Stretch of the Highway," alternating between 926s with and without the Gaia IIs. I was surprised by how much of an immediate, audible difference adding the Gaia IIs made—especially with opening up the soundstage. Remarkable, indeed.
Elac had something cool and cost effective going on: YouTube videos of live band performances via an Apple TV playing through Elac Debut F5 floorstanding speakers ($559.96/pair), a Debut S10 subwoofer ($499.98), an EA101 integrated amplifier ($699.98), and a DS-S101-G music server ($1099.98), bound by AudioQuest cables. When I walked in, a full-length video from 2013 of Bonobo (featuring Szjerden) was playing off of KEXP's channel. Very cool!

Finally, a few words about the room sponsored by audio/lighting wholesaler Timbre & Luces USA, where I was told: "No photos. It's all on our website."

What's the best kept secret in hi-fi? A manufacturer so adorably shy that photography was prohibited in their exhibit and requests for system lists were denied. And no, this wasn't a vendetta against Stereophile or myself—this was the policy, as per the displayed signage, for all who dared to enter the vacant, bizarre, anti-press room belonging to Timbre & Luces. Oy vey! Whatever their reasoning, I left feeling weird.