Emotiva XPA Gen3 two-channel power amplifier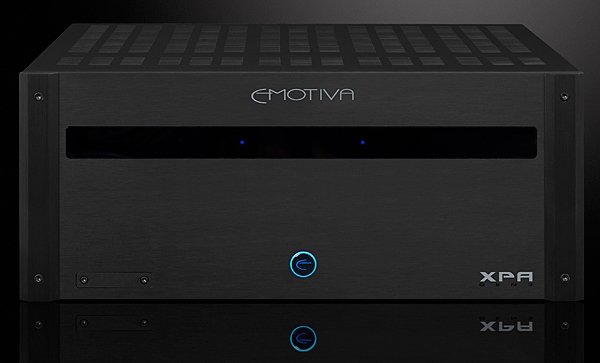 Have I told you about my objectivist friend—the left-brain audiophile who puts a lot of trust in measurements? He has a high natural intelligence and is an extremely experienced listener, but once he knows a component doesn't measure well, he can never again experience it
impartially
.
I don't want to embarrass my friend, so in this story I will call him O., for Mr. Objectivity.
One day, O. and I made a little pilgrimage to hear a mutual friend's million-dollar audio system. We listened for hours: LPs, CDs, hi-rez files—you name it. At the end of the session, both of us complimented our friend on the high quality of sound his expertly set-up system was generating.
During the ride home, I began quizzing O. about what he had experienced, and compared his observations to my own. After a lengthy discussion, it was clear that we had both heard the same sounds; we had both noticed the same bass, treble, midrange, soundstaging, imaging, and lack of distortion. But he loved the system. I only admired it.
I told O. I found it lacking in two ways: instrumental colors seemed less than full-spectrum, and momentums felt sort of staid and unsupple. I thought the system sounded Puritan. O. then reminded me that "The system's greatest virtue was its astonishing coherence." I agreed. At the close of our comparisons, I asked O. if he didn't think the system "sort of dragged its hind leg." He squinted and gave me an annoyed look. "Yes, Herb; maybe it did."
I learned something important that day: Experienced audiophiles will "observe" the same pulsing matrix emanating from the loudspeakers—but each, in his or her own naturally prejudiced way, will notice different things and assign different value to the phenomena they hear.
My need to tell you the above story appeared exactly one day after I installed the Emotiva Audio Corporation's new XPA Gen3 modular power amplifier in my humble Bed-Stuy reference system. This need occurred because, when I removed the heavy, two-box, dual-mono, single-ended, tube-rectified, five-watt Woo Audio WA5 amplifier ($5899), and replaced it with the much lighter, class-AB, balanced/single-ended, solid-state, 300W (into 8 ohms) Emotiva XPA Gen 3 ($999), I became anxious and confused. I had never before experienced such a dramatic difference in sound character by changing just one component. More important, I feel certain that Art Dudley and I and O. would all disagree about whether or not the sound had improved.
Description
The modular Emotiva XPA Gen3 can be ordered with two to seven channels. It's quite powerful, the two-channel version specified to output 300W into 8 ohms, 550W into 4 ohms, or 800W into 2 ohms. It's also relatively large, at 17" wide by 8" high by 19" deep, and relatively light despite its steel case: 35.5 lbs. The main cause of this relative lightness is the Gen3's switch-mode power supply and rail-modulating class-H operation: the B+ voltage can be instantly raised in response to increases in input-signal level. Emotiva refers to their implementation of class-H architecture, which increases efficiency and minimizes the need for massive heatsinks, as "Soft-Switch" technology.
The Gen3's front panel is simple and attractive, in an anthropomorphic way. The halo ring-light of its standby/on button, surmounted by two status LEDs, makes it look like a "wow" emoji. All three front-panel lights are activated by the rear-panel on/off rocker switch next to the IEC power-cord socket; above which is an oversize circuit-breaker button and a tiny switch, labeled Status LEDs, for turning off the front-panel eyes/status indicators. Each of the Gen3's amplifier modules (two for stereo) has switch-selectable unbalanced RCA and balanced XLR inputs, and a pair of five-way speaker binding posts.
The XPA Gen3's input impedance is 33k ohms balanced, 23.5k ohms unbalanced—which should be sufficient for use with tubed preamplifiers. The specified damping factor is high: >500 into 8 ohms.
Listening with the Zu Audio Soul Supreme
The first loudspeakers I connected to the superpowerful Emotiva XPA Gen3 were the supersensitive (97dB/2.83V/m) Zu Audio Soul Supremes ($5625/pair). Instantly, I noticed the fearsome potential force of the Gen3's output stage and switch-mode power supply as they insinuated themselves against the 16-ohm nominal impedance of the Soul Supremes' full-range drivers. I was shocked at how overtly solid every recording became. This unusual solidness was almost brutal. All aspects of soft or feminine had disappeared. Image focus was tight in the extreme—and felt very not real. Sharp-edged contrasts upstaged vocal nuances and delicate rhythms. I became concerned. I hadn't expected this. I was astonished by what a few extra watts and a high damping factor were doing to the low-power-friendly Soul Supremes. Obviously, this was a less-than-dreamy pairing of amp and speakers.
So I shrugged my shoulders and installed a pair of speakers with a totally different impedance characteristic: the Magnepan .7s.
Listening with the Magnepan .7
I suspect that the $999 Emotiva amplifier was specifically designed for difficult-to-drive, $1400/pair speakers such as the Magnepan .7. The .7 is a 57"-high, quasi-ribbon dipole speaker with a specified impedance of 4 ohms, and thrives on a class-AB amplifier that doubles its power each time the load impedance is halved. The Emotiva approximates but doesn't quite fulfill that requirement.
O. is no fan of the Magnepan .7. He thinks it is "not accurate to the source" and would likely "measure poorly." He should have heard the Maggies singing with the Emotiva XPA Gen3. I would never tell him this, but I think O. should smoke a joint before he listens. Nevertheless . . .
I wish O. had been there that dreary, rainy afternoon in late April when I played the title track of Miles Davis's Bitches Brew (LP, Columbia CS 9995). Miles's trumpet penetrated the dense, wall-to-wall, floor-to-ceiling soundfield with the most elastic and saturated tones. The bell of his trumpet was right there in front of me. The layered complexity and fierce drive of Bitches let Miles's dreamy brew feel new every time I play it, and that dark day it felt newer and fresher than usual, sounding extra-lush and expansive as it mixed with the clatter of a heavy rain. The Emotiva made the recording's reverberant space sound more musically and structurally relevant than I had previously realized. This record, these tall speakers, and the XPA Gen3 were producing really big, juicy Miles music, in CinemaScope and Technicolor. I thought, Not bad for $2400 total!
If there's such a thing as sweet, sexy sound, then that is the kind of sound Bitches Brew was making. The Emotiva amplifier held and guided the Magnepan .7s with almost a lover's touch: not too tight, not too loose. Together, they made vocal tones and instrumental textures into a pulsing, flowing, sensual delight, and made soundstages and performers' images on them larger and more tangible than they could ever be with a small, stand-mounted speaker.
The only thing O. could possibly say against this fantastic, moderately priced system is that it played a little softish and roundish. And it did. But so what? It made Black Uhuru's Red (LP, Island MLPS 9625 A) sound exactly as I'd always wanted it to. It made Paul Butterfield's first album, The Paul Butterfield Blues Band (mono LP, Elektra ELK-294), sound exactly as I remember it sounding from my Chicago childhood. It made me want to try music I'd never liked before.
If you're one of those readers who claim, "I'm a music lover, not an audiophile," or who think high-priced audio is mostly snake oil, then you absolutely must try the combination of Emotiva XPA Gen3 and Magnepan .7. It could satisfy your mind on both counts.
Listening with the KEF LS50
As I aligned my 24"-tall Sound Anchor speaker stands to the marks I'd made on my bunker's floor for the KEF LS50s, I thought, If the Emotiva XPA Gen3 can't make these speakers sing like birds, what good is it? I swear, if the Gen3 and LS50s don't let Ralph Stanley and Roscoe Holcomb take me to church, I'll be writing my first bad review in a long while.