Palmer Audio 2.5 turntable & Audio Origami PU7 tonearm
Palmer Audio's 2.5 turntable, with its laminated plinth of Baltic birch and metallic features, looks Scandinavian but is made in the UK. It shares a few conceptual similarities with the turntables made by Nottingham Analogue, another British brand. The review sample had the optional side panels of cherrywood veneer.
Like Nottingham's designer, the late Tom Fletcher, Jon Palmer believes that effectively spinning a turntable platter—particularly a heavy one like the Palmer's 21-pounder of aluminum alloy—requires less torque, not more. Flip the switch on the back of the 2.5's standalone power supply and, other than a red LED lighting up on its faceplate, nothing happens. The platter doesn't spin—but if you touch the motor pulley, you can feel it twitching. Like Fletcher's designs, Palmer's 'table uses an AC motor of very low torque—it literally requires a helping hand to get its massive platter spinning.
Once the platter reaches cruising speed, it needs only an occasional gentle nudge from the motor to keep it there—so, insist advocates of low-torque motors, why bring unnecessary vibrational energy to the 'table. Though this probably causes heartburn among those who reason that "If one motor is good, two are better; and if two are better, surely three are better still," etc., I think that Fletcher and Palmer, et al, are on to something—although, of course, what counts are the results.
The mysterious Martin Bastin—neither he nor his company, Wave Mechanic, has a website—supplies Palmer with his Wave Mechanic 60Hz AC wave-regenerator power supply, to which Palmer applies a wooden faceplate that matches the top panel of the 2.5. (Nottingham, too, uses Wave Mechanic supplies.) The power supply Palmer uses has a fine speed adjustment controlled by a front-panel knob.
The Palmer 2.5 measures 18.9" wide by 7.5" high by 13.8" deep. Including plinth, platter, and tonearm mount, it weighs about 44 lbs and sits on three circular feet: two at the front corners, one at the center of the rear edge. The height of the feet is adjustable, and their flat bottoms are fitted with thin wafers of a rubber-like material: no points for Palmer. The result is a stable platform that must be lowered, not slid, into place. A record mat of thin cork and a cork- bottomed record weight are included. The 2.5 costs $7995, and a version is also available, the 2.5–12, specifically designed for 12" arms.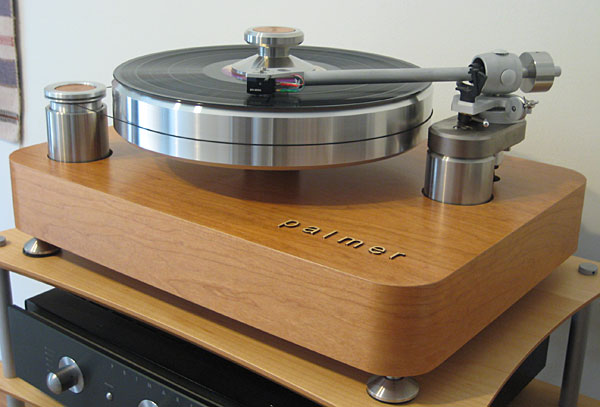 Palmer's pedestal-like bearing system consists of an unusually massive and tall bushing sleeve of brass, its bottom securely fitted to the plinth within a circular cutout. The bushing is machined to accept a spindle bearing 3.5" long and about 3/8" in diameter; this bearing runs on oil, and appears to be a traditional design: a shaft of hardened tool steel with a tungsten-carbide ball. A flared piece of metal topping the spindle bearing fits into a circular, funnel-shaped opening machined into the center of the platter's underside. It all adds up to a massive, stable system that, attractively, floats the platter well above the plinth.
The motor, topped by a large-diameter, two-step pulley and housed in a metal cylinder, sits inside a circular cutout in the plinth, on four washers of hard silicone. It drives the platter via an O-ring the diameter of angel-hair spaghetti, looped around the platter's rim.
The arm-mount system—the third large, metal cylinder that rises through a cutout in the Palmer's plinth—is a massive version of the familiar cantilevered, rotatable armboard, this one attached to its plinth-mounted platform with a large-diameter Allen bolt. Mass, mass, and more mass. Here on Analog Corner, we like mass!
Audio Origami PU7 tonearm
US importer Fidelis Home Audio supplied the Palmer 2.5 with a PU7 tonearm made by Audio Origami, which is based in Scotland. The arm costs £2000 in the UK, approximately $3000 in North America. But every Palmer 2.5 I've seen at an audio show has been fitted with the Origami arm, so consider it a $11,990 system.
Origami offers 9" and 12" versions of the PU7, which has a gimbaled ball-race bearing and is based on the well-regarded Syrinx PU2 of the 1980s. Many other options are available: armtubes of alloy or brass, chrome or matte finish, a variety of colors, mass matching for specific cartridges, and choices of internal and external cables.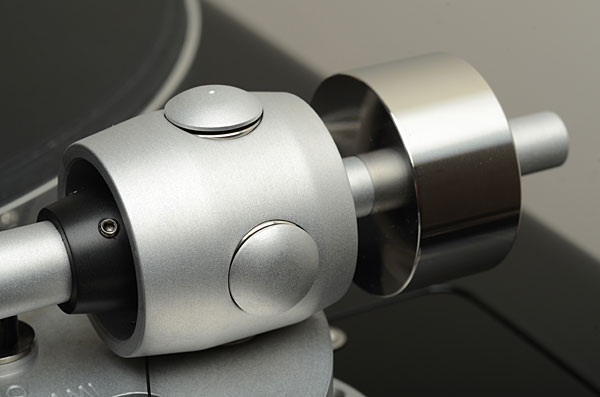 Adjustability options are complete, if purposely rudimentary to maintain the arm's rigidity. A counterweight held in place by a grub screw sets the vertical tracking force (VTF)—but there's no means of fine-tuning the setting. To adjust the vertical tracking angle (VTA) and stylus rake angle (SRA), you loosen a pair of grub screws, which allows the main shaft to move up and down within the mounting collar—but once the screws have been loosened, there's no way to hold a setting. Antiskating is via a standard mechanism of lever, weight, and string. Loosening a pair of hex-head screws in the armtube's plastic retaining collar lets you rotate the tube to set the azimuth. The cueing mechanism, arm rest, and clip are familiar assemblies made by Rega.
Setup
Palmer Audio ships the 2.5 in a sturdy wooden crate. Fidelis's Walter Swanbon hand-delivered it in ready-to-install condition, with the Audio Origami PU7 tonearm attached and the platter on the spindle. When a 2.5 is shipped from the factory, you have to install the motor and snake the cable through a hole in the plinth, and carefully lower the platter onto the spindle. Then, all you have to do is attach the motor's cable to the power supply, loop the belt around pulley and platter, and adjust the three feet to level the 'table.
Because the Palmer 2.5 doesn't have a suspension, where it's placed will greatly affect its sound. I set it atop a Harmonic Resolution SXR Signature isolation platform configured for the Palmer's weight.
The documentation for the 2.5 is inadequate. Palmer's single sheet of instructions tells you to place the belt around the platter and pulley, but not that the pulley is stepped, and that the one visible on top is for 45rpm. In fact, the instructions don't even mention that the 2.5 has two speeds! You find that out when you try to use the supplied strobe disc to fine-tune the speed of rotation to precisely 331/3 and can't. The 331/3 pulley is well hidden just below the 45rpm pulley. This isn't a big problem, but a one-sheet with no contact or warranty information—or much information at all—is hardly adequate. Nor is Palmer Audio's website of much use.
Tonearms, too, should have well-organized, well-written instruction manuals with diagrams where appropriate, augmented with videos. The instructional videos for the PU7 on Audio Origami's website offer a useful basic set-up guide. The cartridge-setup instructions are old-school in terms of setting VTA, SRA, azimuth, and even zenith angle, which you're instructed to set using the cartridge body instead of the cantilever. The arm comes with a Baerwald/Lofgren overhang gauge printed on a laminated card. This was adequate, if somewhat more subjective than I prefer: It requires you to sight along a printed line from the spindle to the vertical bearing, similar to how you line up Mobile Fidelity Sound Lab's Geo-Disc protractor.
One of Audio Origami's videos claims that, in 2009, a dimple was added to the top of the horizontal bearing to make it easier and more accurate to align it with a protractor. Wondering if my undimpled review sample was made before 2009, I contacted Origami. Turns out the video is incorrect: The dimple is an option. I used Origami's printed overhang gauge.
Setting the PU7's VTF was difficult: Tiny displacements of the arm's counterweight produced big changes. I suggest using a marking pen when setting VTA and SRA, so you can more easily return to a given height; once you've loosened the two grub screws, the arm will fall to its lowest position and you'll lose your place.
But these are minor problems, considering the PU7's handmade-to-order build quality and very reasonable price.
All set up and ready to play, the Palmer Audio 2.5 with Audio Origami PU7 tonearm is among the best-looking record-spinning rigs I've had here. But did it make for equally attractive listening?
Measured, Tapped, and Poked
It was easy to dial in the correct speed using the knob on the Palmer 2.5's motor controller—but it was also too easy to brush against it and change the setting. So every so often I checked it with Dr. Feickert Analogue's PlatterSpeed app and test record, and found the speed unchanged. The 2.5 ran at the correct speed and produced very good measured performance (fig.1), both raw and low-pass filtered to remove problems caused by eccentric LPs (fig.2).
While the Palmer's well-damped plinth transmitted very little low-frequency energy when tapped in various places on its surface with the arm locked in its rest, at normal listening levels an odd high-frequency rattle came clearly through the speakers. This didn't change when I lifted the arm out of its rest and held it in one hand, but it disappeared when I lifted the arm to its maximum vertical position.
The foam-damped PU7 was quite lively. Many arms transmit a bit of thumpage, but even when tapped gently, the Audio Origami was microphonic, transmitting a transient of relatively high frequency. A fingernail stroke also produced more sound than I expected.
Just to be sure, I examined the far more expensive Kuzma 4Point arm ($6675), mounted on my Continuum turntable. Tapping on the 4Point produced complete silence, as did stroking it with a fingernail. Clearly, the PU7's armtube could be better damped.
Smooth Sailing Sound
Every material used in the construction of a turntable's plinth, platter, bearing, tonearm mount, feet—you name it—affects its sound, as do the various masses involved. Change the mat and/or record weight and you change the sound. Change the cartridge and you change everything.
I ran the Palmer Audio–Audio Origami combo using a variety of cartridges: Lyra's Etna, Titan i, and Atlas, as well as Ortofon's Quintet Black and A90, and Clearaudio's Maestro V2. Of course, each sounded different from the others, but they shared a few qualities that I'm confident were produced by the 'table and arm imposing their sonic characters on those of the cartridges.
First up was the Lyra Etna, which I originally thought had a warmer midrange than the Titan i or Atlas. The Palmer-Origami combo confirmed that, but they and the Etna produced a sound too warm and rich for me. Still, it made for absolutely pleasurable listening, and would definitely be to many listeners' tastes in a variety of systems.
A fantastic reissue of Tony Bennett's At Carnegie Hall (2 LPs, Columbia/Analogue Productions AAPP 823), cut by Ryan K. Smith from the three-track master tape, has been getting a lot of play here. I always thought the original a spectacular "you are there" record, but it now sounds veiled in comparison to the reissue, which somehow manages not to sound bright. It just sounds more transparent and three-dimensional—and, of course, QRP's pressing produces absolutely "black" backgrounds.
Through the Palmer-Origami-Etna there was more midrange warmth than I'd become accustomed to, but that accentuation reproduced greater hall space, a larger stage, and more depth, though with perhaps a bit less air on top. Bennett's voice was more fully fleshed out, which was mesmerizing, and the string tones of the Ralph Sharon Orchestra were rich, woody, and silky-smooth—but Candido's congas lost a bit of pop, and the brass and percussion lost some bite.
This tonal picture worked well for jazz singer Cécile McLorin Salvant's superb second album, WomanChild (LP, Mack Avenue 1072), but less so for male vocal recordings such as John Coltrane and Johnny Hartman (LP, Impulse!/ORG 017), and it was too warm for rock records; eg, Elvis Costello's Trust (LP, F-Beat XXLP11), mastered by George Peckham. That last record has stunning cymbal sound, but it was a bit too polite. String quartets, yes! Pop and rock, no!
Did you know that AIX Records' Mark Waldrep, best known for his high-resolution digital surround-sound recordings, recently engineered an all-analog recording and mix mastered by Paul Stubblebine from the analog master tape? Hard to believe, but true. It's a solo-piano recital by Christian Jacob, Beautiful Jazz: A Private Concert (LP, WilderJazz 1401), recorded in Los Angeles, at the Colburn School's Zipper Hall. Played at an appropriate SPL, it's as convincing a recording of solo piano as you're likely to hear.
The Palmer-Origami combo did a superb job of producing a rock-solid, velvety-rich piano soaked in hall ambience, but the Etna's presentation was slightly too rich. A more analytical phono preamp or a leaner cartridge would have been perfect, so I swapped out the Etna for the Lyra Atlas.
Now the tonal balance of my system approached the ideal. The piano's attacks were faster, sustains not quite as overwhelming, and decays were as generous as the Etna's but with better delineation of piano and hall. Yet this new combo retained the Palmer's velvety smoothness and "black" backgrounds. The 2.5 with PU7 produced a serenity and a smooth musical flow that reminded me of the Artemis SA-1 turntable ($7800 when Artemis was still in business), which also had a wooden plinth.
You can easily extrapolate what the previously mentioned recordings sounded like with the Atlas in place of the Etna. But though it tracked perfectly well, the Atlas was too much cartridge for the Audio Origami in terms of energy transmission. The Atlas's muscular dynamic expression was simply not fully expressed. The big surprise came when I swapped out the Atlas for Lyra's Titan i, which turned out to be the perfect match. The Titan i's sound is often described as lean and analytical, even bright, but I've found that when this cartridge is properly set up and loaded, its sound is more neutral than lean.
I've just received a copy of Vivaldi's The Four Seasons, performed by Interpreti Veneziani and recorded at AIR Studios in London (LP, D2D VALDC001). Producer Mike Valentine used all-tube microphones, and the sound is as you might expect. On the Palmer-Origami, the Titan i produced a fleshy midrange that few blindfolded listeners, including me, would ever identify as a Titan i. String tones were rich and fully expressed, yet the somewhat distantly placed harpsichord had appropriate transient zip and definition. The cymbals and snare in Costello's Trust rang and chimed true. (There's no master tape to be found, so find an F-Beat UK original pressing.) Christian Jacob's piano was equally just right in terms of firm attack, woody warmth, sustain, decay, and delineation of the reverberant field.
I searched online for more information about the Audio Origami PU7 and found that it has a loyal fan base of audiophiles who love its rich, full midrange. I'm fairly convinced that what they crave is a mild, low-amplitude, midband coloration produced by a less-than-well-damped armtube. The only negative effects of this that I heard were images that were of less-than-pinpoint accuracy and somewhat larger than life; that worked well with strings and voices, and would probably nicely complement leaner-sounding solid state gear.
The bottom end of the 2.5-PU7 combo's sound was very well controlled and extended, and whatever was going on in the midrange did not extend into the midbass or below. The velvety, satiny, relaxed midrange quality was subtle; it was easy to hear why this combo has attracted a loyal following, many of whom claim to have come aboard after hearing it under difficult conditions at a hi-fi show.
Conclusion
Whether the Palmer Audio 2.5 turntable's attractive, velvety midband results from its wooden plinth or from the Audio Origami PU7 tonearm's less-than-effectively-damped armtube is something about which I can only speculate. What's not in doubt is that this turntable looks and sound beautiful.
As for the PU7, it's a fine tracker, and feels as if it has bearings of extremely low tolerance and high quality. Its design emphasizes rigidity over convenience, which I think was an excellent choice, given its very reasonable price. Physically and sonically, it's a lot of tonearm for $3000, though I think its tube needs better internal damping.
The Palmer-Origami combo's tonal balance departs subtly from neutrality, which means that care must be taken in choosing a cartridge. I'd avoid those with a rich midrange and go for leaner, meaner machines—unless you like really rich mids and don't mind the sonic clouds they produce. (I know plenty of audiophiles who do, and don't.)
In my system, the combination of the Palmer 2.5 turntable, Origami PU7 tonearm, and a "lean," "analytical" Lyra Titan i cartridge produced a sweet, velvety, beguilingly midrange-rich sound that was not at all polite, in the UK style. I'm not surprised that one veteran West Coast retailer who's long specialized in selling UK-made audio gear considers this combo "the best in the world."—Michael Fremer