Jana Starts Her Second Day at the LA Show
"So how did it sound?" they like to ask as I'm walking out. If I enjoyed the sound, I'll be honest. But what if I didn't?
Option 1: Lie. Even though it'll be obvious, because I'm a horrible liar, aren't I?
Option 2: Tell the truth—kindly, if at all possible. Even though it'll be difficult, because I'm a horrible person, aren't I?
Right. So audiophiles are often eager to share their thoughts on forums, at their local dealer, or at the monthly local audio society meet up. But try looking a designer in the eye, knowing how much they've dedicated to their product, and how much emotional, physical, and financial energy has gone into the show. It's a bit more challenging.
Day 2 at LAAS was a learning experience. I learned that I have not yet mastered the art of gracefully exiting a room at a hi-fi show, and I don't know that I ever will.
In the first of two Auralic rooms lay an Auralic Polaris wireless streaming amplifier ($3799) and a pair of Ryan R610 speakers ($2000/pair).
My favorite Goldberg Variations album performed by Murray Perahia was available on their iPad so I stuck to that for a while. The R610s allowed me to peer in to Perahia's piano, with minimal coloration. I then switched to "Veto" by Sohn—a track that may or may not have been made famous by the Devialet Phantom, and one of the (in my opinion) more pleasant, modern, audiophile-deemed–worthy tracks to listen to. The Polaris/R610 combo was brazenly bassy and effortlessly percussive, seeming more at ease with the electronic, fluid nature of "Veto".
In the second of two Auralic rooms across the hall: an Auralic Altair streaming DAC ($1899), an Auralic Taurus preamplifier (discontinued), Auralic Merak monoblock power amplifiers ($5000/pair), and Ryan R620 speakers ($3500/pair).
For readers who visited the two Auralic-sponsored rooms at AXPONA in April, Auralic had two systems centered around the same electronics—the Polaris, and a combo of the Altair/Taurus/Meraks, but paired with speakers by different manufacturers (Ryan and YG Acoustics.) At the LA show, I appreciated that Auralic instead opted for two different pairs of Ryan speakers, which allowed for an easier lateral comparison with two similar sound signatures.
Being a pisces, I wonder if Auralic will ever make a component named "Pisces."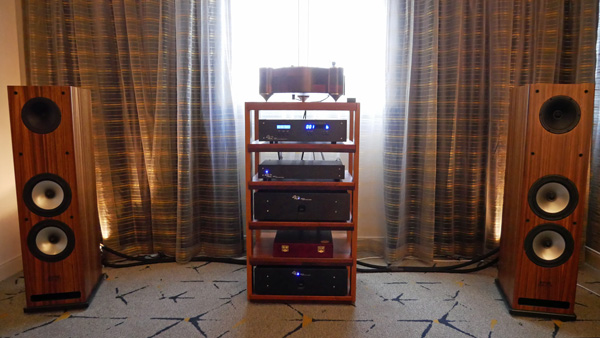 At AXPONA, this entry-level DIY fiend discovered SB Acoustics and waxed poetic on their latest DIY speaker kits. At the LA show, their US distributor Madisound announced PBN Audio's new built-it-yourself speaker kit: the SEAS CX871. The floorstanding SEAS CX871 is available as a kit (with full instructions and technical support) for $1590 through Madisound, or as a completely assembled and tested pair for $5999 through PBN.
A pair of SEAS CX871 speakers were playing quietly, paired with a Liberty Audio B2B-2 preamplifier/DAC and B2B-100 power amplifier—meant more for display than for sonic demonstration.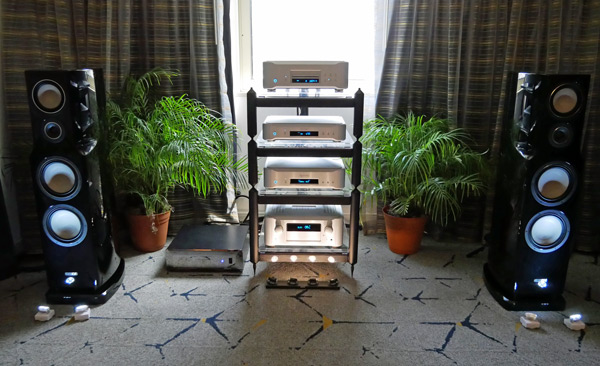 In the Esoteric room: two sources—an Esoteric K-01X SACD/CD player/DAC ($20,000) and an Esoteric N-05 network audio player ($6500), an Esoteric G-01X master clock ($20,000), an Esoteric F-03A class-A integrated amplifier ($13,000), and Canton Reference 3K speakers ($15,600/pair).
A couple tracks in, we listened to "Summertime" performed by Miles Davis. The overall sound was quite good, but the reproduction of bass was unrealistic. There was a certain wetness—a funny sheen on top—where it should've been dry and firm, perhaps a result of the room.
Are you familiar with European flat oysters? (Also referred to as "belons" or "Maine belons" depending on their origin.) Raw bars here in New York have them from time to time. They are lush and meaty, with a very distinctive copper finish, leaving your mouth sparkling with a metallic aftertaste. They pair well with a nice chilled Muscadet on a summer afternoon in the park.
For those who visited the Markaudio-SOTA room for their official US debut at AXPONA, the entire system and demo CD presented at the LA show were identical: the range of Markaudio-SOTA speakers including the Cesti T ($3495/pair), the Cesti B ($2995/pair), and the Viotti One ($1895/pair); electronics consisted of a Marantz CD6006 CD player ($495), a Parasound P5 preamplifier ($995), and a Burson power amplifier ($1495).
For me, the sound signature of Markaudio-SOTA speakers resembles the pairing of a half-dozen European flat oysters with a chilled Muscadet—a scrumptious, well-balanced blend for the mouth, but perhaps one that is too metallic in its harsh upper frequencies for the ears to appreciate just yet.
In the darkened, vanilla-scented GamuT room: a Pear Audio Blue Kid Thomas turntable with a Cornet 2 tonearm ($7995; optional power supply $1995) and an Ortofon Cadenze Black cartridge ($2729), a Pear Audio Blue reference phono ($4495), a GamuT D3i dual-mono preamplifier ($8490; optional R2R board $1990), and a GamuT D200i dual-mono power amplifier ($25,990), playing through GamuT RS3i speakers ($19,990/pair), wired with GamuT cables throughout.
I requested to cover this GamuT room because I knew I would enjoy it, and enjoy it, I did. Audio Skies' stoic Michael Vamos played an LP cut of "Here We Go Again" performed by the Glenn Miller Orchestra. The sound was as I had remembered: breathy and warm, with a mighty expansive soundstage that keeps me coming back for more.
Worth noting: I was getting my things together to head to the next room, when I overheard a man in front of me say, "I was fine until I ate the three leftover meatballs . . ."