Jana's First Afternoon at the Show
After a forgettable lunch (the food at the Sheraton Gateway hotel was mediocre at best) a change of pace was required. It was time for a mid-day treat: compact horn-loaded speakers. Greg Roberts of Volti Audio and Pete Grzybowski (nicknamed "Triode Pete") seem to consistently know how to produce good sound in hotel rooms.
As I entered their room, a woman wrote on their board something along the lines of: "My husband's been dragging me to different rooms all day and this is the only one I've enjoyed." The system included a pair of recently released Volti Audio Rival speakers (starting at $7900; $11,900/pair for the rosewood finish photographed)—reviewed by Stereophile's Ken Micallef last month. The source was an Acoustic Signature Triple X turntable ($5995) with an Acoustic Signature TA-2000 tonearm ($2399) and Dynavector 20X2 HOMC cartridge ($995) through a Perla Audio Motif phonostage ($5500) and class-AB 100Wpc Perla Audio Signature 50 integrated amplifier ($9500); cabling was all provided by Triode Wire Labs.
Triode Pete put on "Poinciana" played by Shelly Manne and Jack Marshall. (This was a fun take on "Poinciana", but I'm still partial to Ahmad Jamal's 1958 Live at the Pershing version.) The three-way, horn-loaded boxes, already boasting "sold" stickers this early in the show, were as alive and full-bodied as I remembered from last year's New York Audio Show. From my limited experience with the Rivals, they can be a little sonically V-shaped in some rooms depending on the music, but I couldn't care less.
Next stop on the list: the Audio Plus Services room featuring Focal and Micromega. For me, the Focal sound signature has always been enticing in a methodical, forensic way. It's like sleeping in pristine white linen sheets, bathing only in 21-year-old bottles of Hibiki, and snacking on human flesh.
The system featured a pair of Focal Sopra No.1 two-way stand mounted speakers ($8999/pair) atop IsoAcoustics GAIA 1 isolators ($1200 for a set of 8), powered and sourced by a Micromega M-One M-100 all in one integrated amplifier/DAC/streamer ($4495), bound by Crystal Cable reference speaker cables ($5000/pair). There is a subwoofer pictured, but it was not active when I visited the room.
Audio Plus Services' John Bevier gave a brief yet engaging presentation outlining Focal's brand and engineering principles, then played a mix of music, including Jeff Buckley and Johnny Cash. The system sounded as I had predicted: authoritative but deliberately cool in emotion. The Sopra No.1s are compact, high-performing, low-distortion robots with charm.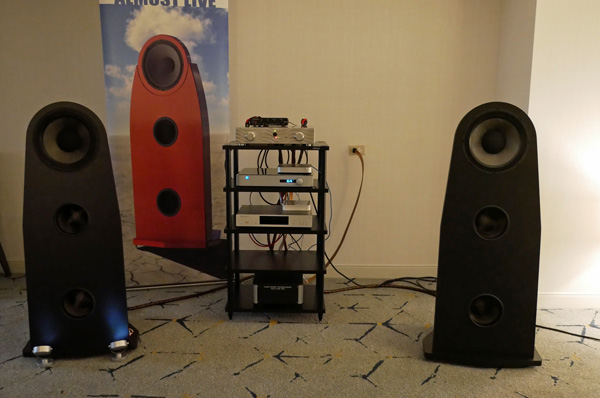 The design of these newly released flat panel Emerald Physics EP-2.8 open-baffle loudspeakers in a natural macassar ebony finish ($9995/pair) makes me think of the spirit "No-Face" (or, "Kaonashi") in Hayao Miyazaki's brilliant animated film Spirited Away. The EP-2.8s were paired with the Emerald Physics Bass Optimization Module (BOM), and driven by the new Emerald Physics EP-200.2SE 200Wpc, hybrid, dual-mono amplifier/controller. ("It's the best amp we have ever made," says their product lit.) The source was a Mac mini running Audirvana through a PS Audio Direct Stream Junior DAC with a network bridge ($3999). The system also included: a Core Power Technologies Equi=Core 1800 ($1995) power conditioner, and the new Deep Core A/C processor ($995). The whole system retails for $20,978, but is also available Internet direct through Underwood Hifi for $12,000.
The EP-2.8 has been shown at shows previously, but is now finally production ready and will be shipping in two weeks. It is accompanied by the EP-2.4 in its release (though not pictured), and both the 2.4 and 2.8 are Emerald Physics' new top of the line series panel speakers in their lineup.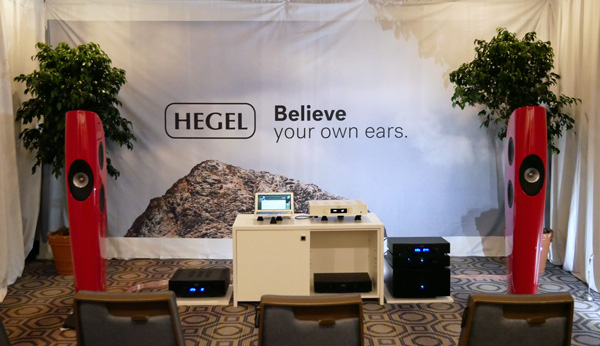 Has anyone seen the sci-fi movie Arrival that came out last year? The strange spacecraft that look like massive pebbles? That's what the KEF Blade Twos ($25,000/pair) remind me of. After I spent what felt like far too much of my lifetime ogling at their slender metallic figures—though I do prefer them in white—I could finally focus on the sound. The source was a MacBook Air playing through a Hegel HD30 DAC ($5000), a Hegel P30 preamplifier ($8000), and a Hegel H30 power amplifier ($17,000). Pumping out Dennis Edwards' "Don't Look Any Further," the Blade Twos were more than charitable at providing volume and dynamic range.
Worthy to note: I was glad to not see the same tacky Hegel advertisement of a woman sitting next to a component as the backdrop. In my mind, Hegel's marketing strategy has transformed from tacky to tactful.
In the Audio SUMMA room, I was supremely impressed by the new Silverline Audio Minuet Grand Monitors ($1999/pair), which were premiering at the show. They sat atop adjustable speaker stands by Core Audio Designs ($1275), and driven by an upgraded 50Wpc, class-A Brown Electronic Labs BEL 1001 Mk.V ($7995—not available till 2018), using a Denon DN951A CD player (not for sale) as a source and a Silverline C-1 stereo preamplifier (not for sale). Also included: a Sound Application powerline conditioner ($18,000), isolation components by Symposium Acoustics, interconnects and speaker cables by BEL, and power cords by Furutech Cables.
Silverline's energetic Alan Yun played us a wide variety of tracks off of CDs that demonstrated the range and capability of the Minuet Grands. The sound was orderly with a nice bite—surprising for their size. At one point, he exclaimed, "I'm playing Mahler! No one plays Mahler at these shows!" emphasizing the difficulty of reproducing Mahler painlessly.
For $1999, the Minuet Grands are an excellent deal. I only wish that it would've been possible to hear them paired with more affordable components, perhaps in a system totaling under $5000.