AXPONA 2017 Sets Records
See the smiling woman in this photo? That's Liz Miller, Conference & Programming Director for AXPONA, and the fact that she's smiling at the end of the largest North American consumer-audio of 2017 (so far) is a miracle. She and her team at JDEvents—Mark Freed, Joel Davis, Lou Mancini, Dawn Jeffrey, Melissa Cercone, Joelle Coretti, and Jenabeth Ferguson—worked on the show for months. Liz, in fact, works on it year-round. Yet at the end of an expo that sold 6723 tickets—up 13% from 2016!—and welcomed 4726 unique visitors over three days—up from 4092 in 2016!—she was so
together
that she could still do her work with calm. Brava!
Every industry person I spoke with at show's end considered their time and money well-spent. Some commented that Friday was busier than usual, and Saturday packed. Sunday certainly seemed slow. But when you consider that attendees were spread over a final count of 140 active exhibit rooms, a sprawling marketplace, an overflowing EarGear Expo, seminars, the spacious lobby, and eating areas, "slow" must be understood in context.
As someone who has covered shows for well over a decade, I've often written that it's a miracle that anyone can achieve good sound in a hotel room. After all, most people only had one afternoon and evening for set-up at AXPONA 2017, and everyone except people on the lower level (who had no hotel guests above and around them) was under a 9pm sound curfew. At show's end, those who had brought previously unplayed equipment with them were still wondering what it would sound like in another 100, 200, or 400 hours.
Nonetheless, I heard a lot of good sound, and some great sound. With some of the potentially best exhibits not even covered due to their lack of premieres, any "Best of Show" assessment would be irresponsible. But a careful reading of blogs from me and my colleague, Jana Dagdagan, will enable you to spot the systems we favored.
A few luscious facts about AXPONA 2017. 56% of attendees came from Illinois, and 46% from around the country. International guests hailed from Canada, Mexico, the United Kingdom, Germany, Brazil, Denmark, Norway, Australia, Jamaica, Japan, New Zealand, and Taiwan. 88% of exhibiting companies were from the US, and the other 12% from countries that included the UK, Japan, Canada, Indonesia, Australia, Norway, Switzerland, Hungary, Romania, Denmark and Taiwan.
In terms of ticket buyers, 1% were under age 18, 3% 18-25, and 8% 26-34. Absent from these numbers are young members of families where either Mom or Dad bought tickets for everyone, or where one young person bought tickets for their friends and hopefully got paid back. Nonetheless, at least 12% of visitors 34 and under is not a bad sign. Although figures are not available, women were certainly in evidence.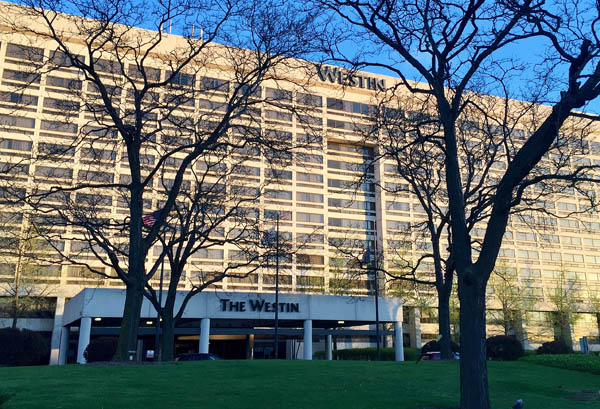 With this show, AXPONA bids adieu to the Westin O'Hare that has served it so well. (I will especially miss the fabulous concierge and hotel desk people, and the quick ride from O'Hare.) Next year brings a new venue, the Renaissance Schaumburg Hotel and Convention Center, which is a longer distance away from the airport.
The ostensible and proffered reason for the move is simple: more space. According to Liz Miller, "We expect to sell many more standard hotel rooms next year, and The Marketplace and Ear Gear Expo will be combined into one large exhibit hall area to make all the gear much easier for attendees to navigate."
Although virtually every exhibitor I spoke with after the show announced their intention to return, one expressed dissatisfaction with the size and allocation of rooms in the new venue. To this, Liz replied by email, "The standard hotel rooms are different dimensions at the Renaissance than at the Westin. They are a little narrower and a little longer, with approximately the same overall square footage. The ceiling heights are higher at 9'6", which most vendors seem to really like.
"To be accurate, there are more than 30 meeting rooms and suites at the new hotel. We used a very fair and equitable room assignment process to best accommodate all of the vendors that prefer larger rooms."
As always, it has been an honor to cover this and other shows for Stereophile. Believe it or not, I somehow managed to cover at least 17 rooms per day and speak on one panel—one of the best I've ever been on, to be honest—without becoming a walking zombie. For this, I credit GABA, melatonin, coffee cruda (homeopathic coffee), Traditional Medicinals Nighty Night tea, a hotel that was neither abnormally hot nor excessively air conditioned, quiet neighbors, and, yes, the passage of time. It's actually gotten easier. Or so it has seemed, this time around. Knowing that I will return to the calm and beauty of Port Townsend, where I will be greeted by hubbie hugs and doggie licks, sure helps.
It seems, from the online comments of those who attended AXPONA 2017, that I am not alone in my praise for the show and the way it was run. Liz Miller, Steve Davis, and JDEvents have much to be proud of. My thanks to one and all. And that includes John Atkinson and Art Dudley, who have done editing, posting, and corrections in rapid time.
My next show reports will be from the Los Angeles Audio Show, which takes place June 2-4 at the Sheraton Gateway, around the corner from LAX. Stereophile held its show there some years back. It's a good venue. I still recall the huge Sony billboard outside my window, singing the praises of…could it really have been a Walkman (which I called Walkperson)?
On April 22, LAAS reached its maximum active exhibit room target of 115. Although exhibitors are still asking for rooms, it's believed that show manager Marine Presson will hold firm at 115. What this means for you, the reader, is that with major shows in Chicago and Southern California, Rocky Mountain Audio Fest and Montreal still going strong, and smaller shows in DC, NYC, Oakland, TX, and Toronto, North American audiophiles have many listening adventures ahead of them in the coming year and next.
Thank you for being the committed reader you are. The show is done. On with the show.