Jason's Discoveries at AXPONA's End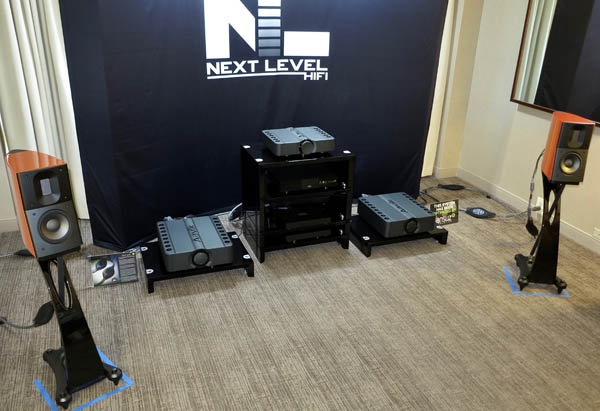 The most astounding and baffling system I encountered at AXPONA—I'm not sure which of those descriptors should come first—was in the Raidho/Aavik room, which used Ansuz cabling to join Danish-made Raidho Acoustics D-1.1 Black speakers ($23,000/pair) with sister-company Aavik Acoustics' C-300 control amplifier (preamp) with two phono stages ($42,000) and brand new M-300 300W class-A mono power amplifier ($48,000). At first, I was completely wowed by the sound. Over and over, I scribbled the word "marvelous" to describe the ear-opening ambience, spatiality, height and warmth on an unfamiliar track by Norwegian singer Mari Boine. (Thanks to Lars Christensen for always introducing me to new music.)
It did not take long before I realized that the effects I was hearing were totally artificial. Absolutely hypnotic, yes, but far too warm and sweet, and projected in hyper-Space-Age fashion. To test things out, I offered two of my own CDs. First, on Beverly Sills' transcendent performance of Richard Strauss' "Breit über mein haupt," I heard a significant amount of distortion that I know for certain is not on the recording. (My husband and I play this song a lot for guests to share our love of Sills' artistry.)
Switching gears entirely, I asked for a movement from Lou Harrison's pungent and percussive Violin Concerto. The spacey presentation and speed of attack were mesmerizing, but the sound was so sweet that Tim Fain's violin, which has far more body, weight, and undertones than the Raidho/Aavik/Ansuz system delivered, sounded nothing like itself. (I've assessed Fain's sound in my reference system using three different amps, and compared it to the sound of another, far sweeter toned violinist who recorded the same music. I even listened to it in the big Tidal-based system from The Voice That Is, where it sounded completely different than in this room.)
Where did this leave me? a) Wondering if some of the space-age presentation was due to the system's concave backdrop. (I did not ask if performed more than decorative functions.) b) So far out in an alternate sonic reality that it took me two rooms before I could fully adjust to more natural sound. I am not exaggerating.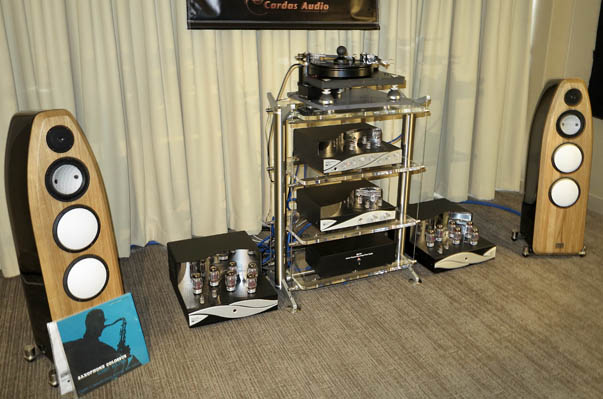 If you've read the blog above, you can begin to imagine that I was having a hard time coming back down to Earth and settling into the sound in the Zesto Audio room. Certainly there was believable body to the sound, and a fair amount of speed. But when I listened to a bit of the LP version of the new Bach Trio recording from Chris Thile, Yo-Yo Ma, and Edgar Meyer—review of the hi-rez file version coming—I was puzzled by the balance. Ma's cello virtually overpowered the other instruments, which it does not do on either the Tidal stream (with and without MQA) or the hi-rez files that I've auditioned at home on both my reference and far more modest desktop systems. Some of the cello sounds were also a bit muddy. In all respects, the voice of Nat King Cole, which Carolyn and George Counnas play frequently for visitors, fared better.
Heard were some fairly new tube electronics from Zesto—their Andros Téssera phono stage ($12,000), Leto 1.5 preamp ($7500), and Eros 300 class-A monoblocks ($19,900/pair)—plus Marten Coltrane Tenor speakers ($80,000/pair), and Merrill Williams Audio Real 101.2 turntable ($7200) with two Tri-Planar U2 (classic 10") tonearms ($7200 each), Benz Micro Gullwing SLR MC cartridge ($3600), and, although I don't think it was playing, Ortofon Cadenza mono MC cartridge ($1280). Stillpoints provided the ESS42-26-5 rack ($10,000) and, under the amps, Ultra 6 feet ($899 each), and Cardas Audio the Clear Beyond cabling.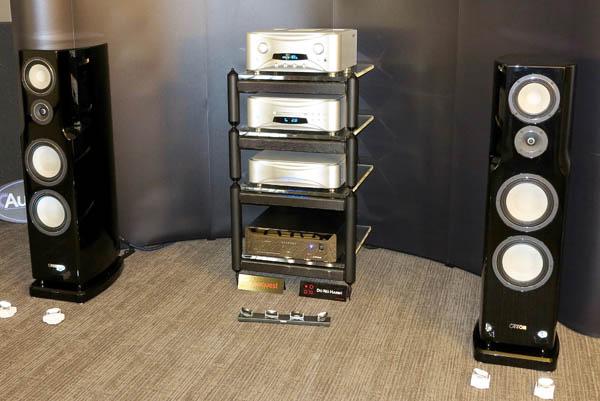 I'm not trying to mimic Yul Brynner here, but the sound in the Esoteric room is, to these ears, often a puzzlement. I know the equipment is excellent, but often, the sound is either too ringing and bright (the pairing with Cabasse loudspeakers comes to mind) or, in this case, with Canton Reference 3K speakers ($15,600/pair), too flat.
The room showcased the North American debut of three Esoteric Grandioso models: The Esoteric Grandioso K1 SACD/CD player / DAC ($27,000), G1 Master Clock ($22,000), and F1 integrated amplifier ($27,000). In a room treated by Auralex Acoustics, everything was wired by AudioQuest, with the Esoteric Grandioso components supported by Grand Prix Audio racks (which I have in my reference system). Whatever was playing first sounded mellow, smooth, and inviting, but a bit toned down on top. My Mason Bates San Francisco Symphony SACD exhibited impressive depth, but its combination of symphonic instruments and computer-generated sounds ultimately sounded too flat. There's a triangle in the movement I offered up—silly music, I admit, but really well recorded, by Jack Vad—which should have resonated in space, but was instead devoid of ring.
I regret that my time in the Daedalus Audio/ModWright Instruments/WyWires room was so short, and that I didn't cover the Lower Level Banks room that joined some of the same gear with Skogrand cables. But Dan Wright of ModWright urged me to blog their fifth-floor room instead—the Lower Level rooms in the Westin are hardly ideal for sound—and the first I could get there was close to closing time.
What greeted me were neutral timbres, a toned-down top, a rather flat sounding midrange that was over-dominant, and some serious bass resonance issues in one spectrum. Things sounded better on the lower level. Auditioned, briefly, were the new Daedalus Apollo 96dB sensitive floorstanding speakers ($14,250/pair introductory price), Daedalus DiD isolation devices ($160/each), and Did turntable platform ($390 and up) under a VPI Aries turntable w/JMW 12 arm ($10,000) with unidentified cartridge; ModWright's new Ambrose One class-A reference tube preamp ($TBD), new Ambrose A 30 EL-34 based monoblocks ($14,995/pair), PH 150 tube phono stage ($7900), tube modified Marantz SA8005 SACD ($2495 for the mod), and tube modified Oppo Sonica DAC/streamer ($2495 for the mod); and WyWires new MacMini hi-rez power cord ($299), plus other WyWires cabling, as well as a WyWires/Daedalus Power Broker AC distributor ($2495). Room treatment was GIK Acoustics Alpha Series.
OMG. 10 minutes to show's close. Head to Arturo Manzano's Axiss Audio room for the pairing of WireWorld cabling with a new Piega loudspeaker, only to discover that the room had closed early. No time for that new turntable on the next floor, which I'll bet Mikey covered for Analog Planet. On what floor was that guy who, as I was walking into another room on my list, yelled out that he had a premiere as well…?
Jason, your inner dialogue is sounding like one of those young, hormonal-crazed Valley Girls in a best-forgotten teenage flick. Thank God no one is listening.
Thus it went, when I spied "Conrad-Johnson Classic 62 SE" on my list. "Gosh, I haven't covered C-J equipment in awhile," said self to self in tones that had thankfully dropped several octaves. Off to room 526, where the Conrad-Johnson Classic Sixty-Two SE power amp ($5750, if I read the exhibitor's scribble correctly) and ET5 preamp ($10,000) mated with Vandersteen Trio floorstanding loudspeakers ($6900/pair) and 2Wq sub ($1650), Oppo Sonica DAC ($799), Auranas SRV music server player ($3000), and AudioQuest Niagara 5000 noise-dissipation system and Diamond Wind cabling. Alas, the sound felt abnormally distant, with some ringing on top. It may have been totally the product of stress, but the sound didn't come quite together for me. I'm sorry I couldn't spend more time with the folks in the room.
It was after 4pm. People were already scurrying back and forth in the hallway, wheeling and carrying boxes, searching for packing tape, and pushing elevator buttons with looks that mixed relief with panic. In my mind, there was only one thought: Jana, where are you? He who usually does no more than sip a bit of wine from his husband's glass, and who hasn't touched the stuff in days save for a quick taste from a plastic cup in the Transparent/Wilson room, needs an entire glass of wine all for himself. Jana, where are you? It's time to unwind and compare notes. This man needs you!
And so…on to the wrap.