Meridian Audio Ultra DAC D/A processor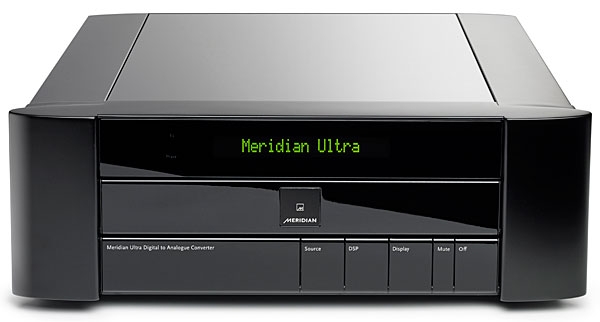 As I mentioned in
my review eight years ago
of Meridian Audio's 808.2 Signature Reference CD player, I have long been impressed by the British company's components—in fact, ever since the early 1980s, when I purchased a Meridian 101 preamplifier, followed by my very positive experiences with Meridian's
MCD Pro
and
208
CD players,
518
digital audio processor,
D600
and
DSP8000
digital active loudspeakers, and, most recently, the
Prime
and
Explorer
D/A headphone amplifiers.
All of the Meridian products we have reviewed until now have been the work of a design team led by Meridian cofounder Bob Stuart. However, as Bob is now involved full-time with MQA Ltd. (he remains the chairman of Meridian's board), Meridian's chief technical officer, Richard Hollinshead, now heads up the design team and was responsible for the subject of this review, the Ultra DAC ($23,000).
Description
With its fold-down front panel, the Ultra DAC's large, handsome, black, aluminum case looks identical to that of Meridian's 808i.2 Signature Reference, though it lacks analog inputs and a CD transport. Constructed with a card-frame topology, the Ultra DAC offers every digital input you might wish, all capable of accepting 24-bit data: a USB 2.0 input for connection to a computer, two AES/EBU XLR inputs, two BNC coaxial inputs, two RCA S/PDIF inputs, two optical TosLink inputs, one Meridian Speakerlink input, and an Ethernet port for connection to a Meridian Sooloos System. A dedicated card with a high-current clock as well as FIFO buffering is claimed to minimize phase noise and ensure the lowest possible jitter, all jitter components being folded down below 0.5Hz.

The Ultra DAC has both balanced and single-ended audio outputs and features dual-mono DAC cards, each built on an eight-layer circuit board with low-impedance ground planes and with its own multiple regulated power supply. The output stage incorporates "Hierarchical Converter technology [by MQA]," which Meridian says employs "multiple converters to increase temporal resolution while also reducing noise and quantization errors."
To keep the noise floor low, the power supply is a conventional linear rather than a switching supply; the front-panel display is also electrically "quiet," using a static (non-multiplexed), 20-character, dot-matrix LCD.
The front panel has large, square buttons labeled Source, DSP for selecting among three reconstruction filters (Long, Medium, Short), Display (to change the information shown), and Off; a narrow, rectangular Mute button; and, under the fold-down panel, keys for Volume Up and Down, Setup, and Menu. Pressing Menu lets you adjust the bass, treble, and channel balance, absolute polarity, and a function called LipSync, which adds a delay to synchronize sound with video images; you can also set the Ultra DAC to fixed or variable outputs. All of these buttons are duplicated on the full-function remote control.
Sound
I began by using the Ultra DAC without a preamp and with its EQ disabled, its Long reconstruction filter, and its variable output mode, while listening to a variety of recordings at different sample rates and bit depths. My first impressions of the Meridian were of a smooth sound with superb transparency and soundstage depth—even in comparison with my longtime reference, the PS Audio DirectStream DAC, which excels in those areas. The Meridian's low frequencies were powerful and extended, which made the stand-mounted speakers with which I did most of my auditioning sound larger than I expected.
Once you have a large enough music library on your hard drive, it becomes all too easy to forget what's there. I came across Roberta Flack and the late Donny Hathaway singing "I (Who Have Nothing)," which I don't even remember downloading. It reminded me that I hadn't played Hathaway's classic 1971 Live album (24-bit/192kHz ALAC files, Atlantic/HDtracks) in a long while. From his definitive version of Marvin Gaye's "What's Going On," the Ultra DAC suffused me in the club acoustic as I dug the clattery character of Hathaway's Wurlitzer electric piano and Willie Weeks's inspired Fender bass lines. From "The Ghetto"—"Alright, this is it!" shouted a woman behind me in the club before the groove gets going—to the closer, "Voices Inside (Everything Is Everything)," with its multiple solos, I had to get up and dance, soul-clapping as I did so.
I drove myself crazy trying to hear any differences between the Ultra DAC's three upsampling reconstruction filters with this 192kHz-sampled album. Listening to the CD of Live, I felt the Long filter sounded smoothest in the high frequencies, though the CD couldn't rival the 24/192 version when it came to the sense of drive in the lows or the palpability of "Alright, this is it!"
Raphael Wallfisch's unaccompanied cello in John Tavener's Thrinos (ALAC file ripped from CD, Intersound 2847) was presented as a vulnerable but believable image within a warmly supportive acoustic. Again, even with this "Red Book" file, if there were any differences to be heard among the filters, they were very subtle. However, at 3:45 in this haunting work, when Wallfisch (accidentally?) taps his cello, with the Long filter engaged it sounded slightly more like the noise made by a human sliding a mute on to his instrument's bridge.
I was recently sent a CD by a Dutch reader, Wim de Haan, who had written the booklet note. It features the Russian-Dutch pianist Evelina Vorontsova performing piano works by Rachmaninoff: Piano Sonata 2, the Corelli Variations, and the Moments Musicaux Op.16 (STH Quality Classics CD 1416092). It was recorded at 24/192, and the primary microphones were Brüel & Kjër FET/tube 4040s. I didn't know what to expect from this purist recording, but when I played it I was captivated—not only by the sound quality, which was rich and dynamic through the Ultra DAC, but also by Vorontsova's passionate playing.
The Ultra DAC's inclusion of DSD (up to DSD128) decoding for USB data was a surprise, given Meridian's past allegiance to PCM. But if there is a pull for a feature from the customer base, the wise manufacturer serves it up. One of my favorite albums I have as DSD files is Patricia Barber's Café Blue (DSD64, Premonition/Acoustic Sounds). I thought I knew this album well, but as decoded by the Ultra DAC, it sounded more forceful than I was used to—less "DSD-Soft," as it were.
The Ultra MQA Experience
I've already written about my experiences of listening to MQA files decoded by the Meridian Prime D/A headphone amplifier here and here. However, having the Ultra DAC in the house gave me the opportunity to audition this potentially game-changing codec with an ultimate-quality D/A processor.
In this issue's Follow-Up section, Herb Reichert writes about how much he enjoyed streaming MQA files from Tidal, as decoded by Mytek HiFi's Brooklyn D/A processor: "The illusion of space was dramatically improved. Voices felt more solid, more precisely positioned." This was exactly what I experienced with the Ultra DAC decoding MQA files—once I'd figured out how to get Tidal set up correctly.
Tidal identifies MQA files with the "HiFi/Master" label, but at first I couldn't get the Ultra DAC to recognize them as streamed via the Tidal app from my Mac mini, even though I'd selected the Meridian as the Core Audio audio device. My first problem was that I didn't realize that I had to click on the gearwheel icon beside "Meridian USB input" in the Settings menu. When I did, and then selected the necessary "MQA Passthrough" streaming and "Exclusive Mode" options, these settings wouldn't stick. It was only when I realized that I couldn't just exit that screen directly, but first had to return to the setup menu, that I could get the correct settings to apply so that I could get "MQA" to illuminate on the Ultra DAC's display. I can only assume that other Tidal subscribers are smarter than I am!
But once I had it working, oh my! The sound of the orchestra in Grieg's Holberg Suite, from the Trondheim Soloists' In Folk Style (MQA-encoded Tidal HiFi/Master stream decoded at 352.8kHz, 2L 2L-068), sounded magnificent—rich, detailed, and realistic, with excellent soundstage depth—as was the same ensemble's definitive performance of Vaughan Williams's Fantasia on a Theme by Thomas Tallis, from their Reflections (MQA-encoded 352.8kHz Tidal stream, 2L 2L-125). Not all of 2L's MQA-encoded recordings are in that class, however. Herb commented on how much he liked the sound of Mozart's Violin Concerto 4 in D, K.218, performed by soloist Marianne Thorsen with Øyvind Gimse conducting the Trondheimers, from the sampler 2L: The Nordic Sound—2L Audiophile Reference Recordings (MQA-encoded 352.8 Tidal stream). That violin sounded a little too forward for my tastes, though yes, the sense of real performers in a real hall was superb.
Robert Silverman's recent set of 23 of Beethoven's 32 piano sonatas, released as MQA-encoded 24/88.2 FLAC files, sound as if they were recorded in a rather dry hall. The sound of the piano was still both forceful and natural, particularly in Op.111, where Silverman excels, particularly in the double-speed dotted-rhythm section in the second movement. However, as much of a step forward as I feel MQA to be, it can't compensate for the choices made by the recording engineers regarding microphones and where to place them in the hall. When I used the Ultra DAC to compare Silverman's Beethoven MQA files with Vorontsova's Rachmaninoff CD, while both pianists played Steinways, the Red Book-quality recording was superior to the potentially superior-sounding MQA files in conveying her instrument's majesty, and the recording venue's acoustic was more warmly supportive—but there was one significant exception: The MQA recording presented the width and depth of the Steinway in an uncannily realistic manner.
Conclusions
Yes, it's expensive, but Meridian Audio's Ultra DAC joins the expensive dCS Rossini ($23,999) and Vivaldi ($35,999) DACs in offering the best sound I have enjoyed from digital recordings. That its card-frame construction renders it future-proof, and that it offers MQA decoding, are two more layers of frosting on an already very satisfying cake.