AXPONA's Major Start
The doors of the 2017 AXPONA—taking place this weekend at the Westin O'Hare in Rosemont, close to Chicago's O'Hare airport—had opened but 15 minutes when yours truly (far left) joined (L–R) joined Steve Guttenberg (The Audiophiliac blog for CNET.com/
Stereophile
), panel moderator Chris Martens (
Hi-Fi+
), Conor Cawley (Tech.co), Steve Rochlin (Enjoythemusic.com), and an audience of at least 50–60 people to discuss "What does 2017 mean for audio?" I didn't know what to expect, or what to discuss besides the resurgence of vinyl and the promise of better sound through MQA. But thanks to excellent questions from Chris and attendees, and some truly stimulating contributions from my fellow panel members, I think some major ground was covered.
Steve G. felt that the most exciting and important trends of 2017 are the surfacing of high-end audio products in non-audio stores, where sales people and customers are on an equal plane of knowledge; the marketing of better audio as a lifestyle product in said stores; and the availability of excellent sounding yet affordable earbuds from Audeze and other companies. Steve R. seconded Steve G.'s train of thought by extolling the wonderful variety of high-performance audio gear selling for under $1500. Both SR and I embraced MQA as a major game-changer that offers better sound quality in a manner that mp3 users can embrace.
Chris sang the praises of affordable ELAC loudspeakers, as well as other products that make high-level audio excellence available to budget and space-conscious college students. "Excellence for all" was his rallying cry, as he noted that the widespread acceptance of streaming, along with the availability of full CD resolution (as well as "Tidal Masters"/MQA) sound on Tidal, is a manifestation of the intersection of convenience and quality. On the other end of the cost spectrum, he said that he has also been bowled over the by the excellence of the top-of-the-line YG Acoustics Sonja XV and Wilson Audio Master Chronosonic WAMM loudspeakers.
Conor's big thing was Bluetooth and wireless audio. He even singled out a Bluewave product that can convert existing headphones into Bluetooth headphones. While Steve G. noted that Bluetooth is currently "better for convenience than sound," both men acknowledged that future implementation of new Bluetooth technology may change this.
One of the chief promoters of hi-rez audio, Marc Finer of the Digital Entertainment Group (DEG), had set up a modest "Stream the Studio" table outside one of the dining areas on the first floor of the Westin O'Hare. Dedicated to informing young people of the benefits of hi-rez, Finer was unfortunately one hallway over from the EarGear Expo where a large number of younger audiophiles were congregating. When I asked why he had not been located closer to the action, the answer was both simple and definitive: the fire marshal had laid down the law about what could and could not be set up where. Hopefully Marc was able to ignite passion for better sounding audio, regardless of location.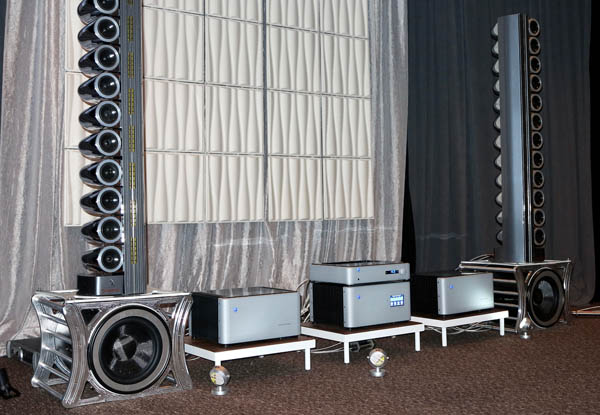 Imposing, eh? Welcome to the first showing of Scaena Soho loudspeakers ($56,000/pair), whose subwoofers are integrated into the loudspeaker array as their base. Their ability to reveal the quietest of intimacies within a soundstage notable for its spaciousness and depth was due, in no small part, to an all-PS Audio array that included the recently introduced DirectStream Memory Player ($6000). Complete with a CD/SACD transport developed by Oppo, the Memory Player can also play USB sticks and output pure, raw DSD to the PS Audio DirectStream DAC ($6000) via HDMI and I2S. (The DirectStream Memory will downsample DSD to 88.2k PCM when sending it to other DACs.) It can even do multichannel with three DirectStream DACs.
"We're all about DSD," said retail sales manager Duncan Taylor as he explained that other components included two PS Audio P10 power plants ($5000 each), two BHK Signature 300 power amplifiers ($7500 each), a BHK Signature preamp ($6000), and Fin Art Co of Denver racks.
By the time I reached the big partitioned room that housed no fewer than three Legacy sound systems, it had become clear that there were a lot of people in attendance on the first day of AXPONA 2017. Indeed, six hours later, when I was in my last room of the day, I realized that I was never the only visitor in any room I entered, and that quite a few had nary an empty seat in the house. Given that attendees were spread over eight floors, multiple eating areas, a seminar room, and a large marketplace and Ear Expo, that makes for impressive attendance on traditionally "slow" Friday.
Given that my focus was almost exclusively on new products—I confess that I occasionally crossed the line when there was something I was dying to hear—I went right to the system that included the world premiere of Legacy's powered Calibre XD three-way monitors ($6780/pair). These speakers have as their essential mate the Wavelet DAC/preamp/crossover/room correction system ($4950). Although the system was overdriven, and my seat far too close for proper focus, I nonetheless noted the strength of the midrange. Bill Dudleston, founder of Legacy, explained that the Wavelet's DSP helps achieve greater low-frequency extension, while its crossover time-aligns tweeter and woofer.
Key to the impressively neutral and liquid sound of the imposing Von Schweikert Audio Ultra 11 loudspeakers ($295,000/pair) were VAC's Statement 450 iQ monoblock power amplifiers ($120,000/pair), Statement phono stage ($80,000), and Statement line stage ($75,000). With enough ASC Tube Traps ($26,000 total) to trap an elephant, and a Von Schweikert Shockwave V12 subwoofer ($11,500/each) playing out of phase in an attempt to further reduce bass in a room desperately in need of room correction, the sound on Lyn Stanley's latest LP, The Moonlight Sessions Vol. I, was natural and gorgeous. There was a special breathability to the sound, for which the Kronos Pro turntable ($38,000) with SCPS-1 power supply ($13,500), Andre Theriault Black Beauty tonearm ($8500), and ZYX Audio Ultimate 4D cartridge ($4400), along with Exoteryc and Aire Platform racks and platforms and MasterBuilt Audio Ultra Line cabling also deserve credit. No, the bass wasn't totally in control, but the system made beautiful and involving sound regardless. Of course, the gifted Ms. Stanley and her outstanding Bernie Grundman-mastered recording share more than a bit of the responsibility for the room's success.
It took me a little time to figure out what was what in the Mojo Audio room, but eventually it became clear (I hope) that the new Dééjà Vu PCM/DSD music server (starting at $3499.95) and Mystique v3 DAC (starting at $4999.95)—the black boxes on the rack—together with an Illuminati 2 power supply, were paired with an Exit Level Anapurna tube headphone preamp and various headphones. I was dying to hear the new Focals, but before I could even listen to two notes, I was told in no uncertain terms that they were not musical, and that I had to listen to the HiFiMan HE1000 V2 cans instead. There was no point insisting that I was eager and willing to learn for myself, given commentary so absolute, and so absolutely insistent.
Try as I did to take in what I could, I have never found myself able to listen over headphones in noisy spaces. Taking a rain check on further enlightenment, I retreated to the vast unknown, aka the next room.