Bigger and Bolder, AXPONA Opens Friday in Chicago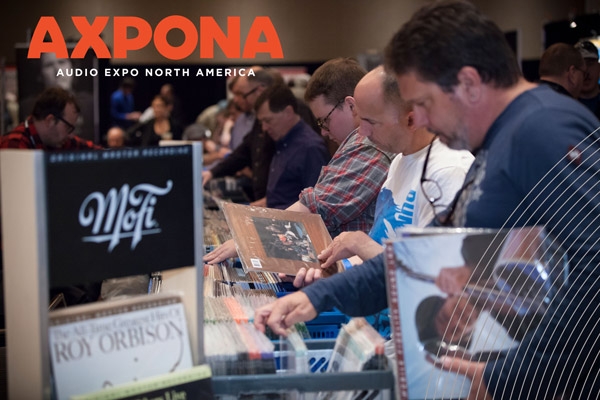 The biggest audio show in the United States,
AXPONA
(Audio Expo North America), takes place April 21–23 at the Westin O'Hare in Rosemont, close to Chicago O'Hare International airport. Since planting its roots in America's heartland just a few years back, the show has grown to offer, in 2017, at least 142 active exhibit rooms, 453 unique brands and exhibitors, an Ear Gear Expo so large that it has spilled over into surrounding hallways, and a full schedule of seminars and entertainment.
"We're still adding people!" Steve Davis, Director of Sales and Industry Relations exclaimed by phone. "One of the local retailers is now requesting another room. Last year we had 111. We can't go much further, because the hotel is maxed out. We're even moving our staff into nearby hotels, and moving the show to the Renaissance Schaumburg in 2018."
Given the event's size, and its proximity to Munich High End (which takes place May 18–21, and offers over 400 exhibitors and 900 brands), it is notable that at least 35 new, brand new, and advance audition product introductions have been announced so far. I say "at least" because some exhibitors don't know if products will be ready for showing until the last moment, others forget to fill out the paperwork, and still others have stretched the meaning of the word "new" to the level of alternative fact.
Nonetheless, among notable introductions are a number from major brands: Aavik, Audionet, AudioQuest, Aurender, Benchmark, Bricasti, CH Precision, Conrad-Johnson, Daedalus, Dynaudio, Emerald Physics, Esoteric, GamuT, HiFiMan, Jadis, JansZen, KEF, Kubala-Sosna, Legacy, Marigo, MBL, Monitor, Playback Designs, Rel, Skogrand, Synergistic Research, Tidal loudspeakers, Thiel, Vivid, Volti, Von Schweikert, and Wyred 4 Sound.
Seminars are plentiful. Among the familiar faces are two from Stereophile: Michael Fremer, whose widely popular "Internationally Renowned Turntable Set-Up Seminar" takes place Friday and Saturday at 1 pm, and yours truly, who appears on the "What does 2017 mean for audio?" panel on Friday at 10:15 am. Given the expected long lines at the registration table, advance registration is wise if you want to attend that one. Judging from the topics, vinyl and hi-rez digital playback are the hot topics this year.
Some people consider live entertainment ancillary at best to an audio show. But those who write it off will miss Saturday night's Blues Revue & Benefit Concert, sponsored by Jazz Foundation of America, with three accomplished blue players from the Chicago Area performing in a by-donation benefit for blues and jazz artists in need. (That's surely worth the price of a few used LPs.) Friday night brings the Frank Catalano Band, sponsored by local jazz radio station WDCB. And all three days, pianists will perform from 11:30am–2:30pm.
I'm also assured that, despite the crowds, there will be four in-hotel places to eat: the AXPONA Café, Benchmark restaurant, Starbucks, and GrabNGo near the Marketplace.
The show's growth is especially gratifying to Davis, who credits JDEvents' "insight and experience" for AXPONA's success. "Obviously, I'm biased, but there's no other show company I know of, with the exception of the CTA, that can pull off a show as seamlessly as they do," he says.
An example of JDEvents' foresight was offered by Conference & Programming Director Liz Miller, who formed an Attendee Advisory Council to help guide her efforts. "We spoke to people who were really willing to give feedback and fill out post-show surveys," she explained. "From that grouping, I was able to invite people from across the country, both women and men of different ages, to help us improve the event and refine the language we use to market it and spread the word."
Clearly, judging by the show's growth, everyone is doing something very, very right. Please join us at AXPONA, where both Jana Dagdagan and I will be reporting for Stereophile.com, and others will be reporting for our sister online publications AnalogPlanet.com, InnerFidelity.com, and AudioStream.com.