SXSW 2017 Day 2: the Ultimate Analog Medium?
"Crafted out of aluminum and coated with nitrocellulose lacquer, this truly fascinating object is the ultimate analog medium."
So you own 200gm LP pressings? And test pressings? Even Mobile Fidelity's One-Step 45rpm Santana Abraxas? Vinyl fans, Devialet has now gone one better. The French amplifier and wireless speaker manufacturer is now in the record business, and releasing limited-edition, 180gm vinyl LPs of unreleased live concerts of jazz greats like Oscar Peterson, Bill Evans. and now, Sarah Vaughan. But Devialet is also making and selling lacquer copies that are limited to editions of 30 copies per title. (The 180gm LP titles are capped at 900 copies per title.)
At a dinner hosted by Devialet at Justine's Secret House in Austin, a roomful of lucky folks were able to hear four tracks from the Vaughan record in what was billed as a "dark concert." Although I had initially had visions of a coven of some sort, where the dark lords of the LP would be summoned, in actuality it turned out to be a darkened, rather warm room, where a lovely white Graves and a red Haut-Medoc were being liberally poured and most people, though not all, had enough sense and class to keep their mouths shut while the music was on. Even though the music was being played from a computer and not the vinyl, and again, the wine was loosening ill-mannered tongues, what I heard sounded very full and multi-dimensional for a recording made at the Laren Jazz Festival in the Netherlands in 1975. Despite temperatures on the night of the performance that were over 100°, Sassy seems to have risen to the occasion and given a rousing performance.
Devialet says that for their "lost recordings," which is what they are calling this new series, they have partnered with the French record label Fondamenta, and have developed the Phoenix Mastering system, which their press releases call a new and "unique restoration process" that is allowing them "precise recovery" of each recording.
And now for the punchline. A set of four lacquers for the Sarah Vaughan title are priced at $7900. The vinyl set goes for a more earthly price of $139. These titles will also be available in CD and download form beginning later this month. Stay tuned for more on this story, and full reviews of the individual LPs.
Devialet , of course, is aiming their analog albums at audiophiles. But perhaps it's time for a new term. A panel on music technology may have provided the defining audio-related moment at SXSW 2017. During the section of the panel that focused on high-resolution music, the crowd of around 200 people was asked how many defined themselves as "audiophiles." Only about five brave souls dared raised their paw. However, when the same group was asked if they'd like to hear recorded music the way the artist meant it to be heard, a roomful of hands shot up. Maybe it's just semantics, but the best replacement term, which in my unhumble estimation is "stereophile," is already taken!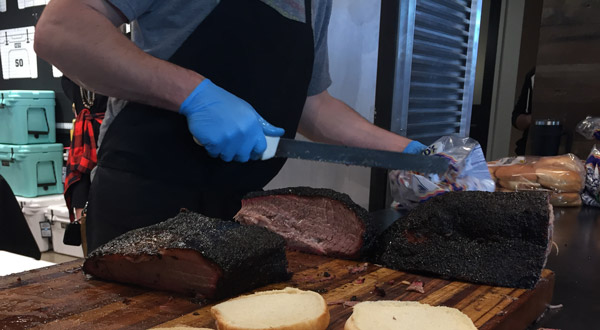 The lean brisket above is courtesy of the now world-famous Franklin BBQ (thanks to a starring role in a recent American Express television commercial), and to answer the obvious, yes, it really is that good!